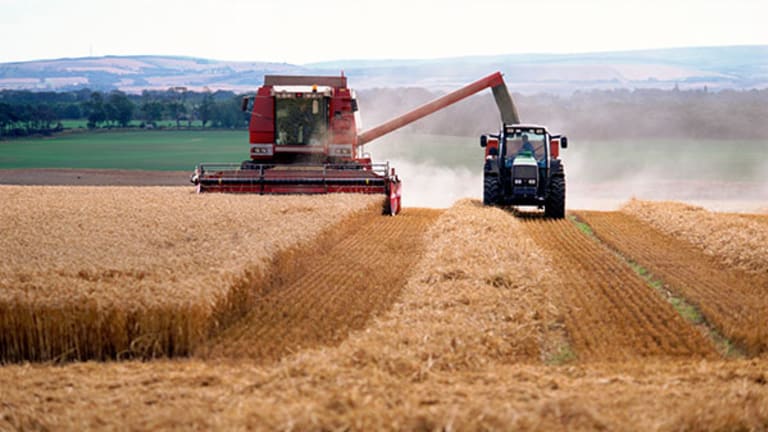 Publish date:
Falling Grain Prices Shift Landscape for Restaurants, Processors
As grain prices remain depressed, the best operators in food and food service are rising to the top.
As grain prices remain depressed, the best operators in food and food service are rising to the top.
NEW YORK (TheStreet) -- One big trend has flown under most investors' radar this summer: lower grain prices.
Ever since the growing season started, futures prices on corn, wheat and soybeans have been headed in the same direction –- down.
If these were stocks we'd call it a bear market. Corn for November delivery was at $5.00/bushel, and is now at $3.69. Wheat that was over $7.00 is now below $5.50. Soybeans that were over $15.00 are now fighting to hold $12.50. Grains are "attempting a bottom," in the words of one analyst, but still achieving "lower lows" in the words of another.
Combine that with international tension, like Russia refusing food imports, and the same bear market is hitting meat. Lean hogs for October delivery are down 20% in just the last month. Cattle for October were at $1.60/pound and are now at $1.47.
There are two sides to every story and food is no exception. Low futures prices mean cereal makers like Kelloggs (K) - Get Report can lock-in profits. But that also means the product is under pricing pressure and the stock is down this summer. The same story is playing out among other food processors -- Kraft (KRFT) is down and so is Mondelez (MDLZ) - Get Report. Tyson Foods (TSN) - Get Report, which won the battle to buy out Hilshire Farms earlier this year, has also seen its stock fall.
How about restaurants? We issued a report on 10 top restaurant chains at the start of the year. Most are down, including McDonalds (MCD) - Get Report and Yum Brands (YUM) - Get Report, with the notable exception of Chipotle (CMG) - Get Report, where the California drought is actually raising vegetable prices, causing price hikes that its customers seem to be swallowing.
Something similar is happening among the grocers. Most are down for the year, but a good corporate performance can still win out. Here the winner is Kroger (KR) - Get Report, which has held through the summer most of the 27% gain it got earlier this year. Supervalu (SVU) is also up substantially this year, although it's still under $10 per share.
The same thing is happening among the bakers – Dunkin Brands (DNKN) - Get Report, Panera Bread (PNRA) and Krispy Kreme (KKD) are all coming down. The only star is Starbucks (SBUX) - Get Report, which has risen over 9% in the last three months but is basically flat for the year.
The biggest losers are, of course, farmers, who are looking to store more grain on their land in hopes of higher prices later. Here technology is helping -- if you go by a farm and see long plastic tubes, some as long as a football field, that may be a farmer trying to hold on to their crop. 
So who wins? If you are betting on lower inflation you may have a good bet. And it seems that any investments that win in a low-inflation environment -- meaning any company with really great cost controls -- should be worth your money.
At the time of publication the author owned shares in SBUX.
This article is commentary by an independent contributor, separate from TheStreet's regular news coverage.