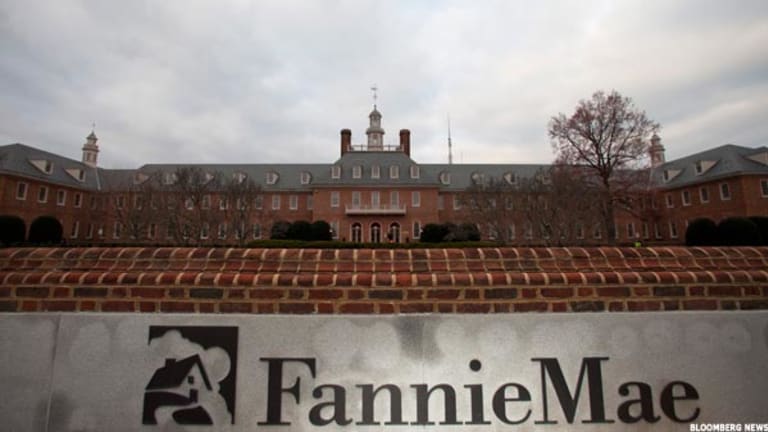 Fairholme Proposal for GSEs Can't Work Without Congress
Bruce Berkowitz's proposal to replace Fannie and Freddie is a helpful step, but there's no simple way to replace the GSEs.
NEW YORK (
) -- Fairholme Capital's proposal to replace
Fannie Mae
(FNMA)
and
Freddie Mac
(FMCC)
with two privately capitalized companies would give legislators in Washington quite a bit of what they have been proposing, but there are plenty of complications making it unlikely for the plan to succeed.
Berkowitz -- the founder of Fairholme Capital Management -- sent a letter on Wednesday to acting Federal Housing Finance Agency (FHFA) director Edward DeMarco, proposing to establish two privately funded companies "to purchase, recapitalize and operate the mortgage-backed securities insurance business of Fannie and Freddie."
Fannie Mae and Freddie Mac -- together known as the government sponsored enterprises, or GSEs -- were taken under government conservatorship at the height of the credit crisis in September 2008. The
U.S. Treasury
holds $117.1 billion senior preferred Fannie Mae shares and $72.3 billion in senior preferred Freddie Mac shares. Under their modified bailout agreements, the GSEs must pay all earnings to the government in excess of minimal capital cushions of $3 billion apiece.
Following their next dividend payments in December, the government will have received $185.3 billion in dividends from Fannie and Freddie, for a five-year investment of $189.4 billion. But there's no mechanism in place for either GSE to repurchase any government-held preferred shares.
Meanwhile, investors holding common and junior preferred shares of Fannie and Freddie have been out in the cold since September 2008.
With the GSEs restored to profitability, some institutional investors -- including Fairholme Capital -- have made big bets on heavily discounted common and junior preferred GSE shares, hoping to recapture some value.
Neither President Obama nor members of Congress of either party have shown any inclination to help rehabilitate Fannie and Freddie so they can resume operating as privately-held companies as they did before the credit crisis. The huge flow of GSE dividends to the government is also helping to reduce the federal budget deficit.
With the GSEs continuing to purchase the lion's share of mortgage loans originated in the United States and holding $4.7 trillion in mortgage loans on their balance sheets as of Sept. 30, institutional investors holding common and junior preferred shares of Fannie and Freddie see plenty of value. Several of the investors, including Fairholme,
Washington Federal
(WAFD) - Get Washington Federal, Inc. Report
and
Perry Capital
have sued the government for destroying private shareholders' property.
The Proposal
Berkowitz's proposal has plenty of similarity to the Protecting American Taxpayers and Homeowners Act -- known as the PATH Act -- introduced in the House of Representatives in January by Rep. Scott Garrett (R., N.J) in January. The PATH Act bill calls for the GSEs to be liquidated within five years. The bill also calls for the formation of a non-profit National Mortgage Market Utility to set mortgage lending and securitization standards and "operate a publicly accessible securitization outlet to match loan originators with investors."
Under Berkowitz's proposal, the GSEs would also be wound down by the Treasury, with two new state-regulated insurance companies, backed by at least $17.3 billion in private capital, acquiring Fannie and Freddie's "talented staff, expertise, historical knowledge, intellectual property and physical footprint."
"These assets have substantial value," Berkowitz said in his letter to DeMarco. He added that "It is a myth that the Enterprises are valuable only because of the Federal government's support. The Enterprises have assets that can support a profitable insurance business and provide vital services without a dime of public support."
DeMarco, the Treasury and some members of Congress would no doubt dispute that last statement, because under Berkowitz's plan, in addition to the $17.3 billion in private money, the private investors would receive $34.6 billion from Fannie and Freddie in exchange for their preferred shares in the GSEs.
"Ultimately, Fairholme and others would need to negotiate with Treasury to forgive the indebtedness based on the payments returned in the form of dividends in order to push their proposal along as part of the spinout/recap of the GSEs," says Frank Mayer, a partner in the Financial Services Practice Group of Pepper Hamilton.
Berkowitz made another fascinating statement in his letter to DeMarco: "The proposal is politically neutral. It can be implemented consensually by your agency, as Conservator, and the existing investors of Fannie and Freddie (including the U.S. Treasury)
with or without legislative action
."
The italics are mine.
Does anyone seriously believe a giant deal along the lines suggested by Berkowitz, to remake the huge U.S. housing finance market, could be completed without the involvement of Congress?
"There will be significant congressional and administration interest in any solution involving a full or quasi-privatization of the GSEs," according to Kevin Petrasic, a partner with Paul Hastings in Washington.
"The idea that you would have two behemoths out there without some government guarantee raises the question of whether there would be distortion in the housing market, and whether certain groups of potential borrowers would be left behind," Petrasic says. "There has historically been an inextricable link between the GSEs and housing policy."
"The devil is in the details," Petrasic says. "What happens if we get into another housing finance problem with significant liability created for the privatized companies? "Financial institutions large and small and the economy would suddenly be at risk because of the reliance on the secondary mortgage market."
In other words, under Berkowitz's proposal, there would be two new mortgage giants that would be "too big to fail."
Our Nationalized Mortgage Industry
The names "Fannie" and "Freddie" have become political hot potatoes in Washington. More than five years after the GSEs were placed into conservatorship, nobody in Congress has publicly discussed the most obvious solution to the problem, which is to modify the conservatorship to allow Fannie and Freddie to begin repurchasing government-held preferred shares and eventually move past the bailout. If this were done, the risk of another GSE bailout could be reduced through various reforms.
Why would Congress even consider keeping Fannie and Freddie? One reason is that it seems likely the GSEs will be replaced by some other type of centralized securitization scheme for most U.S. mortgage loans.
Many people don't realize just how uniform the U.S. market for one-to-four family mortgage loan financing has become. Aside from loans insured by the Federal Housing Administration (FHA) and jumbo mortgage loans that are ineligible to be sold to the GSEs, nearly every one-to-four family fixed-rate mortgage loan is being sold to Fannie or Fannie, with most being securitized.
Fannie and/or Fannie provide banks large and small with loan applications, underwriting standards, as well as training on underwriting and loan servicing. Those functions will not be easily replaced.
It's easy to say that the private market can step in and take over all of the GSEs' functions. But does anyone think that can be a smooth process?
Berkowitz's proposal has made quite a splash, with common shares of Fannie Mae rising 9% on Wednesday and another 10% Thursday afternoon, to $2.88. Freddie's common shares were up 8% Wednesday and 9% Thursday afternoon to $2.66.
-- Written by Philip van Doorn in Jupiter, Fla.
>Contact by
.
Philip W. van Doorn is a member of TheStreet's banking and finance team, commenting on industry and regulatory trends. He previously served as the senior analyst for TheStreet.com Ratings, responsible for assigning financial strength ratings to banks and savings and loan institutions. Mr. van Doorn previously served as a loan operations officer at Riverside National Bank in Fort Pierce, Fla., and as a credit analyst at the Federal Home Loan Bank of New York, where he monitored banks in New York, New Jersey and Puerto Rico. Mr. van Doorn has additional experience in the mutual fund and computer software industries. He holds a bachelor of science in business administration from Long Island University.