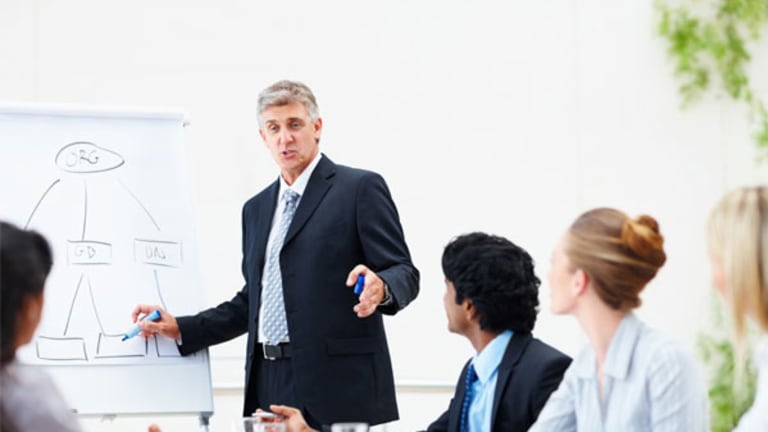 Facebook's $100 Billion Valuation Unrealistic?
Facebook's lofty valuation rests on some assumptions that could turn out wrong.
NEW YORK (
) -- For Facebook, which will carry a ticker symbol of FB, to receive a $100 billion valuation when it makes its IPO debut, investors will have to make a lot of assumptions about their future growth.
Do you remember when we were going to run out of oil in 1980?
Or what about solar energy and wind power? Remember when that was going to be the wave of the future?
How about when every TV spot had "AOL Keyword:...." in it? Or when Rupert Murdoch was so smart for buying MySpace for "only" $550 million?
Or how about when all the U.S. banks had to be nationalized back in 2009 and the world was going to end? And then Ben Bernanke was debasing the U.S. dollar by running the printing presses and gold was going to go to $10,000 an ounce?
My point is that we make assumptions all the time -- which later turn out to be wrong. Yet, at the time, all of these arguments seemed perfectly sensible and were even the conventional wisdom.
Keeping that in mind, let's return to Facebook.
This company doing $3.7 billion in revenues last year and "$1.000 billion" in net income is supposed to be worth $100 billion. Why?
I've collected the bull arguments below and the assumptions they rest on.
First, they will monetize their 845 million users.
Their growth is slowing -- especially in the Western world where most of their revenues are from -- but they haven't really started monetizing them yet. But will they be able to? What if people tune out once they do? And even if Facebook can sell as much in ads as
Google
(GOOG) - Get Alphabet Inc. Class C Report
does - 10 times more than their current run rate -- why will they be worth $200 billion instead of $100 billion, if Google's only worth $196 billion? So where is the upside for current investors buying in at $100 billion with lots of chances that Facebook will stumble along the way to being able to monetize ads as well as Google?
Second, they are the first company to build the Social Graph which will let them do target marketing.
Any time you have a story stock that pumps up the future revenue and profit generation potential of a company, they usually have something about it in the story that they do which no company has ever done before.
In the case of Facebook, it's the concept of the "social graph" which gets discussed a lot. Now small businesses can more finely target their desired audience and not pay for people that are outside their target market. The potential for better return on ad spend seems much higher. But most of the biggest ad spenders -- car companies, consumer packaged goods companies, films, etc. -- want a blanket approach. They don't want to sell to only Harvard grads in the Northeast. Maybe all the small businesses will want to spend money on Facebook that they haven't spent on advertising before, but what if users drop?
Third, they will be like a CityVille, where you never leave.
I read this comment from some analyst the other day. I think the idea was that you'll go to Facebook in the future and get all the information you need within the walled garden of Facebook. You won't need to use other Websites. You can message your friends, read about news, and pay your bills all within Facebook. It didn't work that way for
AOL
(AOL)
in the late 90s because people found more interesting stuff outside the walled garden.
Fourth, Offline ad budgets will migrate online.
At one point in the Facebook S-1, they point out that more people spend more time engaging with Facebook during a typical day than who watch last season's finale of
American Idol
. They are making a plea for advertisers to start paying them like a broadcast network, instead of on a CPM or CPC basis.
Lots of Web companies have pointed out that there is currently a disconnect between the time people spend offline and the ad spend and the time people spend online and the ad spend. If only the ad spend adjusted in a logical way, all Web companies would be much more profitable. Some, like Kleiner's Mary Meeker, think it's just a matter of time before the adjustment happens. But what if it doesn't? What if advertisers are not dumb or irrational and have actually figured out there's an underlying reason why they should continue to spend more on offline media versus online?
Fifth, imagine what they will do with payments when they get your credit card information.
Several people pointed to the "explosive" growth of Facebook's payments' revenue relative to its advertising revenue. Imagine if it continues in a straight line? Yes, but Facebook did introduce a new more aggressive 30% "tax" on 12% partners like
Zynga
(ZNGA) - Get Zynga Inc. Class A Report
in the middle of last year, so that big bump-up can't continue in a straight line without lots of new payments revenue flowing in in the second half of this year. What will people spend on? More games? Musicinstead of iTunes? Other kinds of apps that only run on Facebook? Like what?
Sixth, they can still charge for mobile.
Facebook isn't making any money on mobile today. In fact, it admits it's losing money as more and more of its daily average users access Facebook from their mobile devices instead of their PCs. So is the glass half-full or half-empty? Facebook bulls say it will be amazing once they start charging for ads. This is part of the monetization argument. Yet, no company has yet cracked the code on making money from ads in the mobile space. Not Google,
Groupon
(GRPN) - Get Groupon, Inc. Report
, or
Yahoo!
(YHOO)
. Only
Apple
(AAPL) - Get Apple Inc. (AAPL) Report
has -- and it did that through selling the devices. What if users don't like ads in a mobile world, especially ones that take up so much real estate on the devices? Maybe Facebook can make money on local commerce. But again, no one has yet to do it.
Seventh, they can start charging for Facebook Connect.
I've heard Facebook investor Roger McNamee make this argument. (By the way, he no longer looks dumb for investing in Palm, considering how smart he looks for investing in Facebook.) It's valid. A lot of offline media publishers are desperate for Web traffic and Facebook is a firehose for them through the Facebook Connect interface. Just imagine when Facebook starts charging for it.
Yet, if you were the
New York Times
(NYT) - Get New York Times Company Class A Report
, and Facebook did this, wouldn't you try to encourage users to tweet their stories instead of share them on Facebook? Or use the
LinkedIn
(LNKD)
, Reddit, or StumbleUpon connectors? What if those guys keep their connect service free instead of charging, in order to gain market share from Facebook and help their IPO valuations?
Eighth, it has a big "moat" and people will never migrate to another social networking platform.
We're all connected to our high school friends. It would be too tedious for any of us to "switch" to the next Friendster that comes along. Therefore, Facebook has this big moat. There's no question that Facebook did Facebook much better than GeoCities or TheGlobe.com in the late 90s. However, what if someone else comes along and does Facebook better than Facebook?
Maybe it'll outdo Facebook not as "another social network" as we currently think of that concept but as something completely new -- like some wild offshoot of Apple's Siri for example? I used to have a MySpace profile. It must still be there. And then one day, I just stopped going there.
Readers Also Like:
5 Booming Bank Stocks Poised to Fall
Facebook IPO: It's All About the Ads
At the time of publication, Jackson was long Apple and Yahoo!.
Eric Jackson is founder and president of Ironfire Capital and the general partner and investment manager of Ironfire Capital US Fund LP and Ironfire Capital International Fund, Ltd. You can follow Jackson on Twitter at www.twitter.com/ericjackson or @ericjackson