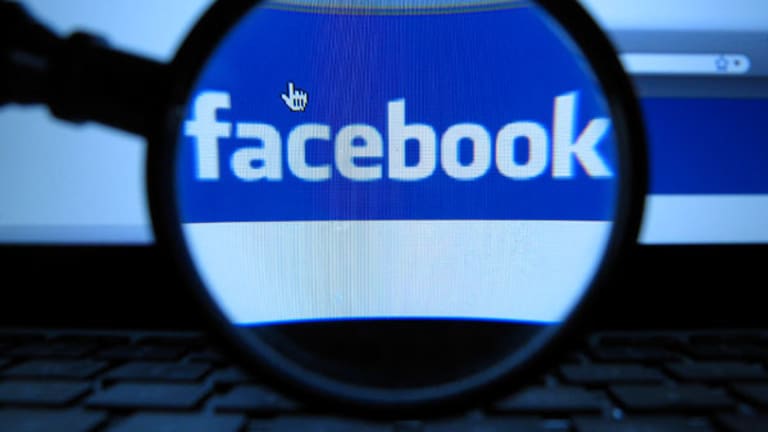 Facebook Worth the Risk Under $25
Facebook had a messy IPO, but that was then. The best investments are based on what happens next.
NEW YORK (TheStreet) -- Facebook (FB) got a bad wrap after its notorious debut. The company hit a high of $45 a share shortly after going public and it was all down hill from there -- but that was May last year. Today, the stock is trading around $25.74 and analysts give the company a mean one-year target estimate of $33.44, according to Yahoo! Finance.
Now that would be a fair return -- almost 30% -- if it makes the mark.
While there are plenty of reasons to doubt whether Facebook has what it takes to recover some of the ground it has lost, I think the company is worth the investment, if you can buy in under its 200-day moving average of $25.20 a share, that is, and are willing to hold the position at least one year.
Critics may point out that the stock is down considerably from its IPO last summer, but I say, since when is an investment determined by its old share price? I just want to know if I can make money off of it now. And, that is exactly the case with Facebook.
Moreover, while so many nay-sayers have been focusing on Facebook's post-IPO fall from grace, the company has been making some big changes.
First and foremost, Facebook has some major opportunities, simply because of the volume of data it collects on
.
Google
(GOOG)
may be able to make estimates about your demographics, based on what you search for. (See what Google says your
.) However, it isn't always accurate.
Mine says I am a white male over 50 who speaks Japanese, but I am a woman in my 30's who speaks high school French and is learning Spanish -- more than a little off.
Facebook, however, knows
how old I am, knows I am a woman and knows which languages I speak. It remembers my birthday.
And, what I don't specifically tell Facebook, it wouldn't be that difficult to infer.
As illustrated by
published earlier this month by the PNAS, with a dataset of over 58,000 volunteers, Facebook is able to reveal a lot about its users based on their respective likes and habits. Private traits and attributes, such as sexual orientation, intelligence, gender, likeliness of using addictive substances and even happiness, can be predicted with fair accuracy.
What's more, Facebook is gearing up to leverage this type of advantage.
As far back as September, Facebook was introducing tools, like its custom audiences tool, to help advertisers reach customers with relevant ads. By February, that tool was expanded to include third-party marketing companies. Also, Facebook recently upped the ante even further, buying the campaign measurement and management software
from
Microsoft
(MSFT)
.
This acquisition lets Facebook give advertisers a more holistic view of what is working and what isn't by specific demographic variables. This is key because, a campaign measurement and management tool like Atlas will let advertisers better leverage the demographics they need; now Facebook could let advertisers target their products to certain individuals based on specific demographics and what they like. It can also provide detailed information as to how effective the demographics and likes selected by the advertiser really are.
Also,
Facebook recently redesigned its News Feed
to remove the clutter and potentially generate even more revenue from ads.
But, Facebook isn't just focusing on advertisers. It is also coming up with ways for its users to access and benefit from the information it collects.
>> Facebook Graph Search: First Impressions >> Facebook Announces Graph Search: Live Blog Recap
The company recently
, which is a search system that allows users to
of relationships to make it easy to find, say, friends with whom you went to college who also happen to live within 50 miles of you. Then
-- which is basically a way for friends to select better gifts for each other by leveraging all that information Facebook collects. This may not seem like much of an advantage when buying a present from your best friend, but wouldn't it be nice to know which department store your aunt likes most or what your nephew likes to do in his spare time?
Sure you could creep their Facebook pages, but especially in the case of the nephew, he might have that information locked down. Granted, Facebook Gifts won't give you that specific information, but it points you in the right direction.
All in all, Facebook seems to be on the right track. The only thing left to do is find that opportune spot to hop on board.
--Written by Renee Butler in Seattle, WA
At the time of publication the author had no position in any of the stocks mentioned.
Follow @ReneeAnnButler
This article was written by an independent contributor, separate from TheStreet's regular news coverage.
Renee Butler is a freelance financial journalist based in Seattle. She has written hundreds of articles and blog posts on hedge funds, the financial markets, investing trends and company developments. Her articles have appeared on MSNBC, MarketWatch, the Motley Fool, The Street and Seeking Alpha, among others. Butler is a member of the National Press Club and the Society of Professional Journalists, and holds advanced degrees in business, financial management, psychology and sociology.