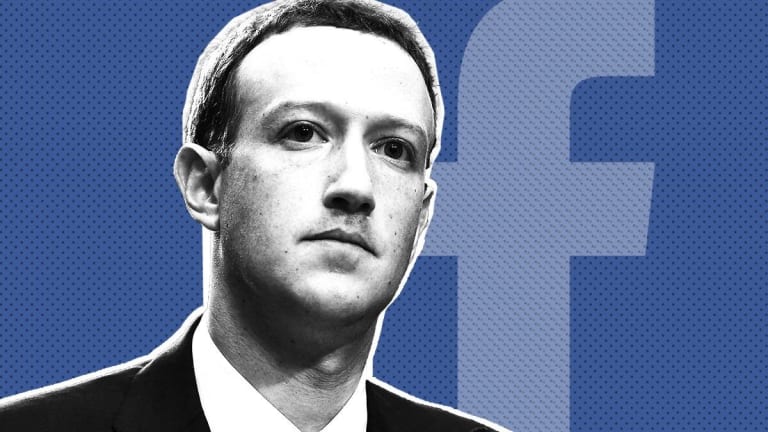 Facebook's Plunge Spells More Pressure to Monetize Messenger and WhatsApp
The social media giant's untapped assets could eventually provide a lift to revenue growth, which is set to slow a lot over the next two quarters.
Face-plant.
The disappointing guidance that has led Facebook (FB) - Get Meta Platforms Inc. Report  shares to plummet post-earnings raises some big questions about how users and advertisers are behaving, as well as about long-term profit margins.
It also ups the pressure on the social media giant to make an aggressive push to monetize its popular Snapchat Stories clones and messaging apps, just as it made an all-out push a few years ago to monetize mobile news feed viewing.
Over the long run, Facebook could very well succeed at such a transition, much as it did with its 2012/2013 mobile transition. However, following its latest numbers, Wall Street might need some time to be fully convinced.
After the bell, Facebook reported Q2 revenue of $13.23 billion (up 42% annually in dollars, and 38% in constant currency) and GAAP EPS of $1.74. EPS, benefiting from $3.2 billion worth of stock buybacks and a 13% tax rate, topped a $1.71 consensus. However, revenue fell short of a $13.34 billion consensus, missing estimates for the first time since 2015.
Facebook also reported monthly active users (MAUs) and daily active users (DAUs) for its core service and Messenger rose 11% apiece to 2.23 billion and 1.47 billion, respectively. Thanks largely to a sequential drop in European users that's partly blamed on the EU's new GDPR privacy/data-sharing regulations, those figures were slightly below consensus estimates of 2.25 billion and 1.49 billion.
Facebook is a holding in Jim Cramer's Action Alerts PLUS member club. Want to be alerted before Jim Cramer buys or sells FB? Learn more now.
Those numbers led shares to go into the earnings call down around 7%. However, they ended the call down more than 22%, and finished after-hours trading down about 20%, due to some of the guidance shared by CFO Dave Wehner. Shares were down 17% Thursday morning.
Specifically:
Facebook expects its annual revenue growth to decelerate at a high-single digit clip sequentially in both Q3 and Q4. 8% declines would spell Q3 revenue growth of 34% and Q4 growth of 26% versus consensus estimates for 38% and 34% growth.
Facebook expects its costs and expenses, still forecast to grow 50% to 60% in 2018, to again grow faster than revenue in 2019. It also expects capital spending, still forecast to more than double this year to about $15 billion, to grow beyond 2018.
Facebook expects its operating margin, which was at 50% in 2017 and 44% in Q2, to "trend towards the mid-30s" over the next several years.
Why is Facebook's revenue growth expected to slow so much? Wehner indicated currency swings (forex will transition from being a tailwind to a slight headwind) and efforts to grow and promote "certain engaging experiences like Stories that currently have lower levels of monetization" would have an impact. He also cautioned that attempts to give consumers (not just European ones) "more choices around data privacy" could take a toll.
The second reason given raises questions about how usage is trending for Facebook's core news feed, which has been by far its largest revenue source. As it is, there has been third-party research pointing to declining engagement rates for Facebook's core service in North America (47% of Q2 revenue) even in 2017, and Mark Zuckerberg cautioned in January that efforts to encourage social interaction and sharing relative to passive content consumption would impact engagement in the near-term. All of this of course was before the Cambridge Analytica scandal broke in March.
Separately, Wehner's remarks about the impact of new data-privacy options, together with some figures shared about Q2 ad sales, raises questions about how Facebook's ad price growth is set to trend.
After rising 39% annually in Q1, Facebook's average price per ad rose just 17% in Q2. On the other hand, the company's ad impression growth, which appear to be getting a healthy boost from Instagram, improved to 21% from 8%.
One of the culprits behind the decline in ad price growth is pretty straightforward: A larger increase in ad supply put some downward pressure on prices. It's also possible, depending on what average prices are like for each platform, that a mix shift towards Instagram ads impacted Facebook's average price per ad.
But the size of the decline in ad price growth, together with Facebook's revenue guidance and recent reports about discontent over rising prices, could be a sign that higher prices are impacting the ad-buying behavior of some marketers. And Wehner's comments about consumer privacy choices suggest the loss of some user data could affect ad prices a bit going forward.
Meanwhile, long-term margin guidance has to be seen as disappointing for anyone who hoped that operating margins would at least stay close to the 50% level they hit last year. That outlook, along with expectations that capex will continue growing beyond 2018, likely says a lot about the long-term infrastructure costs related to supporting video and AI/machine learning services for the 2.5 billion users now said to be using at least one of Facebook's apps. And to some degree, the costs of supporting Facebook's burgeoning content security efforts.
Notably, when asked on the call about Facebook's ability to grow the relatively low average revenue per user (ARPU) it sees in many international markets, Wehner (though expressing optimism about Facebook's ability to grow ARPU) suggested that low-ARPU emerging markets will weigh on margins in the medium-term due to the cost of supporting users within them relative to the amount of revenue those users produce.
On the bright side, Facebook still has a lot of room to monetize many of the services that have proven wildly popular in both developed and emerging markets. Regarding Instagram, Facebook still appears to have some headroom to increase ad load for the platform's main feed, and is still in the early stages of monetizing Instagram Stories and its 400 million-plus DAUs. It also hasn't yet begun running ads on Instagram's new IGTV video platform, which appears to be off to a good start.
Messenger, which has over 1.3 billion MAUs and has begun showing ads to some users, is also in the early stages of being monetized. And for the moment, WhatsApp, which claims over 1.5 billion MAUs overall and over 450 million DAUs for its Stories product (WhatsApp Status), is hardly monetized at all.
As I and others have noted before, Instagram -- and especially Messenger/WhatsApp -- still have a lot of untapped potential. But in the wake of Facebook's Q2 report and call, the pressure to start quickly tapping it is now a lot higher for Zuckerberg and the rest of Facebook's leadership than it was before.