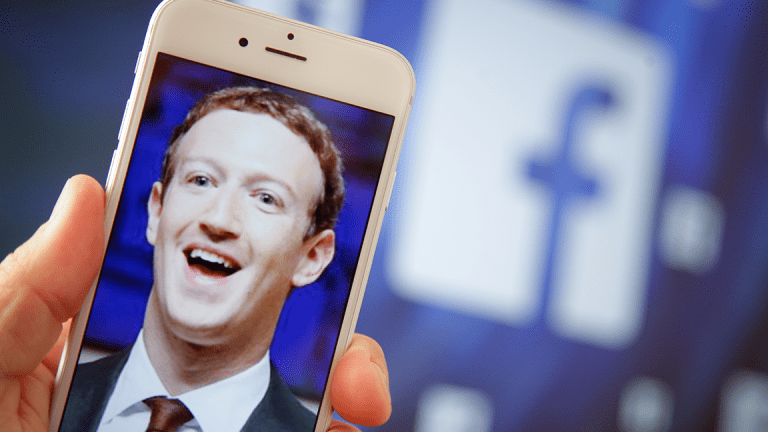 Facebook's News Feed Changes Make Sense With Netflix and YouTube a Click Away
Mark Zuckerberg wants to make sure Facebook isn't treated as a time-waster by its users. He might also want to give advertisers a new reason to spend more.
A week after saying that he wants to make sure in 2018 that "time spent on Facebook (FB) - Get Report is time well spent," Mark Zuckerberg put his money where his mouth is. Quite literally, judging by the 4%-plus selloff seen in Facebook shares following the Facebook CEO and top shareholder's announcement regarding planned news feed changes.
And though Zuckerberg tried to frame Facebook's plans in an altruistic light, there are a few different ways in which they make long-term business sense. Even if there is some risk of short-term damage.
On the afternoon of Jan. 11, Zuckerberg disclosed in a Facebook post that he's tasking the company's product teams to shift their attention from "focusing on helping you find relevant content to helping you have more meaningful social interactions." He added that the core news feed will be the first product to be affected by this strategy change, and that it will result in users seeing more content from "family, friends and groups" and less publicly-shared material from "businesses, brands and media."
Worrying an uncertainty-hating Wall Street: Zuck cautioned that he expected this change, in some ways a continuation of news feed algorithm changes that have been happening since 2016, to cause time spent on Facebook "and some other measures of engagement" to decline in the near-term. Albeit while making the time that users do spend more valuable.
News feed chief Adam Mosseri elaborated on the planned changes by stating Facebook will "prioritize posts that spark conversations and meaningful interactions between people," and that publicly-shared Pages "making posts that people generally don't react to or comment on could see the biggest decreases in distribution." And in a subsequent interview, he noted that the change will also result in less video appearing in the news feed -- "Video is, primarily, a passive experience," he said -- as well as longer comments getting a higher weighting by Facebook's algorithm than shorter comments.
Separately, in a less-discussed announcement, Facebook Messenger chief David Marcus stated on Jan. 16 that "invest in massively simplifying and streamlining Messenger this year," after years of investing in new services (Bots, Instant Games, etc.) that served to clutter the Messenger app. And in the wake of Zuckerberg's 2017 remarks about stepping up efforts to monetize Messenger and WhatsApp, Marcus suggested Messenger will see more advanced customer-support and marketing tools roll out in 2018.
More of What's Trending on TheStreet:
The moves follow the sharing of a recent Facebook-sponsored study indicating that those who passively consumed Facebook content (i.e., merely reading and "liking" Facebook posts and articles) reported seeing worse mental health, while those found to be "actively interacting" with others (particularly close friends) reported improvements in well-being.
From the looks of things, Facebook's top concern is that a shift in user activity towards "low-quality" usage -- usage that amounts to the online equivalent of channel-surfing and/or eventually leaves users feeling cynical about or disillusioned with Facebook, will hurt engagement over the long run. Even if it serves to boost traffic in the short-term.
Or in other words, Facebook doesn't want to be Twitter (TWTR) - Get Report -- a place where passive consumption and limited interaction with friends and family is often the norm for regular users; where political content (including, sometimes, false or misleading material) often dominates feeds; and where user churn has long been high. Facebook has often been referred to as a "utility" for how so many of its 2 billion-plus monthly users rely on it to keep in touch with family and friends -- even if some of those people don't necessarily love using Facebook -- and its latest plans for both the news feed and Messenger suggest the company thinks it's best to keep its utility-like functions at the heart of its user experience.
Weakening engagement rates for some core Facebook services might also have something to do with Zuckerberg's decision. Though CFO Dave Wehner has said on recent earnings calls that "time spent per [daily active user] across the Facebook family of apps and Facebook" continues growing, details haven't been broken out for individual apps or services. In a recent article, BuzzFeed quoted a former senior Facebook employee as saying "time spent in Facebook has been declining for the past couple years for the first time ever."
The employee also stated Facebook "has research showing that if the percentage of friend/family content gets too low then people don't find Facebook valuable anymore." Separately, Pivotal Research's Brian Wieser recently shared Nielsen data indicating U.S. Facebook consumption failed to grow on an annual basis in August and September (the most recent months for which data is available).
And regardless of how much engagement is actually declining, a situation in which Facebook is often treated as a time-waster by much of its user base is a dangerous one, given how many good and cheap digital content sources are available to consumers today. If browsing a Facebook news feed sometimes feels like channel-surfing, it can't be ignored just how much traditional TV viewing has been declining in the U.S. -- particularly among younger Americans spending quite a lot of time using online video services such as Netflix (NFLX) - Get Report and Alphabet's (GOOGL) - Get Report YouTube and/or playing games.
Jim Cramer and the AAP team hold positions in Facebook and Alphabet for their Action Alerts PLUS Charitable Trust Portfolio. Want to be alerted before Cramer buys or sells FB or GOOGL? Learn more now.
Meanwhile, cutting down on the amount of brand and publisher content shown in the news feed gives those brands and publishers a fresh incentive to buy Facebook ads to drive traffic. Which, combined with the fact that Facebook is no longer significantly growing its news feed ad load, should help Facebook ad prices to continue surging. While the company's paid ad impressions only rose 10% annually in Q3, its average ad price rose 35%.
One other benefit: Those Facebook users intent on seeing publisher content now have more of an incentive to check out its recently-launched Explore feed for publisher material. As well as its recently-launched Watch tab for professional video content, which the company has been making big content investments in. Changing the habits of users who consider the news feed to be synonymous with the Facebook app isn't easy, but they become a little easier when those users see big changes in the news feed's makeup.
For all those reasons, Facebook's planned 2018 overhaul might not be as destructive as feared over the short-term. And over the long run, it could very well serve as a case of an ounce of prevention removing the need for a pound of cure.
This column originally appeared on Real Money, our premium site for active traders. Click here to get more great columns like this.

Subscribe to TheStreet on Youtube and enjoy these Editor Picks!