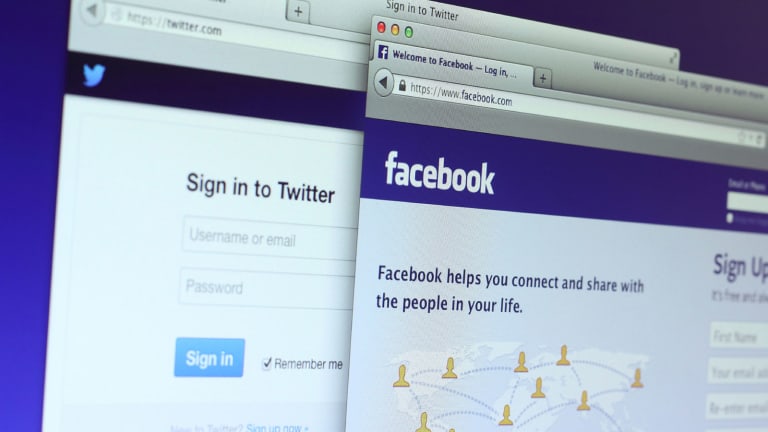 Facebook's KLM Royal Dutch Partnership Hints at Facebook's Huge Profit Potential
A new partnership with KLM Royal Dutch Airlines is just the beginning for the social media giant's monetization scheme.
This week, photo- and video-sharing social media app Snapchat released a major upgrade. Users will now be able to send voice and audio messages to other subscribers. With this upgrade, Snapchat is attempting to take on its rivals Facebook (FB) Messenger and WhatsApp, a messaging app owned by Facebook.
However, Facebook is upping its own ante, with new features in the works that will turn the social media juggernaut from a way to share funny photos of cats into a virtual personal assistant with some seriously efficient capabilities. And investors will be rewarded with potentially phenomenal profits.
About 1.04 billion people use Facebook every day. In 2015, more than 800 million people used Facebook's Messenger app per month. And according to the company, when that number hits 1 billion, it will begin to monetize the instant messaging service. That moment is fast approaching.
According to Facebook, Messenger will become the "Everything App," offering services that will make other mobile apps obsolete. You can now even use Messenger without having a Facebook account. Currently, users in select markets can use a new service found within the app called M, a personal assistant that rivals Apple's Siri. In addition, users are now able to send money among themselves with the app.
The code for a soon-to-be-launched software release will allow Messenger users to pay for goods and services through the app, eliminating the need for cash and going head-to-head with other online payment services such as Apple Pay and PayPal. "We look at the stuff that Apple is doing with Apple Pay, for example, as a really neat innovation in the space that takes a lot of friction out of transactions as well," said Facebook CEO Mark Zuckerberg.
And Wednesday, the company announced its latest Messenger innovation: a partnership with KLM Royal Dutch Airlines that will allow users to check in for flights, as well as receive confirmation notices, retrieve boarding passes, get flight updates, and access KLM's customer service all within the Messenger app.
Facebook's vice president of messaging products, David Marcus, remarked:
"This is one that I've been personally eager to solve for a while: removing stress and complication from air travel. We think Messenger is the best place to talk to people and, increasingly, the businesses people care most about. Now KLM customers will be able to have fast, contextual conversations about flights, all from the comfort of an app they already know and love."
Since about 80% of passengers on all flights already use the Messenger app, expanding into airline support makes sense for Facebook. And it's one step closer to the app becoming a mobile wallet that will, along with acting as a personal assistant, facilitate the purchase of airline tickets.
Once Facebook crosses into monetizing its Messenger app, profits will go through the roof. Evercore ISI analyst Ken Sena believes that by simply offering customer support services to companies such as KLM, Facebook could see a market opportunity of more than $60 billion, making Facebook a stock that's better suited for your long-term growth portfolio than the company's social media rivals.
The social media giant has already proven its salt on the stock markets. Since Facebook announced its WhatsApp purchase in February 2014, the company's stock has risen by about 70%. In the same time, rivals LinkedIn and Twitter have actually lost value.
But by becoming more than just a social media site -- by becoming a personal assistant complete with mobile wallet capabilities -- Facebook shows the potential for even larger growth.
You see Jim Cramer on TV. Now, see where he invests his money and why Facebook stock is a core holding of his multimillion-dollar portfolio. Want to be alerted before Jim Cramer buys or sells FB? Learn more now.
Don't Buy Apple Stock; Buy This Stock Instead: There's a battle raging in the fast-moving world of Silicon Valley. Just as VHS tapes snuffed out Betamax and CDs killed cassettes, the winner of a new "gold standard" for data is about to be crowned. I've discovered a tiny company that figured out a way to corner this new $10 billion market, no matter who comes out the winner. Click here to learn more.
This article is commentary by an independent contributor. At the time of publication, the author held no positions in the stocks mentioned.