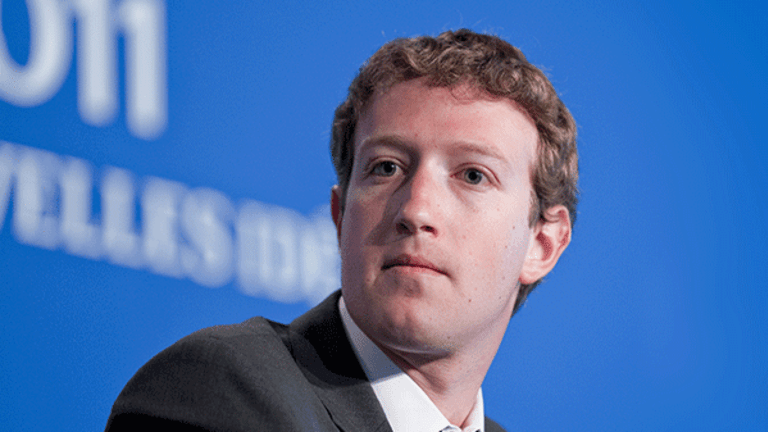 China Blocking WhatsApp Shows How Tough It Is for Facebook to Penetrate China
The social media giant faces a slew of obstacles to growing its Chinese revenue base.
This column was updated on Sept. 26 to note China's blocking of WhatsApp.
When you've managed to get your digital services used by about 30% of the world's people but are still mostly shut out of a country with about a fifth of the world's people, it makes plenty of sense to get serious about changing that state of affairs. That's especially true when the country in question has a booming web/mobile ecosystem that has already produced two $400 billion-plus companies.
But just because Facebook Inc. (FB) badly wants to grow its Chinese presence doesn't mean that its core app and Instagram will be unblocked in the Middle Kingdom anytime soon. And on Sept. 25, it was reported that WhatsApp's services have been blocked in China, with Beijing using specialized software to get around WhatsApp's encrypting of its text messages.
Aside from opposition from Beijing's censors, Facebook's principles, PR concerns and protectionism all act as roadblocks. That said, there are other, more incremental ways for Mark Zuckerberg's company to grow its Chinese revenue base.
This column originally appeared on Real Money, our premium site for active traders. Click here to get great columns like this.
A pair of stories from early September suggest Facebook is once more dialing up its efforts to better penetrate China. First, the New York Times reported Facebook, which already has a Hong Kong office, is thinking of setting up a Shanghai office. The office would reportedly house employees involved with Facebook's rapidly-expanding hardware efforts, but could also "help with its broader ambitions in China."
A couple days later, it was learned that Facebook had hired William Shuai, formerly Head of Government Relations for LinkedIn's Chinese unit. The Wall Street Journal stated that Shuai will be "working closely" with Wang-Li Moser, a Facebook exec tasked with building relationships with Chinese officials.
Both of these moves follows years of meetings by both Mark Zuckerberg and COO Sheryl Sandberg with senior Chinese politicians and regulators. Zuck, who has even learned to speak Mandarin, has long made it clear that he badly wants Facebook's core services to be available in China. "You can't have a mission to want to connect everyone in the world and leave out the biggest country," he said in 2015.
More of What's Trending on TheStreet: Equifax CEO Richard Smith Out Amid Data Breach Scandal This Is What Could Burst Shares of Facebook, Amazon, Netflix and Alphabet How to Make a Deal Like Billionaire Investor Warren Buffett Here's What a Blockbuster Combination of Sprint and T-Mobile Would Look Like
But the big challenges that have stood in Facebook's way remain daunting, and in some ways have gotten even bigger over the last couple of years. Top among them: Chinese regulators, who have gradually stepped up their censorship efforts since Xi Jinping became President in 2013, would almost certainly insist that Facebook tightly censor what users are able to see on its Chinese site and apps.
In many respects, this would require a more intrusive censorship regime than what Google Search implemented before Alphabet Inc./Google (GOOGL) pulled out of China in 2010. Whereas Google "merely" had to prevent certain pages from appearing in its search results, Facebook would have to censor what millions of Chinese users and publishers share on its core platform and Instagram, as well as what's seen by local users courtesy of overseas users and publishers.
As a matter of principle, it's hard to see Zuckerberg & Co. being comfortable with this. And they also have to be sensitive to the PR hit Facebook would take in the U.S. and other markets if it agreed to such censorship. Particularly given the recent uproar over how Facebook has often been used to spread fake or misleading political stories, and the backlash the company saw last year over perceived political bias in its "Trending" stories feature when the feature was controlled by human editors rather than an algorithm.
Here, one could counter that Microsoft Corp.'s (MSFT) LinkedIn agreed to local censorship rules and has amassed 32 million-plus Chinese users in less than four years. But as a professional platform that users mostly rely on to network, find jobs and promote themselves, LinkedIn's censorship challenges aren't nearly as tough as the ones Facebook would encounter.
And for a company like Facebook, whose services would take aim at those of high-profile Chinese Internet firms such as Tencent Holdings Ltd. (TCEHY) and Weibo Corp. (WB) if allowed, it can't be ignored how Chinese censorship and protectionism have often gone hand-in-hand. Even if the company was to make big concessions, there could be opposition in Beijing to letting a foreign Internet giant try to muscle in on turf long held by local players.
Facebook and Alphabet are holdings in Jim Cramer's Action Alerts PLUS Charitable Trust Portfolio. Want to be alerted before Cramer buys or sells FB or GOOGL? Learn more now.
Though WhatsApp has now been blocked, mesaging apps might still be Facebook's best way to make meaningful inroads within China, since they require less overt content censorship -- it's quite possible that Beijing is less bothered by WhatsApp's services per se than by its encrypting of messages. Here, it's worth noting here that Microsoft's Skype is still allowed in China.
Facebook could ultimately push to get both WhatsApp and Messenger unblocked within the country. The fact that most Messenger IDs are based on Facebook IDs could be a complication -- this isn't the case for WhatsApp, which relies on phone numbers -- but the fact that Facebook has let consumers set up Messenger accounts via phone numbers for two years might provide an opening. And as Facebook starts getting serious about monetizing its messaging platforms, it could obtain some revenue from their Chinese user bases.
But the incredible popularity of Tencent's WeChat (963 million monthly active users, with the lion's share in China) greatly restricts the Chinese addressable market for Facebook's messaging platforms, and to a degree Facebook proper. WeChat, widely used to communicate, play games, shop, pay for items, watch videos and do much else, is a giant mobile ecosystem unto itself. And it's the main reason why WhatsApp, though huge in many other emerging markets, was a niche player in China prior to its blocking, with much of its local base having consisted of Chinese looking to stay in touch with overseas friends and family.
On the advertising side, Facebook (like Google) already does a lot of business selling ads to Chinese firms looking to promote their goods and services to potential overseas buyers. And as Facebook sets up Chinese offices and continues fleshing out its e-commerce ad offerings, that business could grow further still. There could also be some room for Facebook's Oculus VR unit to make inroads in China, which has a fast-growing VR headset market. However, several prominent local players have already emerged.
Five years from now, China will probably account for a larger portion of the company's total sales than it does today, and just maybe also a larger percentage of its global user base. But unless one sees major changes in Facebook and/or Beijing's attitudes, or unless WeChat magically disappears, it's best to keep expectations in check.