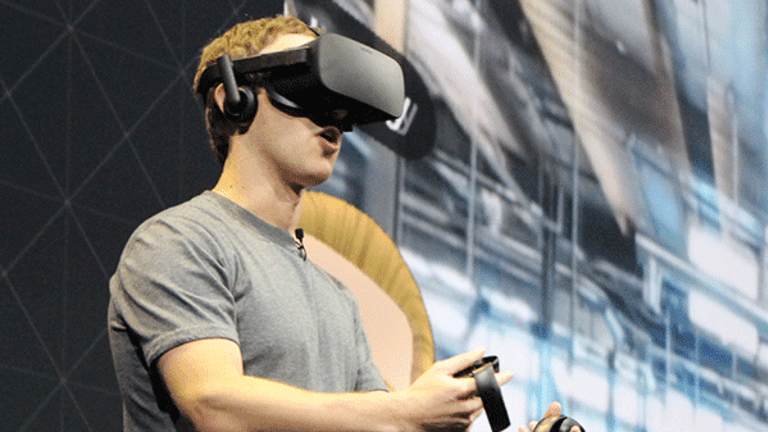 Facebook's $200 Oculus Price Cut Sends a Powerful Message About Virtual Reality
Until image quality significantly improves, virtual reality is likely to remain a niche market.
It's easy to grasp why stories about the price cuts carried out by Facebook Inc.'s (FB) - Get Facebook, Inc. Class A Report Oculus unit for its Rift virtual reality headset and related Touch motion controllers suggest the cuts are proof that VR has failed to live up to its considerable hype. Industry unit sales are perhaps equal to about 1% of global smartphone sales, and that's after factoring cheap smartphone-paired headsets that are sometimes bundled with high-end phones.
This column originally appeared on Real Money, our premium site for active traders. Click here to get great columns like this.
But while near-term hopes for VR have come down a lot, Oculus' price cut isn't a sign that VR is failing as it is that the Facebook unit's original VR strategy -- trying to deliver a superior user experience by creating a costly headset that has to be paired with a high-end PC featuring a powerful Nvidia Corp. (NVDA) - Get NVIDIA Corporation Report or AMD Inc. (AMD) - Get Advanced Micro Devices, Inc. Report GPU -- was a mistaken one for a market this young and immature. And that it's now trying to adapt.
About 15 months after launching the Rift to good but measured reviews, and about 7 months after launching the Touch to very good reviews, Oculus has slashed the price of a bundle featuring the two items by $200 to $399. The move comes after Oculus cut the Rift and Touch's standalone prices by $100 apiece in March, to $499 and $99.
Oculus says the new price cut is only good for six weeks. But a discount this large, and which lasts for such an extended amount of time, is typically followed by either a permanent cut or the discontinuation of the hardware in question in favor of a newer model. With Oculus having signaled that a second-generation Rift won't be arriving before 2019, the former seems more likely.
A permanent Rift/Touch price cut also makes sense in light of how the Rift occupies a niche within a niche right now, thanks in part to stiff competition. Research firm IDC estimates that just 99,000 Rift units were shipped in Q1, giving Facebook a 4.4% VR unit share.
IDC thinks Samsung was the market leader on a unit basis, estimating the company's $99 Gear VR headsets -- they're powered by Oculus software, and rely on high-end Samsung phones to supply a display and processing power -- recorded 490,000 shipments. Sony Inc. (SNE) - Get SONY GROUP CORPORATION SPONSORED ADR Report was the presumptive revenue leader, with the company estimated to have shipped 429,000 units of $399 PlayStation VR headset, which works with PlayStation 4 consoles. And HTC was estimated to have shipped 191,000 units of its $799 Vive headset, which like the Rift needs to be paired with a PC.
Clearly, the VR headset market has been evolving differently than Oculus once hoped. Shipments are lighter than VR evangelists hoped, and a large chunk of them involve cheaper smartphone and console-paired headsets. A key culprit behind both of these trends: The user experience delivered by modern-day VR headsets, whether the Rift, the Gear VR of something in between, remains far from ideal.
In particular, the subpar display resolutions provided by today's headsets -- generally in the 1080p or 2K resolution range -- can't help but disappoint those used to seeing sharp, unpixelated images on their phones, tablets and PCs. The closer a display is to a user's eyes, the more pixels it needs to pack per square inch to provide a sharp image. That's why a 5 or 6-inch smartphone display needs a much higher pixel density than a typical 4K-resolution TV, and why VR headset displays need much higher densities still.
During a talk at CES, Intel Corp. (INTC) - Get Intel Corporation (INTC) Report VR exec Kim Pallister suggested to me that, if using current software approaches, VR headsets would need 16K-panel display resolutions for each eye to deliver image quality on par with that of retina smartphone displays. He did add that compression improvements and other advances would enable such image quality at lower resolutions, but regardless, big display and GPU advances -- advances that might take a few years to materialize -- are needed to deliver smartphone-caliber viewing experiences.
In the meantime, the difference in the user experience between the Rift, the PlayStation VR and smartphone-powered headsets such as the Gear VR and Alphabet Inc./Google's (GOOGL) - Get Alphabet Inc. Class A Report Daydream View becomes a matter of degrees from a consumer perspective. Throw in ongoing issues related to things like image lag (latency), motion sickness and developer support, and the Rift's relatively high-quality viewing experience and controllers matter less than things like cost, mobility and/or access to a large game console ecosystem.
That helps explains the Rift/Touch price cuts, as well as Facebook's efforts to create a standalone Rift headset (codenamed Santa Cruz) that doesn't need PC pairing or external sensors. Such moves could help Oculus both better compete against Sony and HTC, as well as newer entrants. These include OEMs launching PC-paired headsets based on Microsoft Corp.'s (MSFT) - Get Microsoft Corporation (MSFT) Report low-cost Windows Mixed Reality platform, and ones set to launch hardware based on Intel's Project Alloy platform for standalone VR/AR headsets.
In time, Facebook's $2 billion 2014 purchase of Oculus might still be vindicated, as might Mark Zuckerberg's belief that VR (along with AR) will eventually be a transformative computing and communications platform. But as was the case for many other promising but demanding technologies, the road is shaping up to be a long and bumpy one.
Facebook and Alphabet are holdings in Jim Cramer's Action Alerts PLUS Charitable Trust Portfolio. Want to be alerted before Cramer buys or sells FB or GOOGL? Learn more now.
Visit here for the latest business headlines.