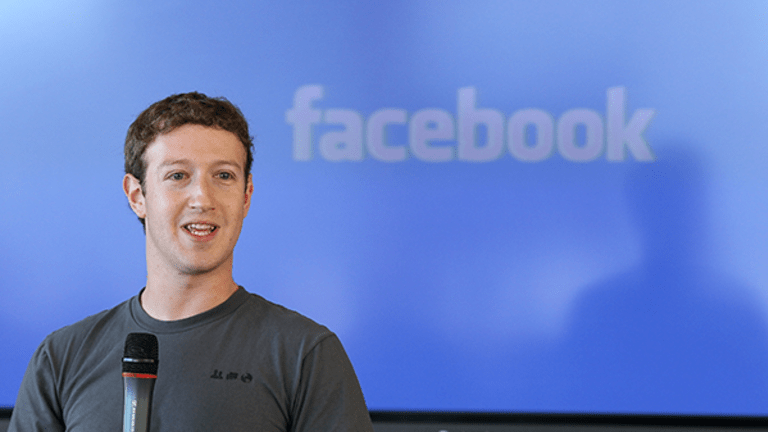 Facebook Reported to Have Created Censorship Tool to Return to China
Mark Zuckerberg said he didn't want to be an 'arbiter of truth' but Facebook has been developing a censorship tool to get back into China.
Mark Zuckerberg said he didn't want to be an 'arbiter of truth' but Facebook has been developing a censorship tool to get back into China.
Still under fire for spreading fake news that may have influenced the direction of the presidential election, Facebook (FB) - Get Report could face more scrutiny for developing a censorship tool to get back into China, The New York Times reported on Tuesday.
Unnamed current and former employees told the newspaper that the tool was created to suppress posts from appearing in people's news feeds based on their geographical locations, something that Chinese social media networks such as SINA (SINA) - Get Report , Weibo (WB) - Get Report and Tencent's WeChat have long been doing.
Since Facebook was blocked in 2009, the only way to access the social network inside China was through a virtual private network, software that can be used to bypass blocking. Many VPN services, however, are blocked in China too. It is not uncommon for some VPN services to work well for some time and then become blocked or unstable suddenly, which makes accessing blocked sites in China frustrating for users.
It's still up in the air whether the tool will ever see the light of day. Developing the software has already allegedly caused contention within the company, prompting several Facebook employees who worked on the censorship tool to leave the company, the Times story said. 
Facebook has removed content from users' feeds at the requests of governments before, but in developing the censorship tool for China, the company potentially would allow a third party, most likely a Chinese company, to help suppress messages from appearing in the first place.
"We have long said that we are interested in China and are spending time understanding and learning more about the country," a Facebook representative said via email. "However, we have not made any decision on our approach to China. Our focus right now is on helping Chinese businesses and developers expand to new markets outside China by using our ad platform."
Jim Cramer and Jack Mohr, who co-manage the Action Alerts PLUS portfolio as a charitable trust, wrote in their latest research note on Facebook that the social media giant "remains one of the best long-term growth stocks." Click here for a free 14-day trial membership to AAP to see why.
Facebook isn't the only internet company with services blocked in China, of course. Alphabet's (GOOG) - Get Report Google and YouTube, Twitter (TWTR) - Get Report , Snapchat and Facebook's own Instagram and WhatsApp are among dozens of services inaccessible within China.
Some experts believe that Facebook, like any company, has to comply with local laws.
"Companies like Facebook are in an unenviable position. They are often accused of acting inappropriately, but surely it would be more inappropriate for them to dictate the policies in a sovereign nation," said Daniel Castro, vice president at Washington think tank Information Technology and Innovation Foundation. " In the long term, this is a win for consumers everywhere. The value of a social network grows as the number of users increases. By adjusting its technology so that it can thrive in the Chinese market, all Facebook users will be better off."
If Facebook ends up rolling out the tool, the company would join the lead of Microsoft's (MSFT) - Get Report LinkedIn and Bing search engine as a U.S. company that has agreed to Chinese censorship in exchange for the massive market share on the table.
Even with 1.8 billion active users, Facebook has faced pressure for further growth beyond its existing markets. China, with a population of 1.4 billion, remains the biggest untapped market for the company. 
"It's better for Facebook to be a part of enabling conversation, even if it's not yet the full conversation," founder Mark Zuckerberg is reported to have commented on the development of the censorship tool at its early stage.