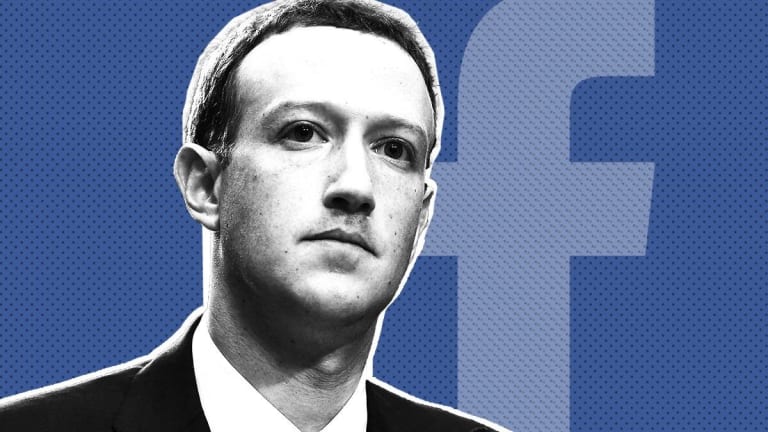 Facebook's Q2 Earnings on Wednesday: 5 Key Things to Watch
The social media giant's shares have surged since its last earnings report. That spells higher expectations.
Facebook's (FB) 30%-plus run-up since its last earnings report can't help but make the Cambridge Analytica scandal feel like a distant memory for many investors.
It also spells higher expectations, though, for a company that needs to squash lingering concerns about user engagement and ad supply growth even as many trends for its two largest businesses -- News Feed ads and Instagram ads -- still look pretty strong.
Ahead of Facebook's Q2 report, due after the close on Wednesday, the consensus among analysts polled by FactSet is for revenue of $13.34 billion (up 43% annually) and GAAP EPS of $1.71 (up 30%). Those numbers have risen a bit since late April, when Facebook beat Q1 estimates and calmed worries that the bad press it got related to Cambridge Analytica had seriously dented Facebook usage in the U.S., which appears to produce over 40% of Facebook's revenue.
TheStreet will be live blogging Facebook's earnings report and call after the close on Wednesday, July 25. Please check our home page then for more details.
In addition to Facebook's revenue and EPS numbers, here are a few things for investors to keep an eye on as Mark Zuckerberg's company delivers its Q2 report and hosts an earnings call at 5 P.M. Eastern Time.
1. User Engagement Trends
Months before the Cambridge Analytica scandal occurred, there were signs that domestic usage of Facebook's core services was slipping in the U.S., particularly among younger consumers. Moreover, though it argued the impact on ad views might not be that large, the company made it clear that changes (disclosed in January) meant to lower passive content consumption and encourage social sharing and interaction would have a near-term impact on engagement.
For Q2, Facebook is expected to report having 2.25 billion monthly active users (MAUs) and 1.49 billion daily active users (DAUs) globally for its core service and Messenger as of June, both of which would represent 12% annual growth. In North America, where growth has naturally been slower due to high penetration rates, MAUs are expected to come in at 242 million (up 2%) and DAUs at 185 million (up 1%).
2. Ad Impressions and Prices
Facebook's ad supply growth has been limited in recent quarters, as the company stops significantly increasing its news feed ad load (the number of ads shown for a given amount of viewing) and sees some pressure on user engagement. However, ad prices have been surging, both due to limited supply growth and the strong returns advertisers have been seeing for their Facebook campaigns thanks to the quality of its ad products and targeting/measurement abilities.
In Q1, Facebook's ad impressions rose 8% annually, while its average ad price rose 39%. Instagram, which just topped 1 billion MAUs and seems to have more room to grow ad load, likely gave some lift to impression growth in Q2. And speaking more generally about online ad sales, Alphabet/Google's (GOOGL) strong Q2 report is an encouraging sign.
Facebook and Alphabet are holdings in Jim Cramer's Action Alerts PLUS member club. Want to be alerted before Jim Cramer buys or sells FB or GOOGL? Learn more now.
3. Comments on Messenger and WhatsApp Monetization
Though it's still early days, Facebook has begun taking some steps to monetize Messenger's 1.3 billion-plus MAUs, via ads and in-app transactions. And the recent departure of WhatsApp CEO Jan Koum, together with a major Facebook executive shakeup announced in May, should pave the way for the company to become more aggressive about monetizing WhatsApp and its 1.5 billion-plus MAUs.
Zuckerberg and/or COO Sheryl Sandberg could offer some comments on the call about how they plan to proceed with Messenger and WhatsApp monetization in the near future. Regarding WhatsApp, simply rolling out ads for the app's Snapchat Stories clone (it's known as WhatsApp Status, and has over 450 million DAUs) the way that Facebook has done for Instagram Stories could open up a healthy amount of international ad inventory.
4. Comments on Facebook Watch
Facebook's Watch video platform, which was hyped as a YouTube rival when it launched last summer, has had a bumpy ride in spite of its parent's willingness to pay high-profile creators to provide content for it. Two weeks ago, The Information reported that Watch viewership for shows created by the likes of ABC, Discovery and A&E Networks, as well as by smaller media firms, has "disappointed some show creators," and that mid-stream video ads "have alienated many users."
Look for management to get a question or two on the call about Watch's performance to date, and how Facebook plans to proceed from here. In the eyes of this observer, the company has erred by not opening up Watch to a broader set of content creators, including independent YouTube creators who are either frustrated with some of YouTube's policies or simply want to grow their reach.
5. Spending Guidance
Facebook hiked its already-aggressive spending guidance on its April earnings call. The company forecast it expects GAAP costs and expenses to rise 50% to 60% in 2018, and for capital spending (depreciation expenses for which are eventually recorded on Facebook's income statement) to more than double to $15 billion. Content quality and security investments have much to do with the cost/expense growth; data center investments have much to do with the capex growth.
Any update to Facebook's spending guidance will be closely watched. Though the Cambridge Analytica scandal has died down, Facebook still faces plenty of scrutiny over its content policies, as Zuckerberg's latest controversy demonstrates. And that gives the company an incentive to keep spending heavily on various quality control efforts.