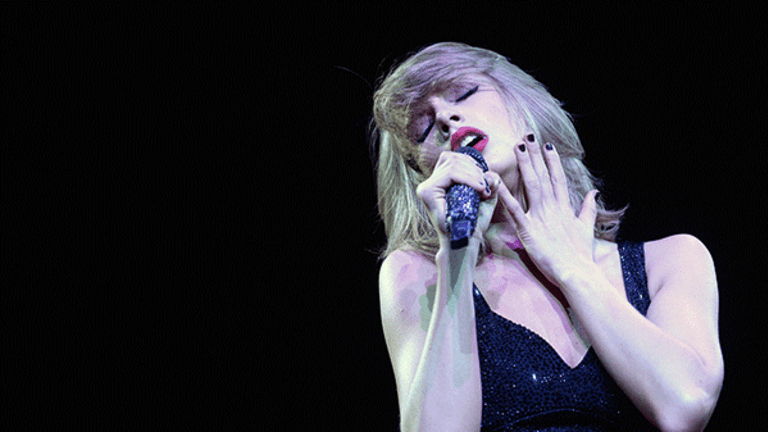 How Facebook Is Trying to Avoid a Public Relations Disaster with Songwriters
Mark Zuckerberg's company appears eager to avoid the kind of backlash from artists and songwriters that has plagued Spotify, Pandora and Apple Music.
One thing Facebook Inc. (FB) CEO Mark Zuckerberg doesn't want is a public war of words with Taylor Swift, Metallica or Bob Dylan.
In recent years, major artists have clashed with streaming services Spotify Ltd. and Apple (AAPL) Music over royalties paid, or not paid, for the use of their music. The same goes for Pandora Media Inc. (P) as well as Alphabet Inc.'s (GOOGL) YouTube, which accounts for 40% of music listening but just 4% of music revenue, according to a October 2016 study by Goldman, Sachs & Co.
In response, the streaming sites have had to play damage control, attempting to appease musical celebrities so as to avoid angering their large and loyal followings.
For Facebook, the public relations stakes may be even higher. Alone among social media platforms, Facebook's brand is particularly tied to notions of community and fair play. For that reason, Zuckerberg has taken a variety of steps to police the site for fake news and hate speech, often with mixed results.
Facebook recently rolled out a video-centric button on its website, Watch, one part of Zuckerberg's ambitious plans to make video, and the music that accompanies it, a greater focus of his web site. Facebook is preparing to spend more $1 billion on original content, The Wall Street Journal reported earlier this month, citing people familiar with the matter. 
After years of avoiding licensing talks with music songwriters, Facebook began reaching out to publishers in recent months with an eye toward an initial deal. Facebook has done the same with the major labels, Universal Music Group, Warner Music Group and Sony undefined Music Entertainment.
For songwriters, who don't carry the prestige and influence of big-name artists, Zuckerberg's pivot came just in time.
"We were on the brink of this becoming an enormous focus of the creative community about the lack of Facebook's licenses and payments to creators," said David Israelite, president of the National Music Publishers Association in Washington. "It would be extremely short-sighted and stupid if your goal is to start working more with original content to basically create an environment where you're seen as being extremely hostile to the people who make content."
A Facebook representative declined to comment for this story. 
In recent years, the major music labels have signed or renewed royalty agreements with Spotify, Apple Music and Pandora, a period that has seen music streaming subscriptions surge past 100 million, a formidable milestone. Yet as streaming services have become the largest source of music industry revenue, labels and publishers have grumbled that Facebook, the world's biggest social media platform with $28 billion in sales last year, doesn't pay for the use of musical works.
Facebook "has been around for a long time now, and music has also benefited their site for a very long time," said Andrew Sparkler, an executive at New York's Downtown Music Publishing LLC, which administers right to songs by John Lennon, Bruce Springsteen and others. "Until about six months ago, they haven't thought to get a license from publishers or artists."
Facebook, Apple Inc. and Alphabet are holdings in Jim Cramer's Action Alerts PLUS Charitable Trust Portfolio. Want to be alerted before Cramer and the AAP team buy or sell FB, AAPL and GOOGL? Learn more now.
More of What's Trending on TheStreet:
Facebook has long resisted direct talks with the music industry. Like YouTube, the Menlo Park, Calif., company has leaned heavily on the 1998 Digital Millennium Copyright Act, which effectively says internet platforms aren't responsible for what their users post on their sites. Rather than actively police the site for user uploads of copyrighted songs, or homemade versions of those songs, Facebook requires rights holders to send them so-called take-down requests.
Rach year, music publishers send Facebook thousands of the requests, prompting the site to remove posts containing copyrighted material. Facebook then sends a note to the user explaining why his or her post was removed. In cases of repeated violations, pages are sometimes shut down. The whole process is laborious and inefficient, and even Facebook executives have intimated that it's not good for the user experience.
But then again, Facebook hasn't had to make royalty payments to songwriters or artists. 
"There is certainly a sense in the publishing community that Facebook as well as YouTube have intentionally dragged their feet," said Lisa A. Alter, a copyright attorney at New York's Alter, Kendrick & Baron LLP who advises composers, authors and musical estates. "Because the DMCA put the burden on the owner, the digital service providers have little incentive to enter into licenses or to pay fair market rates."
To be sure, Facebook is different than YouTube, which allows users to search for specific songs. It's a sharing platform, and each user comes to view their page as their personal domain. If Facebook has to take down a post of a family singing Taylor Swift's "Shake It Off," a seemingly harmless bit of fun, it's likely to alienate that user, and his or her family. Not a winning strategy.
But to artists and songwriters, Facebook has a duty to protect copyrighted music, especially when that music helps keep users at the site while they watch billions of hours of video advertising. 
"It's not a source of revenue for them, but it's a driver for them," Sparkler added. "People are going to go to Facebook for many reasons, but music is a big component of what's on there. They can use that to put ads against and other ways to make money."
Like Facebook, YouTube cited the DMCA when refusing to pay royalty fees. But YouTube is an electronic jukebox that allows users to search for specific songs, and when that song is finished, it's followed by another by default. Much like internet radio. In 2011, after four years of litigation, Google agreed to licensing deals with major labels and songwriters.
Since then, a series of lawsuits between songwriters and streaming services have put the two sides back at odds. Songwriters are pushing for a per-stream payment plan given that they don't profit from touring the way that artists do. The size of the fee, though, remains a sticking point in talks with Apple, among others.
Facebook, meanwhile, appears intent on avoiding litigation and the kind of drawn-out licensing negotiations that dogged Spotify for more than two years. In January, the company hired Tara Hrivnak, a former executive at Warner/Chappell Music Inc. who came to Facebook after directing music partnerships for Google Play and YouTube. Sparkler said Hrivnak's hiring was a positive sign that Facebook is serious about doing a deal.
The same goes for its acquisition in July of Source3, a content rights management startup that was created by the same people who built a similar platform, RightsFlow, before selling it to Google in 2011. Facebook has intimated to publishers that while it is improving its ability to track the use of copyrighted music on its platform, it is open to some kind of initial licensing agreement.
And that, Israelite says, is progress.
"Facebook has intentions to become much more active in the video space, and that's going to require relationships with the music community," Israelite said. "They do seem concerned about what's going on currently on their site. I'm optimistic that we're going to get to a place where the two sides can be business partners, and that's the focus right now."