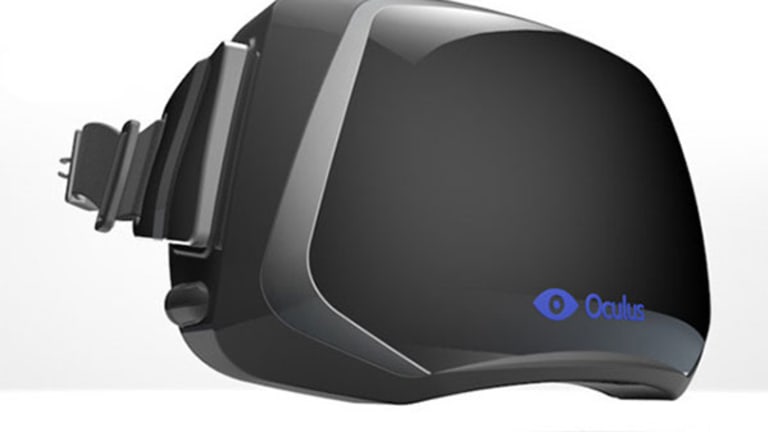 Facebook Goes Virtual Reality for $2B -- But Is Zuck Just Seeing a Mirage?
Facebook spends $2 billion to buy early virtual technology mover Oculus VR. Does that give the Social Network a foothold in a budding market or it it just a mirage?
NEW YORK (TheStreet) -- Facebook (FB) announced Tuesday that it acquired virtual reality technology company Oculus VR for $2 billion, making the social networking company the latest heavyweight in virtual reality technology. Oculus makes the Oculus Rift, a virtual-reality game headset originally funded on Kickstarter for $2.4 million. (Those funders, by the way, will get nothing in this deal.)
Facebook has big competitors in this territory already. Google (GOOG) has long touted the augmented reality available in its hotly debatedGoogle Glass and Sonyundefined has been working on Project Morpheus -- a virtual reality headset under development for Playstation.
"While the applications for virtual reality technology beyond gaming are in their nascent stages, several industries are already experimenting with the technology, and Facebook plans to extend Oculus' existing advantage in gaming to new verticals, including communications, media and entertainment, education and other areas," said Facebook in its news release. "Given these broad potential applications, virtual reality technology is a strong candidate to emerge as the next social and communications platform."
In a press release announcing the Facebook deal, Oculus said, "Over the next 10 years, virtual reality will become ubiquitous, affordable, and transformative, and it begins with a truly next-generation gaming experience. This partnership ensures that the Oculus platform is coming, and that it's going to change gaming forever."
My question is: who has time to wear a computer?
Sure, virtual reality headsets may make video games more entertaining, and there is always the chance that virtual reality systems could take on a Lawnmower Man-esque ability to help people supercharge their learning (presumably without the early 1990's B-movie horror aspect).
Will social media ever exist in what Oculus calls the "metaverse"? Probably. Science fiction has shown dozens, if not hundreds, of scenarios in which people connect virtually. In real life things certainly seem to be moving in that direction.
The big question is whether it pays to invest this early in the game, and whether these companies' moves are going to make the key difference in the field. The answer is probably not.
The fact is, virtual reality is still in its infancy. It is hard to say where the next big player will emerge.
Oculus, Morpheus, Google Glass -- each has a chance to skyrocket as a dominant technology or fall flat. Virtual reality technology and the players in the field are going to shift dramatically before anything really comes to market, and so will public opinion and perception.
There are bigger issues, too. For example, when LightSquared developed technology which allowed it to offer "dead-zone free" mobile phone service, but failed when it became clear the service could conflict with GPS devices. There will be big problems like this. And there is bound to be a backlash from people concerned about the effects of essentially sitting inside a television. ("The Veldt," anyone?)
Rest assured, the primary difference is not going to be whether Luxottica comes on board to offer a Ray Ban or Oakley edition of a headset or eyewear set, as they now will for Google Glass.
Facebook did a good job by looking to the future. But making such an expensive wager in order to be an early mover in such an undeveloped area seems foolhardy unless the social media company is going to keep a focus on gaming and education -- and it very well may. Facebook has been losing the attention of younger generations, gaming and education could bring them back front and center.
Plus, Facebook knows gaming. The company had enjoyed a fair amount of success in web gaming before mobile platform owners Apple (AAPL) and Google edged the social media giant out and relegated it to becoming a "layer" for logins, sharing and advertising.
Buying early mover Oculus could be Facebook's way of getting a head start on the pack. After all, Apple does have a patent for its own virtual reality goggles. Just don't expect Facebook's share price to jump overnight as a result.
At the time of publication, the author held no positions in any of the stocks mentioned.
Follow @ReneeAnnButler
This article represents the opinion of a contributor and not necessarily that of TheStreet or its editorial staff.