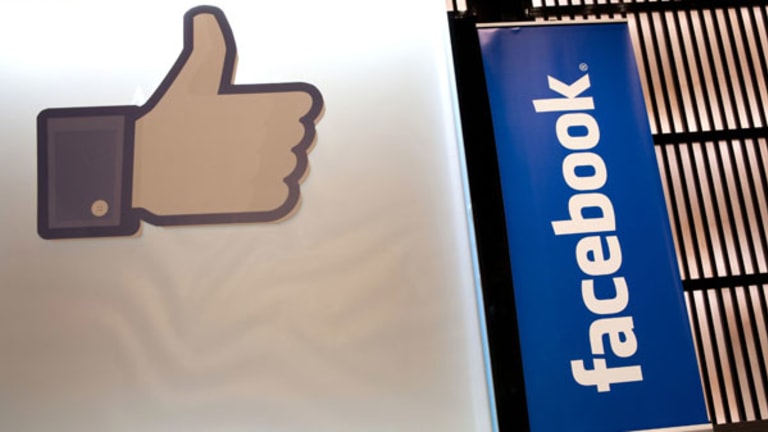 Facebook Dominates Adults' Use of Social Media
Latest Pew Research survey shows 73% of adults online use social media and Facebook holds a sizable lead. Twitter places fourth.
NEW YORK (TheStreet) -- According to a new survey from the Pew Research Center Internet Project, 73% of "online adults" are now using social networking sites. Those adults are described as 18 years of age or older.
Even more interesting is the popularity of the networking sites they're using. Facebook (FB) - Get Meta Platforms Inc. Class A Report still leads the pack by a large margin but Twitter (TWTR) - Get Twitter, Inc. Report only placed fourth on the list.
Seventy-one percent of the adults surveyed this year say they use Facebook. That's up from 67% a year ago. In second place was LinkedIn (LNKD) with 22% up from 20% last year. Privately-owned Pinterest registered a large increase year over year jumping from 15% to 21%.
According to the survey Twitter (TWTR) - Get Twitter, Inc. Report registered a 2% increase to 18% in the 2012-2013 study. In fifth place was Facebook-owned Instagram which saw an increase from 14% to 17% in the past year.
Pew researchers note that while Facebook is still the dominant force other networking sites have developed their own demographic user profiles:

Pinterest holds particular appeal to female users (women are four times as likely as men to be Pinterest users), and LinkedIn is especially popular among college graduates and internet users in higher income households. Twitter and Instagram have particular appeal to younger adults, urban dwellers, and non-whites. And there is substantial overlap between Twitter and Instagram user bases.
Facebook also holds another distinction. 63% of Facebook users visit the site at least once a day; 40% visit multiple times each day. Other sites which come close are Instagram (57% visit once a day/35% multiple times) and Twitter (46%/29%).
As for crossover, 42% of online adults said they use multiple (two or more) networking platforms while 23% use only one. Of that second group, Facebook is the most popular choice registering a whopping 86 percent of single-site users. LinkedIn scored 8%, Pinterest 4% while Instagram and Twitter came in at 2% each.
The Pew survey results are based on data from telephone interviews conducted from August 7 to September 16, 2013, among a sample of 1,801 adults, age 18 and older.
-- Written by Gary Krakow in New York
To submit a news tip, send an email to tips@thestreet.com.