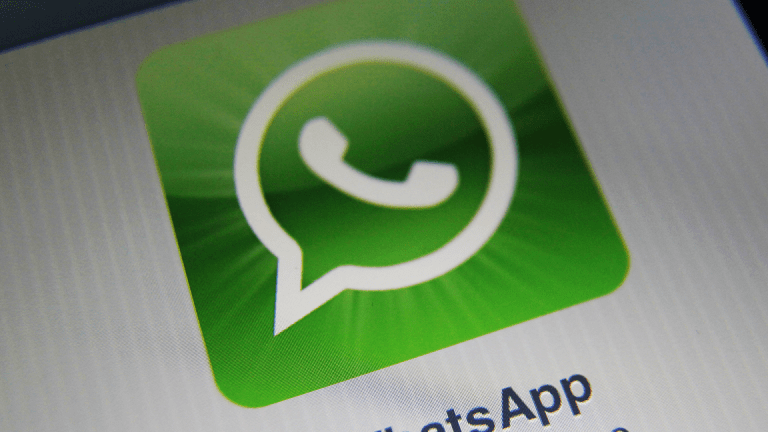 Facebook's Reported Crypto Efforts Could Give It a New Way to Monetize WhatsApp
The social media giant is reportedly working on a cryptocurrency that would be pegged to the U.S. dollar and support cross-border payments.
The social media giant is reportedly working on a cryptocurrency that would be pegged to the U.S. dollar and support cross-border payments.
If one needed additional proof that Facebook  (FB) - Get Report is starting to get serious about better monetizing WhatsApp, a Bloomberg report about the company's cryptocurrency plans provides it.
Facebook's Stablecoin Initiative
Facebook, according to the report, is working on a stablecoin -- a cryptocurrency pegged to the U.S. dollar -- and plans to make it available to WhatsApp users. Sources say the first use case will be enabling remittance payments in India.
India, it should be noted, is a market where WhatsApp claims over 200 million monthly active users (MAUs) and is often used as an SMS replacement, and where the messaging app is already testing a peer-to-peer (P2P) payments service. As Bloomberg points out, it's also the world's largest remittance market; the World Bank estimates India received $69 billion worth of remittance payments last year.
It looks as if Facebook's effort is being headed by David Marcus, who was once in charge of Facebook Messenger and before that was President of PayPal (PYPL) - Get Report  prior to the latter's split from eBay (EBAY) - Get Report . This spring, as part of a broader restructuring, Marcus was put in charge of Facebook's blockchain initiatives.
Facebook's blockchain team has been stepping up its hiring activity in recent months. Notably, a job listing for the team says that it has "a vision to make blockchain technology work at Facebook scale and improve the lives of billions of people around the world."
Facebook and PayPal are holdings in Jim Cramer's Action Alerts PLUS member club. Want to be alerted before Jim Cramer buys or sells FB or PYPL? Learn more now.
Opportunities and Risks
Remittances -- and perhaps cross-border payments in general -- are a good place to kick off a stablecoin initiative. This is a market where transaction fees are often high, and where clearing a transaction using the popular SWIFT network can often take several days. Conceivably, a stablecoin could enable much lower transaction fees, while also dramatically speeding up processing times.
A dollar peg, meanwhile, would in theory allow Facebook's cryptocurrency to avoid seeing the kind of volatility that so many cryptos are notorious for, and which would undoubtedly act as a deterrent for many would-be users. While a cryptocurrency known as XRP (Ripple) has long promoted itself as a solution for cross-border transactions, a look at its chart shows why many consumers and businesses could be wary about keeping their funds in XRP for even a short amount of time.
Of course, given the challenges faced by existing stablecoins such as Tether, it remains to be seen whether Facebook will succeed in keeping its offering (assuming it launches) fully pegged to the dollar. It's possible that Facebook's scale and strong balance sheet will instill a level of confidence in its stablecoin that has eluded many existing offerings, but only time will tell.
There are other potential challenges as well. Governments have generally been classifying cryptocurrencies as securities rather than currencies, thus making them subject to capital gains taxes and securities regulations. And looking at India in particular, banking regulations -- already a headache for WhatsApp's Indian P2P efforts -- could easily get in Facebook's way.
The Big Picture
With so much still unknown about Facebook's blockchain efforts, perhaps the main takeaway from Bloomberg's report for now is that Mark Zuckerberg's firm is thinking outside the box as it looks for ways to monetize WhatsApp and Facebook Messenger -- messaging platforms that have over 1.5 billion and 1.3 billion MAUs, respectively, but which for now produce very little revenue and for which showing ads within private messaging threads is a likely non-starter.
WhatsApp recently launched a programming interface (API) for business users through which businesses are charged when they send messages to users who haven't contacted them in the last 24 hours. And in 2019, the company plans to start running ads against WhatsApp Status, a "stories" service that claimed over 450 million daily active users (DAUs) as of May.
Messenger, for its part, has begun showing ads to some users on its Home tab, and also now supports in-app purchases for games played within the Messenger app via Facebook's Instant Games platform. COO Sheryl Sandberg has suggested in the past that Facebook, whose core app has long shown ads that let users contact businesses via Messenger, wants to eventually use the organic interactions that happen between consumers and businesses within Messenger as a springboard for driving paid interactions on the platform.
Increasingly, it also looks as if payments will also play a role in Facebook's attempts to derive more revenue from two platforms that have tremendous long-term potential, and which could eventually help offset the pressures being faced by the company's core news feed ad business.
Save 66% with our '12 Days of Holiday Deals' Sale. Join Jim Cramer's Action Alerts PLUS club for investors and get our best deal of the year. Click here for details or to sign up.