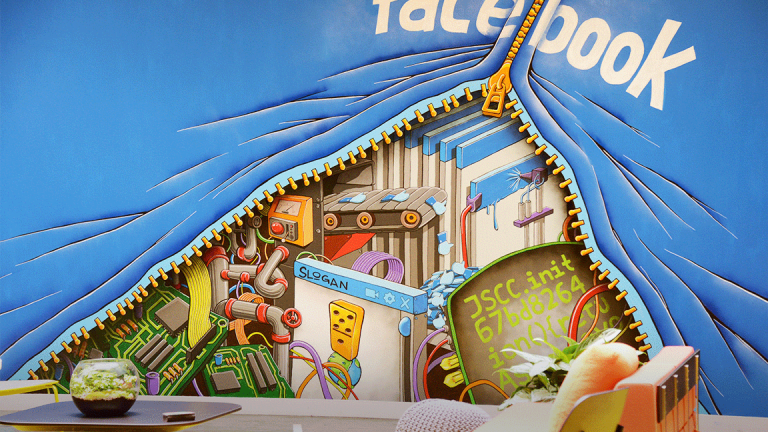 Facebook Crisis: Is 'Big Data' the New 'Subprime Mortgage' for Hot Tech Sector?
Facebook's 'data misuse' scandal is a reminder of the value -- and the danger -- of the personal information held by global tech firms that both drive stock market growth but pose major reputational risks for companies that use it recklessly.
The collapse of Bear Stearns ten years ago could have served as a wake-up call for Wall Street and the billions in toxic mortgage debt and derivatives that sat, mispriced and misunderstood, on the balance sheets of banks all over the world.
Six months, later, of course, Lehman Brothers followed Bear into the dustbin of history, nearly taking the global financial system along with it, largely as a result of Wall Street's inability to react to the new market paradigm.
There's a troubling symmetry to the rise of investment banks and the corresponding leverage they brought to the global economy in the run-up to the crisis and the massive value that tech companies have added to indices around the world in the current bull market.
Both were built on the accumulation of assets that are hard to value, difficult to account for and potentially explosive if handled improperly.
For the banks it was debt. For the tech world its data.
Action Alerts Plus holding Facebook Inc. (FB) - Get Meta Platforms Inc. Class A Report shares have fallen more than 10% over the past two sessions, dragging social media peers such as Twitter Inc. (TWTR) - Get Twitter, Inc. Report and Snap Inc. (SNAP) - Get Snap, Inc. Class A Report sharply lower and loping more than $45 billion in value from the world's biggest social media company as it struggles to control the fallout from revelations that as many as 50 million users may have had their personal details sold to a shadowy British political consultancy, which in turn may have used it to sway elections all over the world.
Facebook has been careful -- to the point of insistence -- that it wasn't the victim of a data "breach", but that hardly seems to matter.
But just as Michael Milken failed to convince the media that junk bonds were actually "high yield debt" and Wall Street tried in vain to whitewash the term "subprime loans", any attempt to call use of data by a third party without the provider's consent anything other than a breach is doomed.
The truth is, data is simply too valuable to treat so flippantly: a 2015 study in an MIT paper, The Rise of Data Capital, estimated that 84% of the value of S&P 500 companies comes from intangible assets such as data and software, a figure that translates to about $20 trillion in today's market.
TheStreet Podcast | Facebook: How to Protect Your Data
The figure is even more acute for tech companies, whose broader infrastructure is dwarfed by the value of the data they collect; data which allows them to target advertising (in the case of Facebook), sell tertiary services (in the case of Apple) or simply amass enormous customer bases in order to undercut and disrupt traditional retailers (in the case of Amazon).
Facebook's ability to leverage customers into data that generates revenue and grows its business is well-documented: it paid, in effect, $19 billion for 600 million WhatsApp (or $30 a piece) when it bought the messaging firm in 2014, having shell-out a similar amount for Instagram for ($33 million) two years earlier.
But it's also been reckless in that pursuit: the EU fined Facebook $120 million last year for misleading officials over its ability to automatically match user accounts on both platforms and faces a similar levy today after a Belgian court ruled that it breached privacy laws by tracking users on third-party sites.
"Facebook informs us insufficiently about gathering information about us, the kind of data it collects, what it does with that data and how long it stores it," the court said last month. "It also does not gain our consent to collect and store all this information."
The court's language is eerily similar to that used by the U.S. Federal Trade Commission in 2011 after it said Facebook "deceived consumers by telling them they could keep their information on Facebook private, and then repeatedly allowing it to be shared and made public."
Bloomberg News reported Tuesday that the FTC headed to Menlo Park as part of a new probe, with fines and sanctions potentially to follow.
"That was the problem with money," wrote Michael Lewis in his best-selling book on the global financial crisis 'The Big Short'. "What people did with it had consequences, but they were so remote from the original action that the mind never connected the one with the other."
The same might be said of the tech sector's use of personal data: its value in the market has created a disconnect to what it actually means to the individual.
And that's a dangerous place to be.