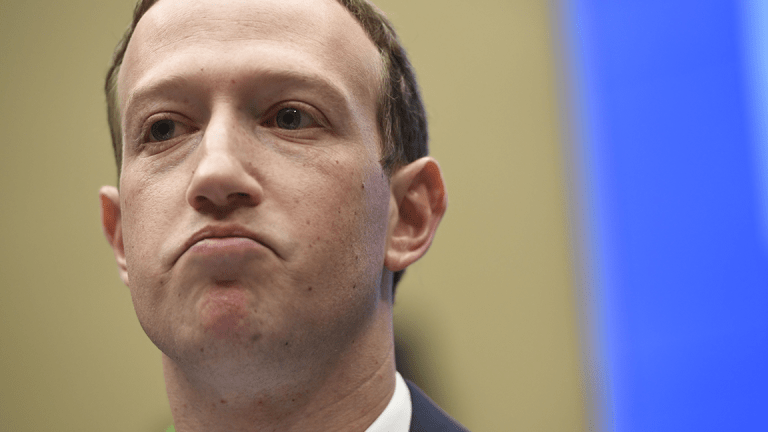 Facebook's Cancelled Drone Project Shows Even Tech Giants Have Limits
Time and time again, tech giants such as Google and Facebook have found that 'disrupting' the telecom and pay-TV industries is harder than it looks.
Time and time again, tech giants such as Google and Facebook have found that 'disrupting' the telecom and pay-TV industries is harder than it looks.
For all their success in other areas, tech giants have found that "disrupting" traditional mobile, broadband and pay-TV providers is easier said than done.
Facebook  (FB) - Get Report provides us with the latest example: The social media giant announced on Tuesday that it's ending efforts (begun in 2014) to design and build its solar-powered Aquila drones, which aimed to provide web access to remote and underserved regions. A Bridgewater, U.K facility responsible for drone development will be shut down, and 16 employees laid off.
Facebook insists that it remains committed to making connectivity delivered via what it calls high-altitude platform stations (HAPS) a reality. However, those efforts will now be limited to developing radio technologies and to working with partners such as aviation giant Airbus. Last November, Facebook and Airbus announced they were working together to advance "spectrum and aviation policy," and to "continue to demonstrate the viability of HAPS systems for providing broadband connectivity."
Alphabet/Google (GOOGL) - Get Report can probably sympathize with Facebook's decision to end the Aquila project. The company's Project Loon initiative, which aims to use high-altitude balloons to provide web access to remote and underserved areas, only appears to have made limited headway since it was officially unveiled in 2013. Loon was used -- with some help from AT&T (T) - Get Report  and T-Mobile US  (TMUS) - Get Report -- to provide web access to over 100,000 Puerto Ricans last year in the aftermath of Hurricane Maria, but there haven't been any announcements regarding major permanent deployments of Loon systems.
Meanwhile, Alphabet is about 18 months removed from halting the expansion of Google Fiber's broadband and pay-TV services into new cities (some expansion is still happening in existing Fiber cities). And though Google hasn't shared subscriber numbers, it doesn't look as if Project Fi, a U.S. mobile service that relies on Sprint (S) - Get Report and T-Mobile's networks along with Wi-Fi hotspots, has seen massive uptake.
Google's efforts to take on pay-TV incumbents via its web-based YouTube TV service also appear to have only made limited progress. In January, CNBC reported that YouTube TV, which began rolling out in April 2017, had just slightly over 300,000 subscribers. In addition, many think the service is losing money, given its pricing and a belief that TV network owners are charging relatively high affiliate fees to online TV services such as Google's effort.
For its part, Amazon.com (AMZN) - Get Report  reportedly scrapped plans to launch an online TV service last year due to profitability concerns. And Apple (AAPL) - Get Report was reported in 2015 to have postponed plans to launch an online TV service due to stalled licensing talks with network owners; the company's video content efforts now seem focused on building a library of original shows and movies.
Facebook, Alphabet, Amazon.com and Apple are holdings in Jim Cramer's Action Alerts PLUS member club. Want to be alerted before Jim Cramer buys or sells FB, GOOGL, AMZN or AAPL? Learn more now.
Naturally, the precise reasons for why the efforts of tech giants to upend telecom and pay-TV markets vary from one situation to another. In the case of Facebook's Aquila project, the manufacturing challenges involved with mass-producing giant solar-powered drones at a reasonable cost were probably a consideration. As may have been questions about how cost-effective drone-based connectivity would be for many underserved regions, compared to building out terrestrial mobile radio networks there.
Generally speaking, however, the advantages possessed by incumbent telecom and pay-TV providers in areas such as infrastructure, economies of scale and established customer relationships have helped thwart the ambitions of tech giants. These issues have created challenges that generally don't exist in fields such as as online advertising, e-commerce, consumer hardware and cloud services. In these fields, the tech giants have often claimed major advantages over rivals thanks to their brands, consumer reach, user data, engineering talent and/or data center scale, among other things.
For example, it's hard for Google Fiber to get a positive return on the billions it would need to invest to provide last-mile fiber services on a large scale to U.S. consumers and businesses when most of those consumers and businesses are already signed up with ISPs and pay-TV providers that have already spent many billions over the years on their infrastructures. Project Fi, meanwhile, is at a cost disadvantage due to its reliance on third-party mobile networks, and also lacks the massive retail store footprint that incumbent mobile network owners have at their disposal.
As for online TV providers, they have to square off against pay-TV incumbents whose size gives them a better negotiating position with at least some TV network owners, and which can bundle their TV services with broadband and phone services.
To be fair, it is possible that technology breakthroughs could help upend the status quo in some areas. For example, by eliminating the need for costly and time-consuming fiber-to-the-premise (FTTP) investments, fixed-wireless broadband technologies could breathe new life into Google Fiber's once-lofty ambitions, at least in suburban and rural areas. And when it comes to connecting remote and underserved areas, advances in satellite broadband technologies bear watching.
Nonetheless, the challenges faced by efforts such as Aquila, Google Fiber and YouTube TV serve as a reminder to maintain a sense of perspective when a tech company unveils a "breakthrough" product or technology that's promised to upend a giant telecom or pay-TV market.