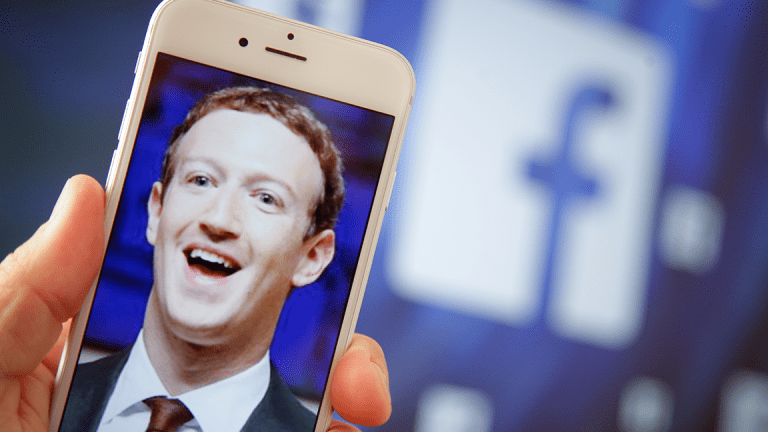 Facebook's Cambridge Analytica Debacle Will Have Wall Street Talking Monday
Facebook's handling of the Cambridge Analytica situation over the weekend will likely dominate headlines on Monday. So will the crash in bitcoin prices.
Considering a chaotic (more) White House and an upcoming Fed meeting where an untested chairman will field questions from soundbite-hungry media, the markets are hanging tough in March. 
Headed into the second half of the month, the Nasdaq Composite (+2.8%) and S&P 500 (+1.4%) are clinging to respectable gains as investors position ahead of a possibly upbeat first quarter earnings season in April. The Dow Jones Industrial Average, bogged down by trade war fears that have hit heavy machinery stocks such as Boeing (BA) - Get Boeing Company Report (-9%) and United Technologies (UTX) - Get n.a. Report (-4.8%), is down about 0.3% thus far in March. 
Dow futures fell 59 points as of 3:45 a.m. ET, while Nasdaq futures dropped 57 points and S&P 500 futures were down slightly. 
Here are three things investors will be watching closely on Monday. 
Does Facebook's Stock Tank?
It may be time for Facebook's founder Mark Zuckerberg to hold a special webcast for the investment community to calm their growing nerves. Shares of the social media giant have under-performed the Nasdaq by roughly three times this year as investors grapple with potentially slower profit growth thanks to news-feed changes and greater political risk. It's unlikely the latter factor will get any better after the series events that unfolded this weekend.
Facebook disclosed late Friday that data analytics firm Cambridge Analytica, which had ties to the Trump campaign, improperly obtained and failed to destroy private data on 50 million users. Lawmakers, coining it a data breach on Facebook, took to Twitter to blast the company and call for Zuckerberg to testify before the Senate Judiciary Committee.
Reminds Facebook in its annual report:
"Any failure to prevent or mitigate security breaches and improper access to or disclosure of our data or user data, including personal information, content or payment information from users, could result in the loss or misuse of such data, which could harm our business and reputation and diminish our competitive position."
"We receive a high degree of media coverage around the world. Unfavorable publicity regarding, for example, our privacy practices, terms of service, product changes, product quality, litigation or regulatory activity, government surveillance, the actions of our advertisers, the actions of our developers whose products are integrated with our products, the use of our products or services for illicit, objectionable, or illegal ends, the actions of our users, the quality and integrity of content shared on our platform, or the actions of other companies that provide similar services to us, has in the past, and could in the future, adversely affect our reputation. Such negative publicity also could have an adverse effect on the size, engagement, and loyalty of our user base and result in decreased revenue, which could adversely affect our business and financial results."
Facebook is a holding in Jim Cramer's Action Alerts Plus.
How Stocks Act Into the Fed Meeting
So far, stocks have ignored the potential for any surprises from Fed chair Jerome Powell's first press conference atop the governing body on Wednesday. Money continues to flood high growth cloud computing stocks such as Adobe Systems (ADBE) - Get Adobe Inc. Report (+8% in March) and big-cap tech like Action Alerts Plus holding Amazon (AMZN) - Get Amazon.com, Inc. Report (+4%). But if the action in home-builder stocks are any indication, investors may want to book some profits in those aforementioned high-flyers into Fed day. 
The SPDR S&P Homebuilders ETF (XHB) - Get SPDR S&P Homebuilders ETF Report has tanked 3% over the past month on fears that higher interest rates in 2018 will weaken key parts of the U.S. economy such as housing. While the Fed is widely expected to lift rates on Wednesday, it's unknown how Powell will articulate the future pace of rate hikes.  
Bitcoin Price Plunge
Bitcoin prices continued their disastrous run over the weekend, breaking below the psychologically important $8,000 level on Saturday evening. The crypto's price has shed about 25% so far in March. It's now down roughly 60% from the all-time high of more than $19,000 hit in Dec. 2017.
Bitcoin prices as of 4:17 p.m. ET stood at $7,509.60, according to Coindesk.
At this point, negative headlines on bitcoin such as the likelihood of regulation will probably keep the crypto's price under wraps near-term.