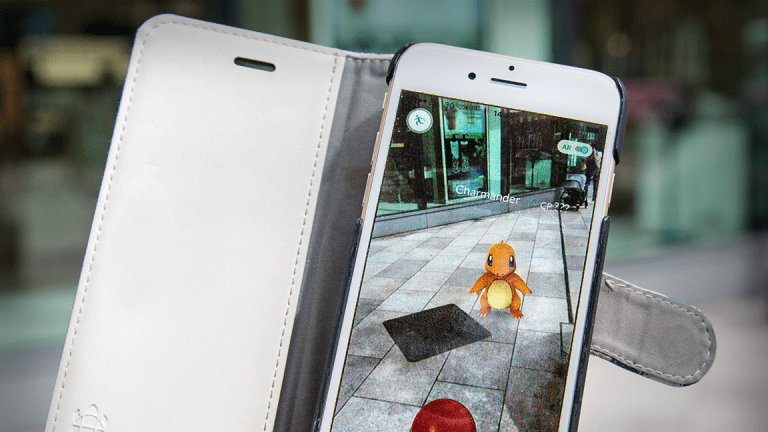 Facebook, Apple, Snap and Others Are Already Monetizing Augmented Reality
Though AR headsets might still be a few years away from prime time, phone-based AR is starting to take off.
Though it's still early days for the technology, tech companies large and small are finding ways to profit from augmented reality that have nothing to do with selling headsets.
Facebook (FB) has served up the latest evidence: The social media giant just disclosed that it's testing augmented reality ads that appear in its main news feed. By tapping a button, the ads open up a camera view that lets users do things such as see how a pair of sunglasses would look on their faces, or how furniture would look inside of one's living room, before deciding whether or not to place an order.
Michael Kors, Wayfair, Pottery Barn and Candy Crush Saga developer King Digital (owned by Activision (ATVI) ) are among the firms that are either demoing the ads or plan to. The move comes after Facebook announced at its F8 developer conference that it will use AR within Facebook Messenger to let consumers visualize and try out products. Instagram, now used by many consumer brands and apparel retailers to promote their goods, would also be a good fit for such a feature.
AR ads have long been a major revenue source for Snap Inc. (SNAP) . The company's sponsored lenses and filters, which let Snapchat users add goofy and whimsical AR filters promoted by brands to their selfie photos and videos, have been used by everyone from Taco Bell to L'Oreal to Budweiser. And last fall, Snap rolled out sponsored world lenses, which allow promoted AR content to be added to photos and videos taken with a phone's rear camera.
It might be just a matter of time before Facebook begins supporting similar AR ad products via its Camera Effects platform, which allows AR content to be added to photos and videos taken using the camera feature within Facebook's core app and more recently Instagram and WhatsApp.
Amazon.com (AMZN) , for its part, is about eight months away from launching a feature called AR View for its iOS shopping app, and about five months removed from rolling it out on Android. Much like the AR ads Facebook is now testing, AR View lets users see how various consumer goods would look in a real-world environment, as well as move them around.
AR View relies on Apple's (AAPL) ARKit software development kit (SDK) on iOS, and Alphabet/Google's (GOOGL) ARCore SDK on Android. Both of these SDKs are being used by developers to create a wide variety of AR-capable apps. With Apple and Google each taking a 30% cut on most transactions that happen within their respective app stores, ARKit and ARCore could turn into meaningful revenue-generators in time.

A demo involving Apple's ARKit platform.
Gaming especially seems to be fertile ground in this respect -- particularly given the runaway success of Nintendo's Pokemon Go. In a recent research note, Morgan Stanley's Katy Huberty estimated games account for 76% of Apple's App Store revenue. She also estimated that consumers spent over $40 billion on App Store transactions over the prior 12 months, yielding slightly over $12 billion in revenue for Apple. At its June WWDC conference, Apple unveiled a second-gen version of ARKit that supports multiplayer gaming and also delivers better face-tracking and graphics rendering.
For Google, the company's innovative Lens feature -- it's baked into Google Assistant, and is also starting to be integrated with the default camera app on some Android phones -- could also yield some revenue opportunities. Lens uses machine learning and Google's giant Knowledge Graph to detect objects and surface relevant information and user actions. One could imagine Google charging companies to promote goods or services related to objects detected by Google Lens, or taking a cut on e-commerce transactions. That said, such services will only drive a lot of revenue for Google if consumers embrace Lens in a big way, and don't simply view it as a novelty.
We're still probably three to fours years away from seeing AR headset adoption go mainstream,
that need to be addressed in areas such as display resolution, field-of-view, processing power and battery life. But in the meantime, there are clearly plenty of ways that tech giants can use phone-based AR to get consumers to engage more with their platforms.
And in some cases at least, there will be a revenue opportunity attached to that consumer engagement.
Facebook, Amazon.com, Apple and Alphabet are holdings in Jim Cramer's Action Alerts PLUS member club. Want to be alerted before Jim Cramer buys or sells FB, AMZN, AAPL or GOOGL? Learn more now.