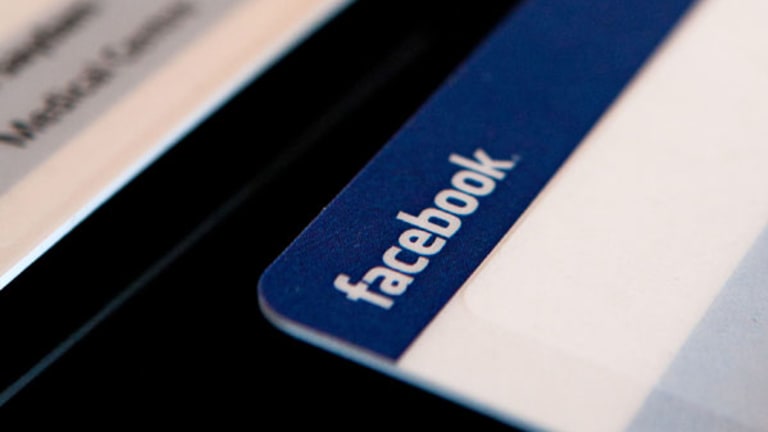 Facebook and Zynga Increase Online Gambling Bet
The experience Zynga and Facebook gain in the U.K. market perfectly pave the way towards other markets including the Americas and Asia.
NEW YORK (TheStreet) -- You may not know it but inside the U.K. Facebook (FB) - Get Free Report is in the online gambling business. Facebook added real money gambling a little over a year ago. Up until recently it was limited to bingo and online slots but now, through a partnership with Zynga (ZNGA) - Get Free Report, Facebook users in the U.K. can play online poker for real money.
None of the games are available in the U.S. yet. Legal hurdles including the Unlawful Internet Gambling Enforcement Act of 2006 have, until recently, kept almost all forms of online gambling outside of lottery ticket sales underground and offshore. After the U.S. Department of Justice clarified (essentially reversed) its stance on Internet gaming, states started testing the waters with intrastate licenses.
Delaware, Nevada and New Jersey have passed legislation to allow some forms of commercial online gambling. Because the licenses are for intrastate only, all the players have to be physically located within their respective state borders to play. Geo location software is used to determine the players' location.
Surprisingly, Nevada, as open as it is for physical gambling and casinos, is highly restrictive in the virtual world and only allows for online poker with real money. New Jersey, on the other hand, allows greater diversity of types of games and is off to a slow, albeit better start.
The two main players in New Jersey are Borgata Hotel Casino owned by Boyd Gaming (BYD) - Get Free Report and MGM Resorts (MGM) - Get Free Report, and Caesars Interactive (CACQ) . Borgata Hotel Casino uses the same software vendor bwin.party Digital Entertainment to provide the poker platform as Zynga in the U.K. Because bwin.party is licensed in New Jersey and working with Zynga -- and by proxy Facebook -- there's little reason to believe the trio will be delayed from entering other markets including the United States.

I highlighted why I believe Wall Street is vastly underestimating the profit potential for Zynga in Bitcoin and Poker: Zynga's Best Friends. Facebook's entry into online poker further diversifies the social media giant's revenue stream. It's too early to know how much revenue and bottom line profits poker can bring to Facebook, but we can reasonably estimate Zynga's revenue at about $175 million a year based on the latest quarter's filing before adding Facebook to the mix.
The experience Zynga and Facebook gain in the U.K. market perfectly pave the way towards other markets including the Americas and Asia. Facebook is a $143 billion company with a forward earnings multiple over 50. I think online gambling revenue and earnings will increase and perhaps become a key component, but don't expect gambling to move Facebook's relative earnings needle far.
On the other hand, online real money poker is already the number one game hosted by Zynga based on revenue. In Real Money Pro before the market opened on Tuesday, I wrote a 12-month Zynga price target of $10+ and strategies including options on how you can exploit it. (If you don't have a subscription simply sign up for a free trial to read it.)
About 90 minutes after the opening bell I bought Zynga shares and plan on increasing my stake during dips. I may have just the opportunity when Zynga reports earnings on Feb. 6 after the close.
Analysts aren't expecting stellar results for the last quarter, but it doesn't matter. All Zynga needs is two more markets the size of the current highly competitive U.K. online gaming market and the company becomes more of a casino than a FarmVille virtual seed and implement dealer.
While often focused on short-term strategies, I'm convinced Zynga offers an exceptionally attractive risk-to-reward for investors searching for a 12-month or longer holding period. As additional states approve online gambling the bull thesis for Zynga will increasingly become evident.
At the time of publication, the author is long Zynga.
This article represents the opinion of a contributor and not necessarily that of TheStreet or its editorial staff.