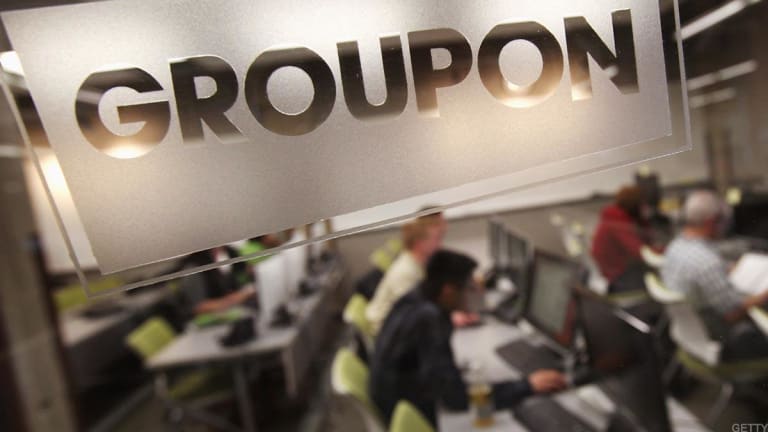 Why Is Groupon on Sale? Look No Further Than Facebook, Google and Amazon
The local deals provider is reportedly putting itself on the block. Facebook and Google's success at winning over small businesses are major culprits, and so has Amazon's growth.
Almost seven years after it went public at a near-$13 billion valuation, Groupon (GRPN) - Get Groupon Inc. Report is worth just $2.6 billion as it reportedly puts itself on sale.
Facebook (FB) - Get Meta Platforms Inc. Report and Alphabet/Google (GOOGL) - Get Alphabet Inc. Report have a lot to do with that. Amazon.com (AMZN) - Get Amazon.com Inc. Report bears some responsibility as well.
Over the weekend, Re/code reported that Groupon and the banks that work for it "have contacted several public companies in the past month to try to drum up interest" in buying the company. The site adds that "it's not clear" if Groupon has succeeded in finding a suitor.
As of the time of this article, Groupon shares are up 9.1% to $4.76. However, they're still down 8% on the year and more than 75% below their $20 2011 IPO price.
Facebook, Alphabet and Amazon.com are holdings in Jim Cramer's Action Alerts PLUS member club. Want to be alerted before Jim Cramer buys or sells FB, GOOGL or AMZN? Learn more now.
Why has Groupon, which reportedly got a $6 billion buyout offer from Google a year before its IPO, struggled so much as a public company? One big reason is that Facebook and Google have each been very successful at growing their ad sales to local businesses.
At heart, Groupon's local deals business, which involves selling vouchers that provide discounted access to goods and services sold by local businesses, serves as a vehicle for acquiring and retaining customers. Google and Facebook's ad products -- particularly, Google's search ads and Facebook's news feed ads -- now play the same role for many local businesses (both small businesses and corporate establishments).
Facebook, which saw its ad revenue rise 49% in 2017 to $39.9 billion, claimed more than six million advertisers last fall. That's up from three million in early 2016 and just one million as of mid-2013. Small businesses account for a large portion of this base, as Facebook succeeds in convincing more and more of the 80 million-plus small businesses that have set up Facebook pages to buy ads to promote themselves.
Google hasn't broken out the size of its advertiser base. However, CEO Sundar Pichai has been eager to talk up Google's ad momentum with small businesses on earnings calls. "Google continues to be the platform of choice to help small business owners get online and grow their business," he declared during Google's Q3 2017 call. Ad sales on Google's own sites and apps rose 22% to $77.8 billion last year.
The immense size of Facebook and Google's user bases -- and especially their mobile user bases -- is a natural draw for local businesses. And so are the sophisticated ad-targeting abilities the companies can provide with the help of their user data, and their investments in measurement tools that can help track when an online ad helps drive offline sales or store visits.
It's also hard to overlook Facebook and Google's attempts to make it as easy as possible for small businesses to both create an online presence and -- via self-serve web and mobile tools -- subsequently create and run ad campaigns. Facebook has built free apps to help businesses create ads and manage their business pages, and recently promised to provide digital skills training to a million people and small-business owners by 2020.
On the Q3 call, Pichai said that more than one million small businesses had used a free website-builder tool in the prior quarter to create a digital presence. And via its Smart Bidding solutions, Google has been using machine learning to help advertisers large and small get more bang for their buck.
All of this has been weighing on Groupon's local deals sales, which account for the lion's share of its gross profit. The company's Local segment billings rose just fractionally last year to $3.23 billion, and the consensus is for them to drop 6% this year to $3.05 billion.
Meanwhile, though Groupon managed to fight off Amazon in the local deals market, Jeff Bezos's company is a major reason why Groupon's Goods business, which functions as a discount online retailer, has struggled to make money. With the help of Prime, a burgeoning third-party seller base, a massive fulfillment and logistics infrastructure and much else, Amazon has been taking e-commerce share like clockwork in the U.S. and Europe.
Last year, research firm eMarketer estimated Amazon would account for 43.5% U.S. retail e-commerce gross merchandise volume (GMV), up from 38.1% in 2016. The company's North American segment revenue rose 33% last year (perhaps around 25% after backing out the impact of the Whole Foods deal) to $106.1 billion.
Groupon, on the other hand, saw its Goods billings drop 17% last year to $1.81 billion. And the consensus is for Goods billings to drop to $1.67 billion this year. The company has admittedly sought to de-emphasize its Goods efforts lately in favor of trying to grow Local billings.
In spite of the headwinds it faces from tech giants, it's still possible that Groupon, which currently has an enterprise value (market cap minus net cash) of just 0.4 times its expected 2018 billings, could find a suitor. The company still claimed 49.6 million "active customers" (defined as someone who made purchase in the prior 12 months) as of March, and has amassed quite a lot of valuable data about the local shopping habits of its user base. Groupon's recent efforts to partner with the likes of GrubHub undefined , LiveNation and Major League Baseball could also appeal to a buyer.
Regardless, the fact that Groupon is apparently putting itself on the block while sporting such a cheap valuation says a lot about the damage tech giants have done to it since its glory days earlier in the decade.