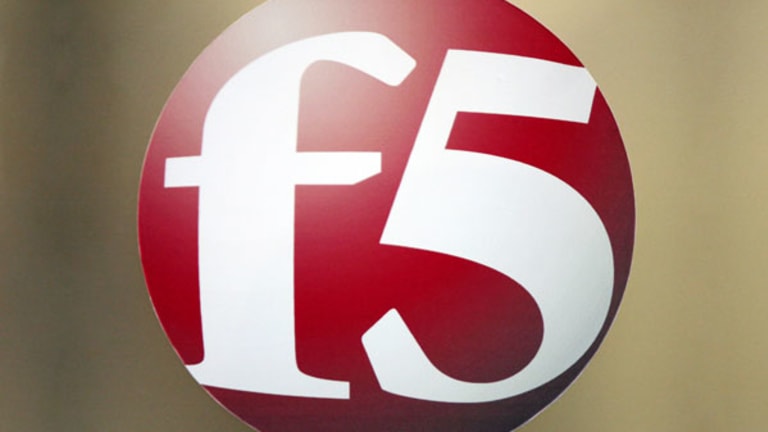 Publish date:
F5's Problems Hit Home
The Street deserves some blame here for being too late to recognize these glaring weaknesses in this company that have been obvious for some time.
The Street deserves some blame here for being too late to recognize these glaring weaknesses in this company that have been obvious for some time.
NEW YORK (TheStreet) -- Investors who are stuck in the idea that valuation doesn't matter are realizing that everyone once in a while it does, especially for tech companies with enormous growth expectations. On Friday, shares of F5 (FFIV) - Get Report took a brutal beating, falling almost 20% following for downgrades from several prominent analysts.
Granted, these analysts are right for lowering expectations. Unfortunately, they're five months late. We saw these red flags in November and
discussed them here
.
The growth expectations and the execution didn't add up then, and they still don't. As I indicated in that article, investors were taking significant risks. Back then, we made the following observations regarding the company's Q4 earnings report.
"While this figure represents a 6% increase year over year, it fell short of analysts' estimates of $1.18 a share on revenue of $366.1 million. Essentially, although F5 grew revenue and EPS by 15% and 6% respectively, the company missed on both its top and bottom lines. Considering how tech companies have fared this year, including rivals such as Cisco (CSCO) - Get Report, this was not a huge surprise. But Cisco does not carry F5's high expectations either. If I were an investor, alarms would be sounding.
"The company is producing product revenue growth in only single digits. Likewise, though F5 showed a slight year-over-year improvement in gross margins, that figure showed a noticeable decline sequentially. Similarly, investors have to wonder if growth of less than 13% in operating income supports paying the premium they would pay for these shares today.
Also see: Whole Foods Finally Has a Real Competitor >>
These were glaring weaknesses that the Street should have picked up on. Yet, the stock continued to trade at a level that presumes growth would continue indefinitely. But it was more than that. Unlike many other tech companies that were dealing with weak IT spending, F5's challenge was twofold.
Going in to 2013, not only did the company face tough growth challenges, but that growth needed to come in sufficient quantities to justify the valuation. While management will never admit that they operate on pressures imposed by the company's stock price, this is also hard to ignore. The Street loved this company too much.
However, that wasn't the only warning that we issued. Again, on Feb. 7 following the company's fiscal first-quarter report
I told investors to bail on the stock
. Unfortunately, many remained committed to the idea that growth would continue despite soft margins.
Today, analysts from
Piper Jaffray
,
Citigroup
(C) - Get Report
, and
Topeka Capital
, no longer believe that the company can deliver the goods. Topeka Capital's Brian White said:
Despite the biggest appliance refresh in four years, F5 is still struggling with product revenue and clearly a concern. We believe the Company has fallen victim to a tough macroeconomic environment and confusing trends around next generation networking technologies such as SDN that are causing IT managers to delay purchases.
Again, White makes an accurate observation. But F5 has been telling investors this same information in its last three earnings reports. Investors ignored the signs and embraced excessive optimism.
What's more, management underestimated the direction of the ADC market and failed to diversify itself in the manner of Cisco, which has been on shopping spree -- spending $1.2 billion for Meraki and another $141 million in cash for Cariden. Most recently, the company acquired
BroadHop
, a provider of next-generation policy control and service management technology for carrier networks.
By contrast, F5 did not begin to realize its weaknesses until recently, when it felt it had to acquire
LineRate
. The company needed a way to offset the soft product business. But it should have realized this four quarters ago, given the declines in its hardware business.
For now, investors have to reconcile what is going on with F5. The Street also deserves some blame here for being too late to recognize the glaring weaknesses in this company that have been obvious for some time. The only question now is, when will the bleeding stop?
At the time of publication, the author held no position in any of the stocks mentioned
.
Richard Saintvilus is a private investor with an information technology and engineering background and the founder and producer of the investor Web site
. He has been investing and trading for over 15 years. He employs conservative strategies in assessing equities and appraising value while minimizing downside risk. His decisions are based in part on management, growth prospects, return on equity and price-to-earnings as well as macroeconomic factors. He is an investor who seeks opportunities whether on the long or short side and believes in changing positions as information changes.