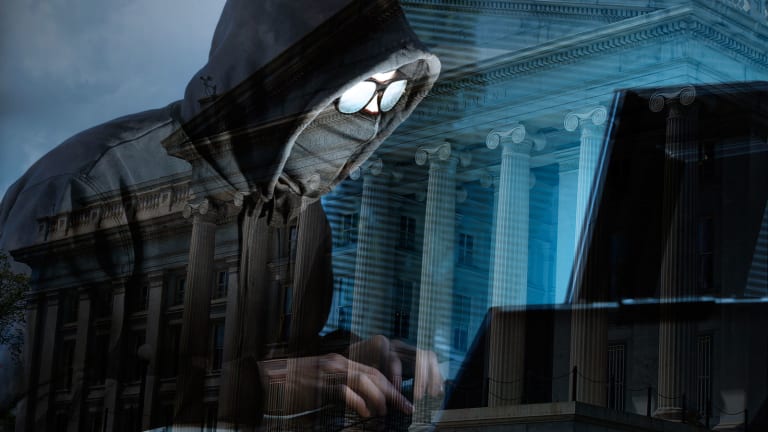 F5 Networks CEO Q&A -- Security, Partnerships and Transitioning the Business
The CEO of network-traffic management technology company F5 remains committed to its "logical transition" toward more software offerings in the wake of disappointing quarterly sales.
F5 Networks (FFIV) - Get Free Report Chief Executive Manny Rivelo says there's no reason to deny how investors felt about the networking-traffic technology company's latest quarterly sales results, but the turnaround is coming, even it takes time.
"Obviously, we would like to have done better," Rivelo said regarding F5's fourth-quarter results, which he attributed to larger market issues such as slowing sales among network service providers.
Late Wednesday, Seattle-based F5 reported earnings of $1.84 a share on revenue of $501.3 million. While F5's earnings topped the $1.74-a-share forecast of analysts surveyed by Thomson Reuters, the company fell short of Wall Street's consensus estimates of $506.52 million in revenue.
F5 also gave a first-quarter forecast for earnings between $1.58 and $1.61 a share, on revenue of $480 million to $490 million. Analysts had forecast F5 to earn $1.71 a share on revenue of almost $508 million for its first quarter.
All of that conspired on Thursday to send F5's shares down by more than 9%, to $110.07. For the year, F5's stock price has fallen by 15.6%.
In an interview with TheStreet, Rivelo said that despite F5 seeing some headwinds ahead, the company remains committed to its "logical transition" toward more software products for network traffic management, as well as security-technology partnerships like the one it recently announced with FireEye (FEYE) - Get Free Report .
TheStreet: How do you respond to the initial disappointment over F5's sales results?
Manny Rivelo: In general, we think we had a good, solid year. We're on a $2 billion [annual revenue] run rate. We gained good market share in physical and virtual technologies and that bodes well for our cloud solutions.
But, there were two things that stood out. We saw currency devaluations, which really impacted Latin America, and in the service provider arena, we saw a slowness that I don't think is material going forward.
TheStreet: What are the issues affecting the service provider segment of your business?
Rivelo: Spending on capital expenses is down. It's just a slowdown in budgets because were seeing an architectural transition in networks. They have historically been buying "big iron" hardware. Now they are shifting to software solutions. And we are well suited for that.
TheStreet: Can you give some more detail on F5's product diversification?
Rivelo: We have been moving more to software sales, and now one-third of our business product revenue is coming from software-only sales. The core of our value has always been our traffic management operating system, and that had been mostly purposely built hardware. Now, we are able to run that on hypervisors [virtual machine monitors that create and run virtual network machines]. It's a logical transition that's relative to where the market is going. And our goal is to capture the market transitions.
TheStreet: You recently announced a new partnership with FireEye that brings F5's application delivery technology to FireEye's security offerings. Can you give some more insight about this, and will we see more deals like this for F5?
Rivelo: We've been working at that partnership for the better part of the quarter. [The deal was officially announced Oct. 5]. One of the good things about it is that our products have nearly zero overlap. I don't think there is any cannibalization. It covers many forms of [network] protection, inspection and intrusion prevention. What we do is partner together, see the network traffic, decrypt it, and pass it along.
We've heard a lot of positive [comments] from the field. We think this is a blueprint for other deals. We're really good at traffic management; we can see what it [the traffic] is, then decide how we steer it in the right direction.
TheStreet: How would you respond to the initial concerns of investors after F5's sales failed to meet expectations? What about the outlook for the end of this year?
Rivelo: We feel we executed well but, obviously, we would like to have done better. But all the indications show us continuing to grow. We always see some seasonality in the first quarter, so that doesn't surprise us. For us, we see there is an opportunity to capture a larger piece of the enterprise and we think we are aligning ourselves to the market transitions well.
This article is commentary by an independent contributor. At the time of publication, the author held no positions in the stocks mentioned.