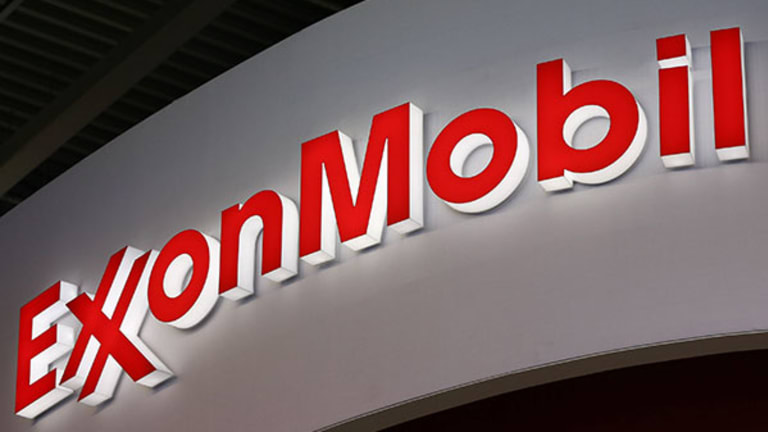 Exxon Mobil Isn't Worth the Risk Ahead of Earnings
With earnings down drastically despite big cuts to expenses, energy giant Exxon Mobil looks to be headed toward years of declines. Until we see data to the contrary, don't gamble.
With Exxon Mobil (XOM) - Get Exxon Mobil Corporation Report shares still down some 15% from their 52-week high of $97.20 and 20% from their all-time high, it would seem there's tons of implied value in the world's largest energy company. Combined with a strong 73-cent quarterly dividend that yields almost 4% annually -- almost twice the yield paid out by companies in the S&P 500 (SPX) index -- it would seem as though Exxon Mobil should have tons of appeal.
But ahead of its third quarter results, due out before the opening bell Friday, investors would be well-served to wait and hear what the company has to say about its outlook for the rest of 2015 and 2016. Given its consensus hold rating and an average analyst price target of $84 -- about 2% above its current level of around $82 -- until there's better news, XOM is not worth the risk.
For the quarter that ended in September, the average analyst earnings estimate was for 90 cents a share on revenue of $64.26 billion, compared to the year-ago quarter, when the company earned $1.89 a share on revenue of $107.49 billion. For the full year ending in December, earnings are projected to decline 47% to $3.89 a share, while revenue of $267.48 billion would mark a decline of 35%.
True, oil prices have begun to rebound, and any sustained rally in crude would bode well for Exxon's revenue and earnings. Nonetheless, Exxon, share of which are already down 11% on the year and 13% in the past twelve months, is projected to deliver average annual earnings declines of almost 5% over the next five years. And the declines have already begun to show.
In the second quarter, for instance, owing to the global oil glut, the Texas-based company posted its lowest quarterly profit since 2009, leading to an earnings miss of around 10%. What's more, its second-quarter net income was halved from 2014's number, dropping from $8.78 billion to $4.19 billion. Now, here's the key thing: That drastic earnings decline came about even as Exxon aggressively slashed operating expenses by 16%. Overall costs were down 31% during the quarter and it still wasn't enough.
Accordingly, before buying XOM stock, wait to see if the company delivers better operational improvements and positive outlook, particularly in its upstream business. That business was hit hard in the second quarter, with earnings falling by about $6 billion to of $2 billion, due to lower liquid/gas realizations. And unless news from that segment is drastically better on Friday, Exxon's prospects won't immediately improve.
This article is commentary by an independent contributor. At the time of publication, the author held no positions in the stocks mentioned.