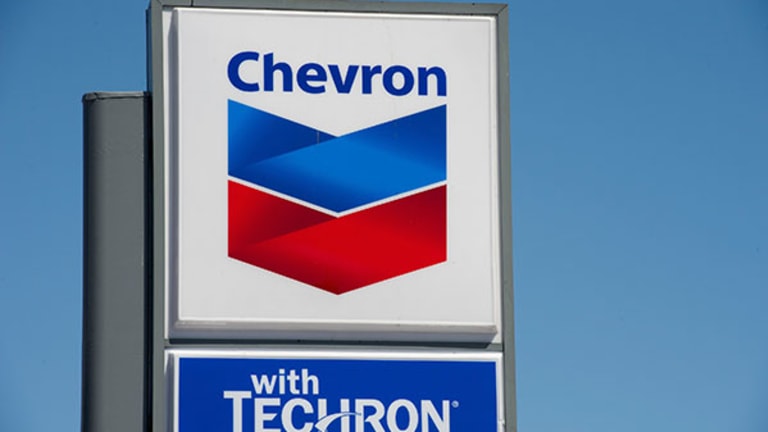 Exxon Mobil and Chevron Need to Invest in Technology
Raising dividends at the cost of capex may be a major disservice to energy investors.
NEW YORK (TheStreet) -- Let me start off by saying I am all for returning cash to shareholders. I want to be clear about that so my inbox is not filled with hate mail from those investing for income, like my Dad. With that said, times are different, especially in the ever-changing energy sector, so companies not beefing up capital expenditures and investing for growth may actually be doing their shareholders a major disservice.
There is so much happening today in the energy sector with heightened talks of climate change, increased fuel standards, more regulations on carbon output and a wider adoption of renewable energy sources. Not more readily accepting change and investing in new technologies to boost efficiency may limit upside for investors. Using the last 12 months as an example, ConocoPhillips (COP)  said it would boost capital spending in 2014 and the market rewarded the company's plan with a 23% boost to its stock price. This compares with rivals like Exxon Mobil (XOM)  and Chevron (CVX)  which saw their stock prices elevate 13% and 3% respectively during the same time period. 
>>Read More: Exxon Mobil One of Few to Benefit From Winter Weather This Quarter
Exxon said it plans to cut capex by $2.7 billion in 2014, while Chevron basically left its unchanged at $38 billion. However, Chevron also said it would sell up to $10 billion in non-core assets over the next few years, Exxon just sold over $1.1 billion. So if companies like Exxon and Chevron are not more heavily re-investing in growth opportunities, is getting slimmer and just hiking a dividend, something both companies just did, really the best way to deploy capital to shareholders? 
When I met with Exxon execs in London in September, I asked them about their feeling toward adopting new technologies to fight cybersecurity of critical energy infrastructure. I was pretty shocked when I was told, "if we don't hear about problems there probably aren't any". Real problems are only discussed in times of distress? If that's true then our reliance on rising dividend yields may not be the place it once was for investors. I mean let's call it the way it is, Exxon relied on higher natural gas prices to offset weak production growth in the first quarter of 2014. As an investor, you should expect more from a bellwether, right? 
>>Read More: How to Trade Akamai, Chevron, LinkedIn, 9 More Earnings Reports This Week
Today's energy sector can best be described as a race, but investors must decide if that race is a sprint or a marathon. Sure slow and steady has won the race in the past, but in today's quick paced battle for innovative, efficient technologies, those who are investing in the marathon may actually show up for the race on the wrong day. Just look how quickly disruptive technologies from the likes of Netflix (NFLX) , Facebook (FB) , Twitter (TWTR)  and even Tesla (TSLA)  disrupted their industries. In fact, consider just how quickly Tesla went from going public with a first day valuation of $2.22 billion in mid 2010, to now being valued at over $26 billion. Yahoo (YHOO)  bought Tumblr for $1.1 billion last year and Google (GOOG)  acquired Nest for $3.2 billion in January. 
The point is energy companies may need to put more money to work for investors and act more like tech companies. Energy companies should be investing for growth and trying to find the energy version of Facebook and Twitter. If they needed to sacrifice some of their dividend to accomplish that there shouldn't be a witch hunt by investors. 
>>Read More: Why Yelp Is Surging: What Wall Street Thinks
On one hand you can't tell these companies to diversify their traditional energy basket to include more renewable energy sources while also asking them to maintain a growing dividend yield. Something has to give. If the lower dividend means these companies have a shot at revolutionizing the distribution and consumption of energy, investors will reap the reward, and it will be more than just the raised dividend. 
At the time of publication the author held no positions in any of the stocks mentioned.
This article represents the opinion of a contributor and not necessarily that of TheStreet or its editorial staff.