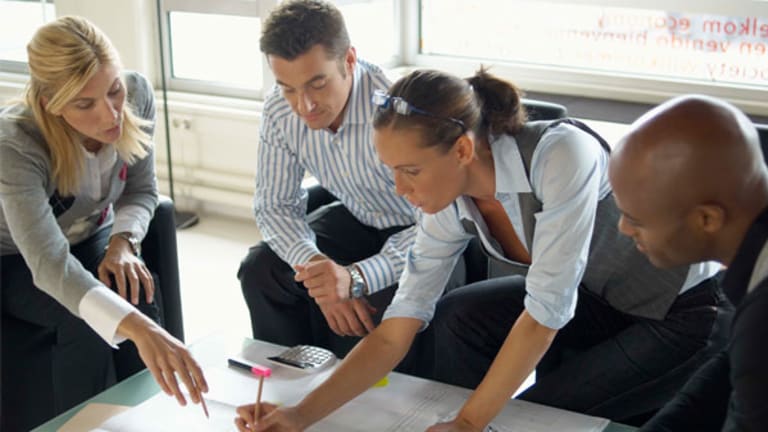 Exxon Could Tap Debt Market to Fuel Growth and Legacy
Exxon should tap into the debt market to raise cash and make a strategic acquisition in solar, among other things.
By John Licata, founder and chief energy strategist of Blue Phoenix
NEW YORK (
) -- Stale is a word not typically associated with
Exxon Mobil
(XOM)
, but it's an adjective that I'm afraid represents the company rather well.
Exxon's cash position has dropped from more than $38 billion in 2008 to
as of the June 2013 quarter, while thecompany's
has risen to the highest levels since late 2010 (0.117).
So could it make strategic sense for CEO Rex Tillerson to make Exxon more debt heavy near term to position for huge growth longer-term? That strategy has actually helped many major integrated oil companies in the past (
) and it could be the very logic that Exxon must embrace to help pay for stock buybacks and all the recent dividend increases.
Exxon's paper, which is rated Aaa by Moody's and AAA by Standard & Poor's, may be more secure than U.S. Treasuries, so the timing could be very appropriate to raise cash, especially as
Fed
taper talks start to make the rounds again.
Also, the company appears to be needing to find new ways to increase earnings and offset a slowing production profile. It also may sting those in the corner offices that Exxon is also no longer the highest market cap company in the world. That distinction goes to
Apple
(AAPL)
.
Additionally, there are those in portfolio manager circles who actually prefer investing in
Chevron
(CVX)
over Exxon Mobil due to that company's increased investments in high-margin oil versus domestic natural gas, which has plagued Exxon with prices still near 40-year lows.
Tillerson has been a bit
more forthcoming on global warming
after being called out for saying civilization will simply adjust to rising sea levels and climate change. Exxon even had a recent keynote presentation at the World Nuclear Association in London.
So could Team Tillerson be about to jump into the deep end of the pool and make a splash in the debt market with the intention of raising money for a sizable acquisition ahead of any retirement plans? It's possible.
Acquiring
BP
(BP)
would likely bring a lot of negative criticism to Exxon since there are still bad feelings and outstanding liabilities regarding the 2010 Deepwater Horizon oil spill.
ConocoPhillips
(COP)
makes sense, but Exxon already has a significant portfolio of natural gas assets. Therefore buying ConocoPhillips would likely face much antitrust scrutiny.
The fact that Exxon would have to pay ConocoPhillips a healthy premium and then spend the time to divest the natural gas assets makes me less inclined to think that move would be a match made in heaven. What would get me excited is to see Exxon take a page from
(TOT)
and make a large push to capitalize on the growing appetite for solar power.
Going solar could help Exxon modernize its energy portfolio and perhaps see alpha not witnessed by shareholders since the company's $40 billion acquisition of
XTO
.
While the jury may be out on what Exxon Mobil may or may not do next, I don't believe Tillerson is very happy that the company had
to lower its stock buyback plan
. While some may question Exxon's immediate cash flow, Tillerson may be starting to think about how he would like to be remembered when he passes the leadership baton at Exxon.
Tillerson, 61, has now been the CEO and chairman of Exxon since 2005 (two years longer than his predecessor Lee Raymond), which means he has also held the reins more than the average
5.5 years Challenger Gray & Christmas
, the executive outplacement firm, says is the average number of years for the average CEO.
So if time is ticking on Tillerson's tenure at Exxon, he (more than ever) may be open to tapping the debt markets to seek bigger alpha in renewables, especially solar, to attract a whole new investor to the company and help offset reliance on the slowing production growth story that is plaguing this behemoth. That would certainly solidify Tillerson's legacy at Exxon Mobil on top of feeding an already attractive
policy.
By John Licata of Blue Phoenix in New York.
At the time of publication, the author had no positions in the stocks mentioned
.
Follow @bluephoenixinc
This article was written by an independent contributor, separate from TheStreet's regular news coverage.
John Licata is the founder & chief energy strategist of New York based independent research company
. He is the author of
Lessons from Frankenstorm: Investing for Future Power Disruptions.
His ability to cross-pollinate idea generation and analysis of both traditional and unconventional global energy markets has been documented in the global media for north of a decade. Prior to launching Blue Phoenix in 2005, John held research and trading positions at Dow Jones, Salomon Smith Barney, BrokerageAmerica and on the floor of the New York Mercantile Exchange (NYMEX).