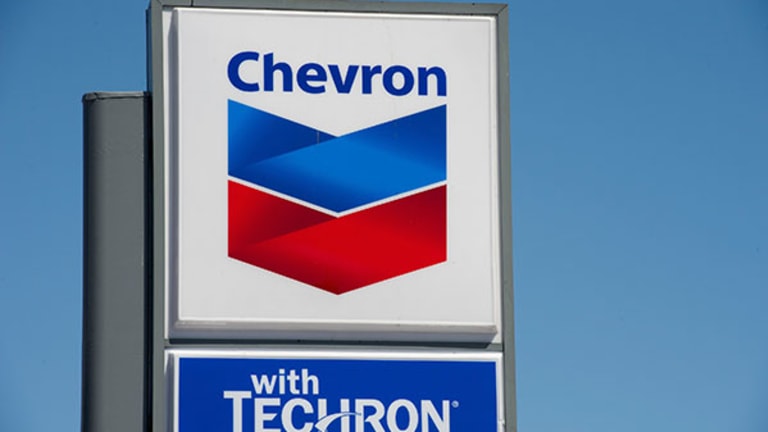 Exxon, Chevron Show Keeping Refineries Has More Value Than Breakup
Pressure to break up energy companies to boost shareholder value may lift valuations but may not help companies in the long term.
NEW YORK (TheStreet) -- Lost in the translation of Exxon's (XOM)  and Chevron's (CVX) earnings reports was the surprising strength in their respective refinery segments. The same cheaper oil that crimped earnings upstream allowed wider margins in the downstream business. 
In recent years Wall Street analysts have clamored for some exploration and production companies like ConocoPhillips (COP) , Marathon Oil (MRO)  and Hess (HES)  to break up and unleash shareholder value. But Exxon and Chevron show exposure to refining assets and remaining an integrated oil company may be proving to be a better long-term strategy.
There hasn't been a new refinery built in the U.S. since 1976. So operational efficiency is even more important for integrated oil and gas companies that are now facing a weaker price environment for oil and gas. Softer energy prices means integrated companies can also benefit from cheaper oil prices by strategically creating a more economical product mix which may be useful to help lower operating expenses. That's important considering how Wall Street is increasingly focusing on cash flows within the sector. 
So are companies now removed from the refinery segment putting too much emphasis/speculation on E&P shale drilling success, considering energy prices are now depressed?
That's debatable. But the inability to offset high costs of exploration and production with downstream revenue makes stocks like ConocoPhillips (now minus refiner Phillips 66 (PSX) ) and Marathon Oil (now without Marathon Petroleum (MPC) ) more vulnerable to pricing pressure.  
It should be said that despite lower crack spreads (profit margin from breaking down a barrel of crude oil into refined products) Phillips 66's recent earnings were driven by improved refining and marketing margins and both that company and Marathon Petroleum are seeing massive opportunities in the midstream to build infrastructure needed to move crude from shale plays into markets to be used for feedstock for new refined products. The potential for midstream assets could see increased investor enthusiasm for master limited partnerships in 2015. That bodes well for Phillips 66 Partners (PSXP)  which IPO'd in July 2013 and MLPX LP (MPLX) , which went public two yeas ago.
Considering there were some executives and analysts alike expecting energy prices to stay high for the foreseeable future, leaving the refinery business to focus on exploration and production may have been misguided. The attractiveness to split up companies may have resulted in near-term higher equity valuations. But if fluctuations in energy prices, especially with a downward bias, become the norm, lacking refinery exposure could now only expedite the shelving of exploration and drilling projects needed to boost production.
Jeffrey Woodbury, VP of Investor Relations and secretary for Exxon Mobil, said during the recent earnings call, "It starts with the integrated business model. You're all very aware that we've got a very cyclical nature of our business. And our business model is focused on creating shareholder value by participating through that whole value chain, so it provides robust earnings performance despite the cyclical nature." 
As we saw last week with XOM and CVX, without the refinery business both companies would have been dogged by even more criticism for lack of production growth. So is it too soon for executives of COP, MRO and HES to admit splitting their respective companies was a mistake? 
Clearly the speed of the recent backdraft in energy prices pricing caught many energy executives off guard. There's only so long these newly trimmed-down energy companies can outspend on drilling new wells against the amounts they generate in cash from operations. 
With the refinery business from XOM and CVX bright spots in an otherwise lackluster week of earnings, the refining sector could heat up for investors looking to gain exposure to downstream operations as a new safe-haven for uncertain energy markets. That may help shares of XOM and CVX, but it may also position new investment interest in companies such as Valero (VLO) , Tesoro (TSO)  and Western Refining (WNR) . 
One thing is for sure, the manufacturing sector needs petrochemicals. There are still a lot of people who need to fill their car tanks with gasoline and heat their homes with heating oil. This makes the refinery business the forgotten stepchild of the energy sector that may still wind up being the belle of the ball for the industry.
For executives of COP, MRO and HES, they may be wondering why they listened to bankers, not industry fundamentals -- which do suggest shrinking to grow may prove to be a flawed long-term strategy. 
At the time of publication, the author had no positions in stocks mentioned.
Follow @bluephoenixinc
This article is commentary from an outside contributor, separate from TheStreet's news coverage.