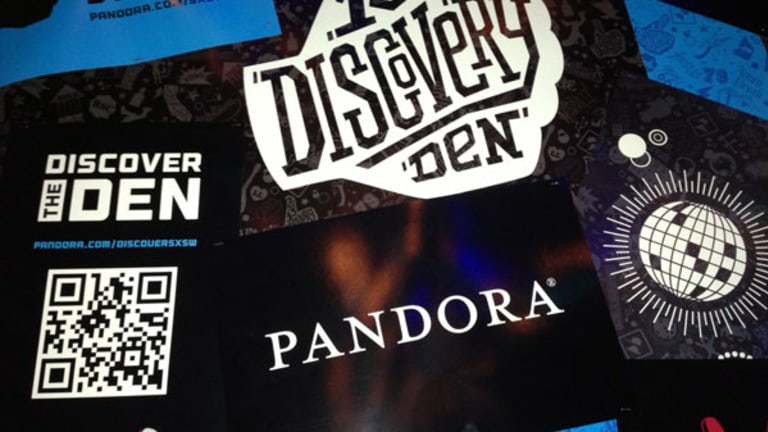 Exposing a Pandora Article That Reads Like a Press Release
A recent PR move by Pandora attempts to steer the conversation on data, but fails.
NEW YORK (TheStreet) -- Here's my advice for the day: Don't deal with people who work in corporate communications at big companies.
VPs of Communications. VPs of Media Relations. VPs of Public Relations. And if they hold the title of "director" or "manager" of any of these things, even worse.
Nine-point-nine times out of ten you'll find yourself dealing with trained monkeys. If you can't get to a real executive, don't settle for these cats because they'll do nothing but waste your time.
If you've ever cold called from the trading floor, you've probably heard the term -- and please pardon my French here, but I didn't make this up -- Don't pitch the bitch.
The following YouTube video is NSFW (Not Suitable For Work) or your kids! ...
Back when I cold called Fortune 1000 firms and recent IPOs in a sales job, I probably heard that a dozen times a day. Speak to the decision makers. Not secretaries. As horribly sexist as Don't pitch the ... sounds, it didn't matter to the team leader if the gatekeeper was female or male. You just didn't talk to that person.
As it turns out that's good advice. Because it's the gatekeeper's job to keep you away from the people who will actually cut through the crap and shoot straight. But that doesn't mean you ignore these gatekeepers. I knew some great salespeople who used them, unwittingly, to their advantage.
By a similar token, as an investor, you must consider the existence of PR people. Because so much of the information that comes from a company -- directly or via third parties -- comes from the office of corporate communications or some offshoot of it. And things are, quite often, not exactly as they seem or as the PR department crafts them. 
I got shackles on my wrists
Soon I'll slip and I'll be gone
Chain me in a box in the river
And rising in the sun
Trust none of what you hear
And less of what you see
This is what will be (This is what will be)
This is what will be

-Bruce Springsteen, "Magic"
Which leads me to a little story of how, sadly, Pandora (P) has gone so horribly corporate that I'm to the point where I don't even want to write about the company anymore. However, in this case, I have no choice because I must expose something that transpired this week.

Long story short, I spoke to Pandora's VP of Communications, Will Valentine (no, he's not a wrestler), Tuesday afternoon. I asked point blank -- Is there anything specific you guys will be doing with respect to data? I wanted to know if there was something on the horizon that might trigger me to temper my recent criticism over the company's inaction on data.
With its data, Pandora can do many things. It can sell advertising, which it does a remarkable job of. But it can also use data to help brands leverage music as a marketing tool and assist musicians with their careers.
I was told by the Pandora VP that what I speak of is certainly on Pandora's radar, but there's nothing they could show me at the moment. And that they could not provide a timetable as to when a data-related product would see the light of day.
Then, this morning, Fast Company publishes an article: For Its Next Tune Pandora Will Change the Music Industry.
In the article, the author, Drake Baer, notes that the "first fruits" of a data product geared to help artists will come "this summer." So much for not being able to provide a timeline.
But here's the deal, the Fast Company writeup is little more than a shill piece. In fact, Baer didn't have to do anything other than regurgitate the words of Pandora co-founder (and, apparently, no longer Chief Strategy Officer) Tim Westergren. The article makes my most bullish Pandora articles look tame. In fact, the more I read it I wonder if it's actually native advertising -- that new technique where companies provide content to media outlets, but it's actually a form of advertisement.
Let's take the Fast Company/Pandora PR piece point-by-point just so investors and other observers can see how these things transpire. There's little doubt in my mind that this article came together -- and was likely thrown together -- as a result of my recent criticism. For the record, that's conjecture on my part. However, the turnip truck is so far off in the distance I can no longer see its brake lights. 
Baer opens with a story we have heard about six million times over the last few years: Westergren used to be a working musician. Now he's a millionaire. And he wants to use Pandora to help artists carve out better careers for themselves.
He goes on to explain a product that sounds curiously similar to the "Artist Dashboard" I have written about previously. You know -- the platform where musicians can see audience metrics for their music. They can see thumbs up and thumbs down data. They can see where people are listening to their music and how listeners created stations with it.
That's all fine and good. While it doesn't go nearly far enough, the Artist Dashboard is a decent product. But I call the article a shill piece because the author either purposely left out context or was taken for a ride by Pandora.

This excerpt from the article is a line Pandora has been trotting for at least a year now with respect to its inaction on data:
Ironically enough, Pandora's been planning on building these audience-engagement capabilities for a while now, but they haven't had the resources due to royalty fees, which eat into half of Pandora's revenues. But once artists are empowered to engage with their audiences, making a living as musician sounds a lot more sustainable.
I'm here to tell you that that's crap.
Pandora has had the Artist Dashboard built for at least 6-7 months, probably longer. I know because I saw it. In person. And it has been viewed, on a limited basis, by artists who visit Pandora's Oakland headquarters to play a show for company employees. To be able to get to Pandora and play -- and see your data -- let's just say that's a luxury. Plus, it's not like anybody can just show up. Pandora has to approve you. 
In my view, Pandora sits on or refuses to build out products such as the Artist Dashboard because it's using its data and musicians as pawns in its battle with the music industry over royalties. And that's really a damn shame when you think about it.
Pandora has no problem adopting the Amazon.com (AMZN) - Get Free Report way by reinvesting in its advertising business. It has no problem adding entire floors to its Oakland HQ or moving into more expansive digs in the nation's most expensive real estate market -- Manhattan. It has no problem granting stock options and minting millionaires in its executive suite. Yet it's going to continue to tell us that financial constraints brought on by content costs prevent it from doing anything with data, on a large and/or meaningful scale, to benefit musicians.
Please. Don't insult our collective intelligence.
Pandora continues to play what amounts to a game of extortion with not only the music industry, but the struggling musicians Westergren has been purporting to want to save since 2008. We've heard the same line from these guys on this front for so long it has become pathetic.
What does this mean for the stock? I'm not sure. However, I think it illustrates a larger phenomenon I'm observing at Pandora. The company's becoming way too corporate. And that's scary.
Somebody who's decently connected emailed me Wednesday morning and said something to the effect of I remember when it felt like Tim and Dom (Pandora's VP of Finance and Investor Relations, Dominic Paschel) were running the company.
Buddy those days are gone. And I don't think Pandora ends up better off for it.
You have recent hires from places ranging from Visa (V) - Get Free Report to Yahoo! (YHOO) . And this changing of the guard (which includes Westergren, for some reason, no longer acting as Chief Strategy Officer) is killing the invigorating startup culture I once considered a Pandora trademark. In place of that, we have an increasing number of businesspeople running a business. That might be reality, but it's cold. And it sucks. And it shows. 
While that might be good for the stock price today, it's not good for the company in the long run. I reckon Wednesday's Fast Company shill piece -- an article anybody with an ounce of knowledge about Pandora could see right through -- serves as a harbinger for a company caught up in a royalty fight that has become part pissing contest, part chess game with singers and songwriters shamefully caught in the middle.
--Written by Rocco Pendola in Santa Monica, Calif.
Disclosure: TheStreet's editorial policy prohibits staff editors, reporters and analysts from holding positions in any individual stocks. Rocco Pendola is a columnist for
TheStreet
. Whenever possible, Pendola uses hockey, Springsteen or Southern California references in his work. He lives in Santa Monica.