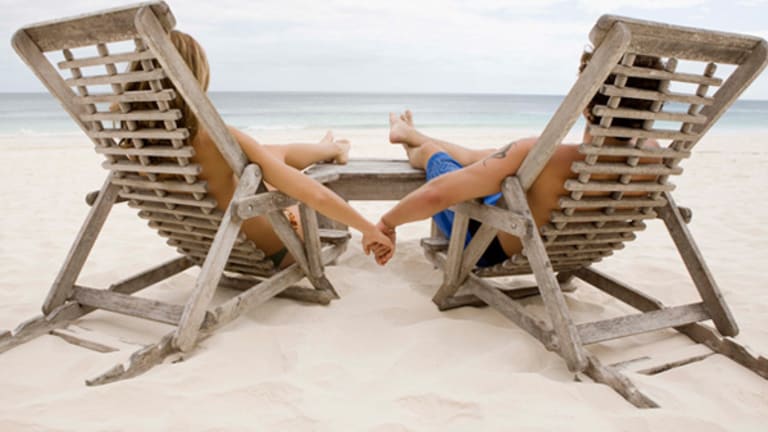 Expedia Dabbles in Politics to Get Americans Paid Vacation Days and Boost Its Sales
Expedia's Hotels.com launches a political campaign to convince American workers they need paid time off. Its petition to the White House is slowly gaining support.
NEW YORK (TheStreet) -- Mandatory paid vacation days -- a common feature for workers oversees -- do not exist in the United States. As a  result, Americans enjoy, on average, less holidays than the rest of the world -- a concern for the travel industry.  Hotels.com, one of several brands owned by Expedia (EXPE) - Get Free Report,has taken on this issue. It launched a petition about a week ago. Its goal is to get 100,000 signatures and gain some customers along the way.
Hotels.com's Vacation Equality Project needs those signatures within a 30-day period, the threshold set by the White House under its We the Peopleonline petition platform. Without those signatures, the administration will not have to respond. As of Friday morning, the petition had only 3,121 signatures and another 21 days left. If signatures maintain this pace, the petition will fall short of its target.
Whether Americans deserve paid vacation time at the expense of companies is an argument left for others to debate. Hotels.com is winning through the simple potential of changing the legislation and creating awareness. It found a weakness in the travel market, exposed it, and is ready to capitalize on it. Perhaps investors should be ready to capitalize on Expedia.
Expedia shares have gained 17% so far in 2014 and more than 25% in the last 12 months. Despite trading at close to its 52-week high, Expedia shares are cheap when compared to rival Pricelineundefined. Expedia was trading at $79.58, down 32 cents, while Priceline was trading at $1,225.98, down $10.75 near the Friday close. Both companies have high price-to-earnings ratios. Expedia trades at a P/E of 29.79, while Priceline has a P/E of 31.47. Priceline's EV/sales and price/book value are 8.06 and 8.64, respectively. Expedia's EV/sales is 1.83 and it has a price/book value of 4.72.
Analysts forecast Expedia's revenue to grow 18% in fiscal 2014 and 13% in fiscal 2015.
For Hotels.com, more vacation time for more American workers could be an income boost.  With more than 290,000 listed properties on its travel site, Hotels.com is counting on more vacation time equaling more revenue. That would likely translate into longer hotel stays, more flights and cruises -- all potential winning scenarios for Hotels.com and Expedia. Even without a change in legislation, Expedia and its brands are gaining sympathy along the way. After all, who does not like paid vacation days?
The petition uses comparisons to other countries to convince American workers they need paid time off. Europeans have an average of 20 vacation days, not including public holidays. Countries like Brazil and Sierra Leone offer 30 and 18 paid days, respectively. In the United States, though, 28 million people, or 1 in 4 working Americans, go without paid time off, Hotels.com states.

Expedia has a growing presence in the travel market, with brands like Expedia, Hotels.com, Hotwire, Trivago, Carrentals.com and eLong.
In the first quarter, Expedia saw a 24% increase in total room nights. Revenue rose 19% year on year driven by growth in hotel, advertising and media as well as air ticket revenue. Domestic gross bookings growth of 35% outpaced the 21% gain seen by international bookings.
Expedia also launched in the first quarter a marketing campaign for Hotels.com, which will increase awareness going forward. A new tagline of Hotels.com: The Obvious Choice and the introduction of Captain Obvious, a personality for the brand, highlighted the quarter.
At the time of publication, the author held no positions in any of the stocks mentioned, although positions may change at any time.
This article is commentary by an independent contributor, separate from TheStreet's regular news coverage.