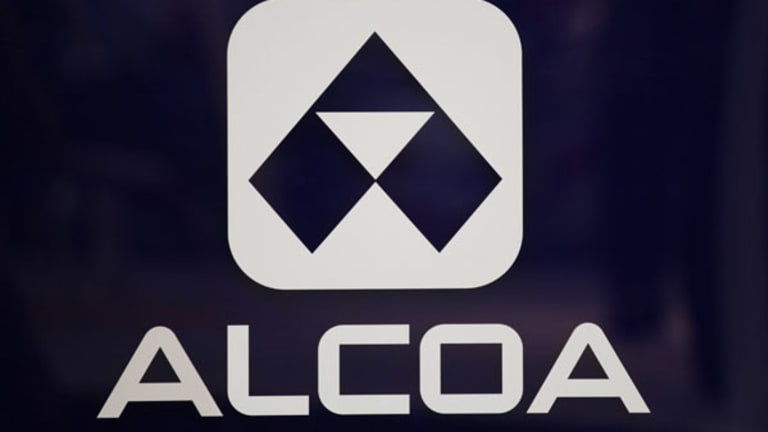 Expectations Are Still High for Alcoa
Alcoa stock still has roughly 15% upside potential. based on growing cash flow and improved aluminum prices.
NEW YORK (TheStreet) -- Last year will likely go down as a year Alcoa (AA) - Get Alcoa Corporation Report investors will love to forget. Not only did the company's stock wallow near 52-week lows for most of 2013 due to a brutal pricing environment, but the aluminum giant also lost its shine after being kicked off the Dow Jones Industrial Average.
How can we also forget that while the stock traded around $7.80 back in October, shares were downgraded to sell by Deutsche Bank analyst Jorge Beristain, who also lowered his price target to $5.50. Since then, the stock has soared nearly 35%. While "moral victories" aren't quantified in capital gains, I do believe that Alcoa management deserves a considerable amount of credit for having done more with less.
Today, even with shares closing Monday at $10.54, near the 52-week high, I believe the stock looks incredibly cheap. But as I've said on more than one occasion, it may be a while longer before aluminum prices return to their robust levels. The good news is, the worst is over. With Alcoa due to report fourth-quarter earnings Thursday, investors will be looking for hints of how management feels about the expected rise in global aluminum demand.
[Read: Cold? Blame Global Warming]
The Street will be looking for earnings of 5 cents per share on revenue of $5.43 billion, which would represent an 8% year-over-year revenue decline and continuing what we've seen as a weak top-line performance over the past couple of years. Chances are, this is also what investors should expect throughout the balance of 2014.
Accordingly, my price model for aluminum, which have been trimmed by 10% and 12%, respectively, for fiscal year 2014 and 2015, remains conservative. This, however, should not be considered an indictment on Alcoa or its management team. Unlike most, I don't expect Alcoa to manufacture growth out of thin air. Global demand for aluminum is isn't there yet.
The good news, though, is that Alcoa's management, which has always remained upbeat about the company's prospects, has maintained 7% demand growth in aluminum for this fiscal year, which was 1% better than what the company guided for last year. I believe another 7% demand growth target for all of 2014 will be encouraging.
For that matter, even if management were to project demand growth to, say, 6%, I don't believe investors should assume lack of confidence, either. It's not as if Alcoa has been outperformed by the likes of Commercial Metals (CMC) - Get Commercial Metals Company Report or Century Aluminum (CENX) - Get Century Aluminum Company Report. What's more, even with operational deficits such as soft production shipments, Alcoa today still has considerable amounts of value. Investors just need to know where to look.

On Thursday, investors should tune in to hear how the company performed within each business segment. Given that the company's overall revenue is expected to decline 8%, there's really no other way to assess how Alcoa is actually performing beyond specifics like, say, cash flow and after-tax-operating-income (ATOI), which is a non-GAAP performance metric that excludes any after-tax benefits and/or charges.
What this means is that, even if Alcoa does report the expected 8% revenue decline, along with a 1-cent decline in earnings per shares, this does not mean the company is in any worse shape than it were a year ago. Essentially, even amid the global sluggishness, if management shows meaningful improvements in ATOI and adjusted Ebitda, that means they still figured out ways to increase the overall value of the company.
[Read: 2014 Interest Rate Forecast]
Likewise, investors should also pay special attention to any developments about the company's recent investments in areas such as China. Although China's economy has been anything but robust, management has placed some huge bets on that region, predicting that China would account for roughly 50% of its projected demand growth. It is this year, 2014, when the company should begin to realize dividends on those investments.
All told, even though investors have valid reasons to be frustrated with the stock's perceived underperformance, management has outperformed its own expectations. I don't believe the poor aluminum industry is a valid reflection of how well-managed Alcoa really is.
Accordingly, investors should separate the company's absolute performance on Thursday from the industry's persistent struggles. To that end, I still see roughly 15% upside potential in Alcoa stock, on the basis of growing ATOI and improved aluminum prices.
At the time of publication, the author held no position in any of the stocks mentioned.
Follow @saintssense
This article represents the opinion of a contributor and not necessarily that of TheStreet or its editorial staff.