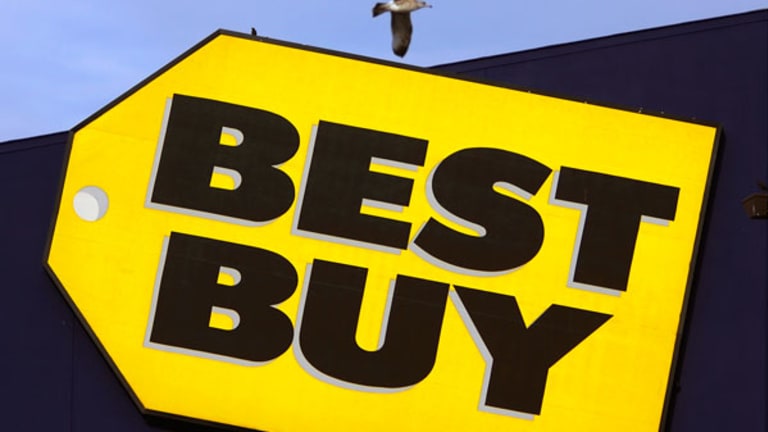 Expect Hubert Joly to Lose His Job at Best Buy
Richard Schulze has manipulated a situation at Best Buy that, as usual, will not end well for shareholders.
NEW YORK (TheStreet) -- I can't imagine being an employee at Best Buy's (BBY) - Get Free Report Minneapolis headquarters. If you're a recent hire, you have to wonder to yourself: What in the hell did I do?
Consider the concurrent gravity and absurdity of
the situation I outlined earlier this week
:
Best Buy's founder and biggest swinging shareholder Richard Schulze gets what we're supposed to believe is a symbolic place on the board with the chairman emeritus tag. He manages to win non-symbolic Board seats for two of his guys - the CEO and COO who oversaw much of Best Buy's decade-or-so-long implosion. He accomplishes all of this after a months-long dog and pony show where he failed to take Best Buy private. And the board welcomes him and his guys back into the fray about nine months after Schulze left his original board position early over some combination of disagreement regarding strategy and knowledge of, but no action with regards to former CEO Brian Dunn's extracurricular activity with a female employee.
So, amidst this mess, you're Hubert Joly. You watch Schulze come back and secure two -- maybe three, it all depends on how you look at it -- board seats with his people. And, while he's orchestrating this move, he gives you a vote of confidence.
Also see: The Digital Skeptic: Facebook-Killing Dark Social Rules The Web >>
Writing meet the wall.
A reasonable person might wonder why Schulze would want a random spare like Joly around.
Also see: Jaguar Land Rover Sees Big Sales Gains in 2013 >>
Timestamp this: He's hanging him out to dry. Setting Joly up to fail with nobody to blame but himself. Maybe Schulze will chip away at Joly behind the scenes or maybe not. Joly will fail either way because, as I have detailed over the last few months,
he has no strategy
.
Schulze has his guys (and himself) strategically positioned on the board and, in due time, he will muscle them into corner offices and eventually the CEO slot at Best Buy.
Also see: The Startup That Wants to Send Its Next Developer to Space >>
And, at day's end, what does Joly care? He has already made out like a bandit.
Recall the details of the sweet compensation package Joly landed when he took the gig last August (publicly available at the
. You would think he's a second-tier Steve Jobs or Tim Cook or -- hold your laughter -- Ron Johnson:
Subject to and effective upon commencement of employment with the registrant, the material elements of Mr. Joly's annual compensation will be as follows:
Base Salary. Mr. Joly will receive an initial annual base salary of $1.175 million ...
To compensate Mr. Joly for certain forfeitures incurred upon termination of his employment with his prior employer, the registrant will grant to Mr. Joly certain buy-out awards as summarized below ... :
(1) a buy-out cash award of $3.5 million;
(2) a grant of fully vested shares of common stock ... valued at $3.0 million on the date of grant (the "Buy-Out Stock Award"). Mr. Joly has agreed to hold such shares for at least two years from the date of grant or, if earlier, his termination.
(3) a grant of restricted stock units ... with a grant date value of $6.0 million, vesting in 36 equal monthly installments and, to the extent they become vested, payable six months after Mr. Joly's separation from the registrant ...
(4) a stock option grant (the "Buy-Out Options") under the LTIP having a Black Scholes value of $3.75 million . . . and vesting 25% on the date of grant and 75% in equal installments on the first three anniversaries of Mr. Joly's employment commencement date ...
Will Wall Street turn the other cheek when Joly's tenure ends as little more than a multi-million dollar mistake? That's what the analysts are doing now -- touting and pumping and running up the stock of a company effectively run (or at least being re-infiltrated) by the very people who ran it into the ground.
--
Written by Rocco Pendola in Santa Monica, Calif.
Rocco Pendola is
TheStreet's
Director of Social Media. Pendola's daily contributions to
TheStreet
frequently appear on
CNBC
and at various top online properties, such as
Forbes
.