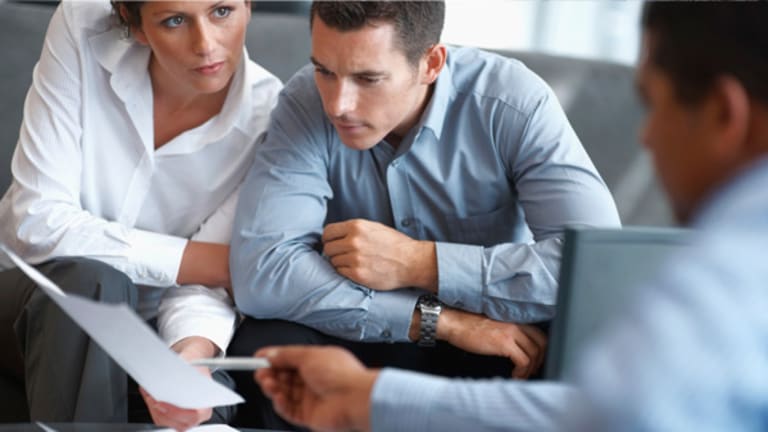 Existing Home Sales Dragged by Jobs Market
Without dramatic increases in employment, the housing situation can't recover.
The following commentary comes from an independent investor or market observer as part of TheStreet's guest contributor program, which is separate from the company's news coverage.
NEW YORK (
) -- The market for existing homes remains in the doldrums, as young couples continue to opt for renting and older couples can't unload homes to retire or relocate to find employment.
The National Realtors Association reported today that sales in January were 4.57 million, below the 4.69 million expected by forecasters. This confirmed concerns that large numbers of buyers were getting cold feet and canceling contracts. Reports of stronger buyer activity and pending sales must be taken with a sack full of salt.
Prices are falling -- the average sales price was $154,700, down from $162,200 in December, raising new concerns that the job market might not be recovering as much as thought. A strong job market is necessary to give young couples confidence that they can take the plunge into homeownership, and not get caught in a fire sale situation by losing a job or a forced relocation.
December sales were revised down to 4.380 million from 4.61 million -- that is huge.
Helping homeowners with underwater mortgages and shoring up the housing market will be big campaign issues this fall, but with the continued downward trajectory in prices, federal programs can do little to significantly help. This issue may prove more demagogued than any other by false charges and whimsical promises.
Follow
TheStreet
on
and become a fan on
Without a more robust jobs market, existing home values simply won't level off and begin the long path to recovery.
Professor Peter Morici, of the Robert H. Smith School of Business at the University of Maryland, is a recognized expert on economic policy and international economics. Prior to joining the university, he served as director of the Office of Economics at the U.S. International Trade Commission. He is the author of 18 books and monographs and has published widely in leading public policy and business journals, including the Harvard Business Review and Foreign Policy. Morici has lectured and offered executive programs at more than 100 institutions, including Columbia University, the Harvard Business School and Oxford University. His views are frequently featured on CNN, CBS, BBC, FOX, ABC, CNBC, NPR, NPB and national broadcast networks around the world.