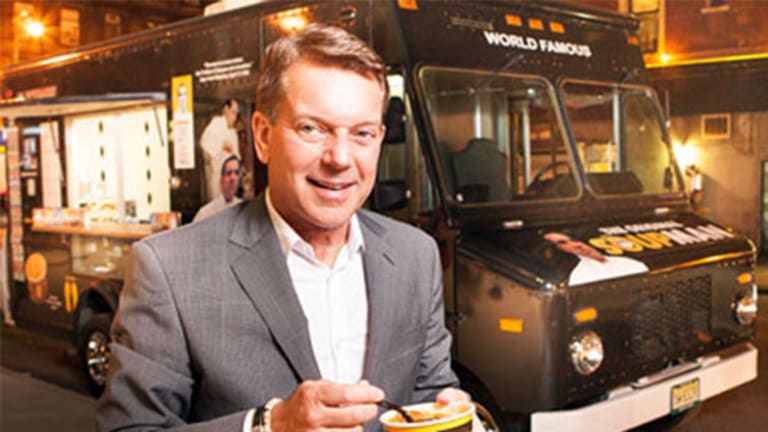 Exclusive Interview: Soupman CEO Says There's Plenty of Soup For You
Huge name recognition and expansion opportunities make Soupman a small cap with enormous potential.
NEW YORK (TheStreet) -- Investors love a small-cap with blue-chip name recognition like The Original Soupman (SOUP) . In the soup category, The Original Soupman is third in name recognition behind only consumer staples Campbell Soup (CPB) - Get Report and Progresso, a General Mills (GIS) - Get Report product.
A telephone interview with Lloyd Sugarman, the Chief Executive Officer of Soupman, highlighted some key areas where the company could be even tastier for investors.
Sugarman is an experienced restaurateur who was a co-founder of Johnny Rockets, a successful hamburger chain. He currently franchises 17 Johnny Rockets in seven states, and operates two franchised Soupman units. Sugarman was in high spirits after a major court victory earlier this month that allows it to keep brand, trade dress, intellectual property and assets including the famed Original Soupman soups.
"It was a positive development that had to take place," Sugarman said. "We are pleased that it has been settled favorably so we can move on. It is very important for the company's growth."
Also developing nicely for Soupman are is its restaurants in resorts and casinos.
"They are doing very well and in excellent locations in the food courts," Sugarman stated. "Casinos have a great appeal as entertainment centers. At Atlantic City, our lobster rolls, Rueben's, pastrami sandwiches and other items are selling great. What is also selling well is the take home soups from the restaurants. After a guest has the soup at the restaurant, they take even more home. We are selling four times as much at the restaurant locations as a result."
It's impossible to talk about Soupman without bringing up "Seinfeld," the classic comedy hit series, and its legendary "Soup Nazi" episode.
"That's a great story," shares Sugarman. "[Co-creator Larry David] used to eat at the original location at 55th and 5th in Manhattan. He was amazed at how mean the original owner was to his customers. But the soup was so good, they tolerated it and came back for more. In a stroke of genius, he realized he had to use that guy in a show ... The rest is entertainment history."
Soupman's new Tetra packaging for Soupman is having a huge impact. Sugarman sees the soft, reusable packages as a competitive advantage for the company in its battle against Campbell and others.
"We hired an award winning package designer for our Tetra Paks. They just came out in Safeway in three flavors: Chicken Gumbo, Crab Chowder, and Jambalaya, which Seinfeld fans will recognize as the one from the Soup Nazi show," he said.
"Buyers love the new packaging, which gives up superior positioning and selling," Sugarman said. "Consumers are turning away from cans for a whole host of reasons."
In addition to its retail store and restaurants, Soupman is looking to go mobile with 50 "SoupTrucks" by the end of the year to increase its nationwide presence. Soupman plans to open 25 franchised units in casinos across the U.S. over the next five years, a move that projected to be worth $2 million in sales annually.
While the Tetra Paks are working well, Sugarman is quick to inject that that the attention to detail and the complexity of the soups is the ultimate competitive advantage for the brand.
"We have more than 20 ingredients in our soups. Campbell's has about seven," Sugarman said. "It is like when Ben & Jerry's first hit the market. Their rich assortment of flavors proved to be a, if not the, major selling point."
The mention of ice cream led Sugarman to note that, "We have skinny soups with 180 calories or less. Our soups also have less salt. Soon we will also have all natural, gluten-free soup choices for our guests."
This commitment to healthy fare has also led to Soupman being served in New York City schools.
Sugarman boasted here that, "We've been in New York City schools since 2012. We have 3 vegetarian soups: Mexicali bean, curried chickpeas, and stewed pinto beans. The kids love them cause they taste good and the school system loves 'em because they are so healthy. It is been the same result with our testing menu items at Malcolm X. Shabazz High School in Newark."
The market for soup is huge.
Nearly 60 percent of consumers eat it once a week, according to research by Technomics. Like Larry David, almost half of the consumers surveyed will eat at a specific restaurant because of the soups served on the menu. At the Super Bowl this year, Soupman's Lobster Bisque was served, honored as an icon of New York City.
With the vision and expansion plans laid out by Sugarman, Soupman is looking to be much more than just a regional player.
At the time of publication, the author held no positions in any of the stocks mentioned.
This article represents the opinion of a contributor and not necessarily that of TheStreet or its editorial staff.