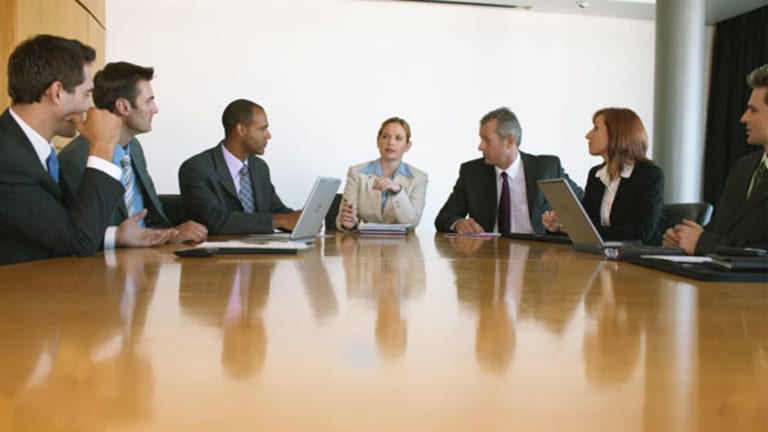 Publish date:
Ex-Tech CEOs Whitman, Fiorina Are Lousy Candidates
Because Meg Whitman and Carly Fiorina led large companies, they argue that they would make good political leaders. Here's why they won't.
Because Meg Whitman and Carly Fiorina led large companies, they argue that they would make good political leaders. Here's why they won't.
Meg Whitman and Carly Fiorina have star power. They are both wealthy and have led well-known technology companies. Both also won their primaries last week in their latest step of their careers. Whitman -- the former CEO of
eBay
(EBAY) - Get Report
-- is seeking to become California's governor when she goes up against Jerry Brown. Fiorina -- the former head of
Hewlett-Packard
(HPQ) - Get Report
-- is attempting to unseat well-known California senator Barbara Boxer.
I don't have a dog in this fight as I don't live in California. However, as an investor in our capital markets and as a proponent of strong corporate governance, I oppose their candidacies.
Both hold themselves up as experienced and successful corporate leaders. Because they led large companies, they argue that they would make good political leaders. They're suggesting that leading a large number of people in business is not all that different than leading a handful of political staffers; proposing new business strategies is not all that different from proposing new legislation; and doing sit-down interviews for business magazine cover stories is not all that different from doing sit-down interviews with cable news channels.
Both former CEOs are running as Republicans, so they're brandishing their business backgrounds as evidence that they are fiscal conservatives.
Here are the problems with both candidates though, as I see it:
Both women left their organizations under a cloud According to Bloomberg BusinessWeek, Fiorina was fired by her board of directors in 2005 after the board determined it could no longer work with her and that her tenure at H-P had been a failure. That same article quotes a former H-P exec as saying Fiorina's "good with marketing; she's a good speaker for the company. But this is a company that doesn't need a statesman. It needs a hands-on operations person ... Things that needed to make us more competitive in certain segments weren't being done." By the time Whitman exited eBay in January 2008, the company's stock was down 48% from its December 2004 all-time highs. The company's growth had stalled severely. One analyst covering eBay at the time referred to Whitman's playbook for the company as "old and dusty." And eBay's $4 billion acquisition of Skype to turbo-boost eBay's growth was judged to have "bombed" by the time Whitman left.
Both women have shown questionable judgment under duress According to Fiornia's memoirs, in January 2005 -- just weeks before she was fired by the board -- she ordered a private investigation into who on H-P's board might be leaking confidential information to the press. Those recent leaks had made Fiorina look bad. Later, these confidential investigations involved spying and lying to the phone company in order to access a reporter's private phone records. Fiorina has kept herself at arm's length from these actions to date. The New York Times reported on Monday that Whitman paid an eBay employee "around $200,000" after shoving her while the employee was trying to prepare her for an upcoming interview. Whitman required the employee to never speak publicly about the incident in exchange for the payment.
Both women feasted on excessive perks which were beyond the pale compared to other CEOs Whitman racked up over $1 million in private air travel on the eBay corporate jet in 2006 and 2007.
Both women have overseen organizations where they have increased spending -- not decreased spending -- belying their touted fiscal conservatism. If either woman had a business record of cutting back excessive spending at their organizations and turning around performance, I'd be willing to go along with them portraying themselves as fiscal conservatives. However, that's not what happened. eBay was a once-hot tech company trying desperately to find a new direction when Whitman left. H-P was a sluggish colossus, losing market share and in need of a radical restructuring to get it back on track when Fiorina was done.
Both women arguably couldn't get another job as a CEO at a major corporation today.
Although most voters won't understand this, the truth is that neither of these women would have an easy time finding another top CEO job today. They bring so much negative baggage from their last jobs that few boards would want to take a risk on them. Any organization that would hire them would likely be much smaller and much less successful than H-P or eBay.
American politics needs more experienced business and financial people. The reality is that business execs and investment managers who are successful and think they can continue to be successful in their careers aren't choosing to go into politics. They're probably thinking, "Why should I subject myself and my family to the 24/7 news media investigations into my past, when I can keep getting acclaim in business or finance and make a heck of a lot more money?" I don't blame them.
The problem is that American politicians -- at the state and federal levels -- are financially ignorant in a rather shocking way. Especially now, when the world is in such a tenuous position in terms of sovereign debt, gaping budget deficits and shrinking tax revenues, financial literacy for our lawmakers has never been more important.
After Lehman Brothers failed in September 2008, the markets went haywire and the country was thrown into a panic. The credit markets almost completely locked up, which could have led to spiking interest rates and an inability for Americans to get a basic loan or mortgage. Both presidential candidates rushed around saying we needed to do something, without saying anything tangible which would have helped the situation.
We need more business and financial people in American politics who can look at the financial problems facing the government and make tough cuts that will be politically unpopular with voters most negatively affected by the changes. We need them to help make investments in programs or projects that will give America a long-term competitive advantage in the world, rather than one-time bursts of stimulus spending that are gone as soon as they're spent.
We need more business people in politics. But we need better ones than Meg Whitman and Carly Fiorina.
At the time of publication, Jackson held no positions in the stocks mentioned.
At the time of publication, Jackson was long XXX.
Eric Jackson is founder and president of Ironfire Capital and the general partner and investment manager of Ironfire Capital US Fund LP and Ironfire Capital International Fund, Ltd. You can follow Jackson on Twitter at www.twitter.com/ericjackson or @ericjackson