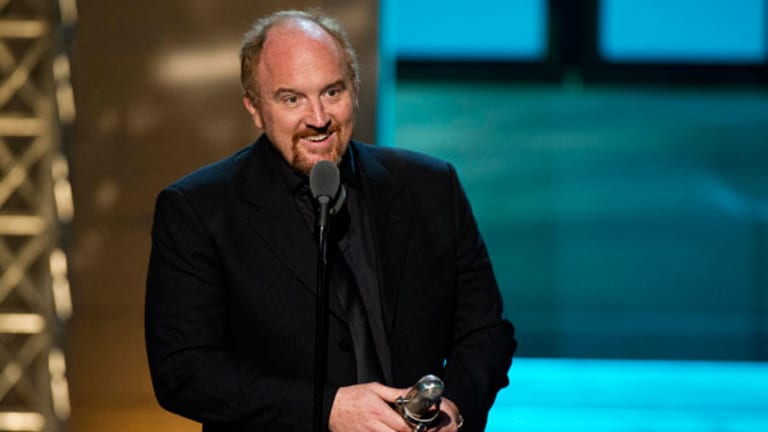 Everything's Amazing and Nobody's Happy?
Rocco Pendola doesn't care much about being 'happy' in the traditional sense, but he's in awe of the luxuries modern technology enables.
NEW YORK (TheStreet) -- Louis C.K. does this now classic piece of pure standup gold where he laments his perception that "Everything's Amazing And Nobody's Happy." In a nutshell, he rips our tap-the-touchscreen-and-it's-there society, pointing out the self-entitled absurdity of air travelers complaining when the in-flight WiFi fizzles out. He lists a whole bunch of wonders we largely consider default options of modern-day life.
I'm not the happiest guy in the world. Never have been. I have to work hard to keep my psychology in check. And I don't buy into the Gretchen Rubin notion of happiness anyway. I'm not a fan of prescribing one poorly defined state of being for a large and diverse collection of humans.
If I can feel reasonably good most of the time, avoid bitterness, enjoy my work, strive to be creative, chase my potential, strike for work-life balance and have fun with family and friends, I'm good. That's not happiness: It's just a good life. My mood notwithstanding.
There are two big enemies: bitterness and style. If I can escape them both, then I'll be happy. - Elliott Smith
I have never taken for granted society's incredible accomplishments of the last 20-25 years and, with the explosion of smartphones, tablets and apps, the last five to 10. In fact, I have always been in awe of the things I can access ... everyday ... with minimal, if any, effort. Things that simply did not exist when I was a teenager or younger. For the record, I turn 38 in July.
Almost every night in the hour before she goes to bed, my daughter asks whether she can change the channel on the television set from hockey to something she wants to watch, usually a Nickelodeon program or something similar she has DVR'd. When I was a kid, this type of request might have started World War III in some households. But not anymore.
Last night, I pulled out my iPhone (because I was too lazy to go grab my iPad), fired up
NHL GameCenter
and watched the Canucks/Blues on the Canadian feed. And the picture on that relatively tiny iPhone screen was amazing. So perfectly scaled. And in flawless HD.
Apple
(AAPL) - Get Free Report
really did change the world.
Also last night, my daughter mentioned something in passing about getting a television in her room. When I was a kid that was a big deal. Right up there with getting a phone in your room. My parents could only counter my requests with, "Because we said so." They had nothing other than some handed-down belief that kids with TVs and phones in their rooms before a certain age were spoiled, drunken, premarital sex-having brats.
I shoot my daughter down with one look. A TV and phone in your room? Please. Those days are gone. Again, thanks in large part to Apple.
When I was a kid, I spent my nights under the covers listening to AM radio stations from as far away as I could get them. From Niagara Falls, N.Y., I could listen to Bob Murphy call Mets games on
WFAN
before "Captain Midnight" Steve Somers took over on the way till 5:30 a.m. and "Imus in the Morning." Or I would pull up Ed Tyll, late nights on
WLUP
/Chicago, stations as distant as
KOA
/Denver and other assorted gems. There was always something special about that, but I dreamed of a day -- one I never thought would come -- where I could listen to anything from anywhere around the world at anytime.
I'm not sure which came first, but the now intertwined
Sirius XM
(SIRI) - Get Free Report
delivered with satellite radio and individual radio stations started streaming their content live. It didn't sound great at first, but it was better than the reception I would get listening to AM signals hundreds and thousands of miles far flung.
Now, through any number of apps --
Clear Channel Media Holdings
(CCMO)
iHeart Radio
,
TuneIn Radio
and individual station sites -- I can listen to practically every radio station in the world. And then there's
Pandora
(P)
transforming radio into this beautiful personalized experienced with quite a few worthy copycats doing everything from discovery to on-demand.
I'm not quite sure how anybody can exist in this world, adopt and use its many technological luxuries and not be in awe. I don't care about happy, but you'd better be in awe.
-- Written by Rocco Pendola in Santa Monica, Calif.
Rocco Pendola is
TheStreet's
Director of Social Media. Pendola's daily contributions to
TheStreet
frequently appear on
CNBC
and at various top online properties, such as
Forbes
.