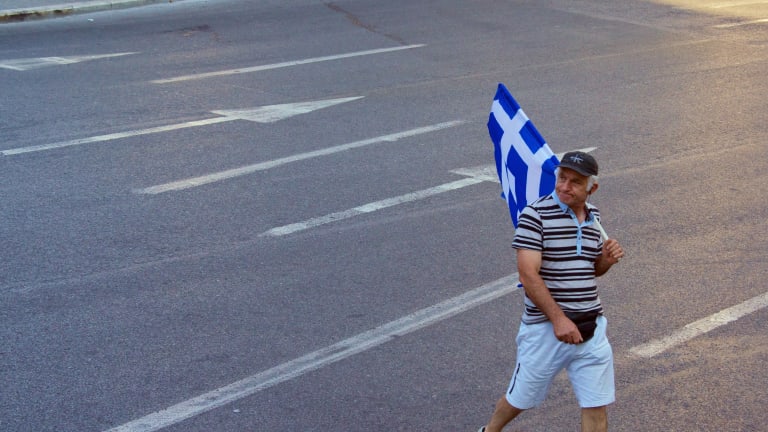 Publish date:
Everything You Need to Know About Greece Right Now
Greece's fate now hinges on a referendum, but the implications of a 'no' vote may be more complicated than you might think.
Greece's fate now hinges on a referendum, but the implications of a 'no' vote may be more complicated than you might think.
NEW YORK (TheStreet) -- Greece has reached a tipping point. Talks between the country and its creditors failed Friday, leading the country to effectively default on 1.5 billion euros it owed the International Monetary Fund. Greece's banking system and financial market have been closed for the week, and capital controls put in place.
Despite frantic attempts to reach a solution, Greece's future now depends on a referendum in which voters will choose between acceding to international demands for reforms in exchange for bailout loans or rejecting them. Greece's government has urged citizens to say "no."
The result of all of this is that Greece could leave the eurozone. 
Such an exit would have considerable global ramifications, but the extent or intensity remains uncertain. The financial stability review released by the European Central Bank in May 2015 notes that market reactions to developments in Greece have been muted thus far. The report warns, however, that a failure to reach a quick agreement can increase risk premiums for other vulnerable eurozone members.
Some believe that exit and eventual devaluation of the drachma may work in favor of Greece, turning exports into a key growth driver in the long run. There would be no impasse, however, if the two sides really subscribed to this hypothesis.
The likelihood of Syriza's political life becoming a complete disaster after an exit, and the need of the country's creditors to keep the euro intact, have ensured that both sides continue to return to the bargaining table.
Whether the country remains in the eurozone or leaves it and attempts to rebuild with a devalued currency, the underlying system of benefits that Greek citizens have grown accustomed to must change.
Right now, both sides need to work toward breaking the gridlock. If they eliminate the possibility of an exit -- regardless of the outcome of the referendum -- then they'll need to negotiate an extension of Greece's bailout, and negotiations will continue.
Whether both sides soften their stands, the so-called troika (European Commission, ECB and IMF) toughens its stand in the event of a "yes" vote on the referendum, or whether Syriza will have enough backing to continue opposing some measures in the event of a "no" vote will depend on how strong the outcome of the referendum is in either direction.
In the end, what is in the interest of global stability is Greece's ability to grow and continue its slow, sustainable recovery. This could persuade investors to lend afresh to its government. However, a prolonged game of one-upmanship would drive Europe to the brink of another financial crisis with global ramifications.
What began as an economic debacle has turned into a political battle, with Greece's ruling party portraying this as a question of the country's sovereignty. The troika, however, depicts this as the economic penalty of bringing to power a government that has vociferously opposed tough austerity measures. The Syriza government would be campaigning for a motion against the current options proposed by the IMF, ECB, and EU in the referendum. Opinion polls continue to indicate a majority "no," but views favoring a bailout seem to be gaining.
If a "yes" vote emerges, large-scale economic reforms would follow and political turmoil could ensue within Greece, with potential resignations and a general sense of disappointment. With a "no," two possibilities could emerge. First, the Commission and ECB have voiced their desire for Greece to remain in the monetary union. In this light, Syriza may believe that it can earn a better vantage point for reaching a resolution with its creditors with a "no" majority. The second possibility is what many still consider too far-fetched, given the aspiration of Greek citizens to remain in the EU: Exit and return to the drachma.
While Syriza came to power having made several promises to its people, the troika has also indicated a focus on growth. Clearly, both sides seem to be asking the people of Greece to take a leap of faith. Multiple scenarios could unfold depending on which promises are kept.
In its 2014 interim report on monetary policy, the Bank of Greece declared that its economy grew for the first time in six years. The last three quarters of 2014 were particularly encouraging, with Greece and the eurozone growing an average 0.8% and 0.9%, respectively. (source: Eurostat).
Some austerity measures that Greece adopted in return for assistance from creditors were bearing fruit. For example, unit labor costs fell substantially in 2014, increasing the economy's cost competitiveness by 20%. Despite these, worries that have brought about the impasse with EU creditors pertain to aspects of reforms that Greece did not implement or only partially executed. In its creditors' views, this lowers Greece's ability to curtail debt to sustainable levels in the long run.
Commendable Greek Recovery in 2014; Continued Drive to Achieve a Surplus
Sources: Eurostat, IMF
So what were the points of connection that led to the current impasse?
In May, the IMF highlighted its disagreement with the Greek government on several issues, including the fiscal deficit target of 3%, which the organization found unrealistic. A quick look at the numbers suggests that Greece was able to reduce its fiscal deficit from 12.3% in 2013 to 3.5% last year, mainly through severe expenditure cuts.
Moreover, the IMF expressed its apprehensions over Greece's ability to continue with structural reforms in the labor market and pension system. Both these areas of reforms are politically sensitive and have been considered "red lines" the Greek government would not want to cross.
Points of contention have included the net revenue target from VAT reforms, the abolishing of subsidies for excise on diesel oil for farmers, the amount by which the ceiling on military expenditure should be lowered, the ceiling on garnishments for wages and pensions.
Among major sectors, such as the labor market, adjustments have indeed been made. Considering the long term, and not just imminent repayments, the adjustments in the labor market cannot be disregarded.
The same applies to fiscal consolidation. Expenditure cuts may work now, but reforms need to focus on rebuilding a solid revenue base for sustainable, long-term recovery. Greece's finance minister recently stated that the primary reason for an extended delay in reaching an agreement is the focus on attaching strings to the next liquidity injection rather than the country's sustainable recovery. In the end, the troika believed that partial implementation of reforms stood in the way of acknowledging the headway made thus far.
Considerable Greek Adjustments; Need to Focus on Long-Term Recovery
Sources: Eurostat, Greece Ministry of Finance
In February, the ECB unexpectedly lifted the waiver on Greek banks' ability to access its cheap liquidity by using Greek government bonds as collateral despite the bonds not meeting minimum credit rating requirements. Liquidity would now flow to the banks through the Bank of Greece's emergency liquidity assistance (ELA), but at a substantially higher cost.
The interest on ELA is 1.55%, while the ECB's facility carried a rate of 0.05%. Greek banks were already battling deposit flight and high nonperforming loans. This move has exacerbated the situation, intensifying the run-like situation. The IMF noted a deposit flight of around 40 billion euros from Greek banks since December 2014.
There is, however, a growing view that holds the inaction by Greece with regard to capital controls is a tool that Greece has used to boost its negotiating powers with creditors.
Either way, following the events on Friday, bank runs would have become a reality if the eventual restrictions and capital controls were not imposed.
Run-Like Situation and Exposure of Eurozone Creditors to Greek Monetary Financial Institutions
Sources: Bank of Greece
According to the debt restructuring proposal presented by Greece in Brussels, the 3% deficit target is well within reach, provided the focus is on achieving positive nominal growth; the growth could be achieved through measures that facilitate financing of private-sector investment spending.
Even at the current 175% debt-to-GDP, if a medium-term nominal growth of 3% is assumed, the benchmark deficit beyond which debt becomes unsustainable is 5.25%. Hence, according to Greece's proposal, the 3% target is not unreasonable. Also, considering the interest payments it owes, the effective primary surplus must be maintained at around 2.5%.
The proposal also stated that interest rates will have to be significantly reduced to lower the debt ratio to more sustainable levels. This is the crux of the issue and an important reason for the prolonged deadlock. Debt swaps have been suggested to help creditors lock in the current low rates into much longer maturities. For this, transforming the debt under the Greek Loan Facility program into perpetual bonds and linking interest payments to nominal growth were proposed.
It is imperative, however, for both sides to scrutinize the overall impact thus far before they repeat mistakes in the name of reforms. In particular, creditors need to recognize how challenging it is to maintain a surplus and stabilize the debt ratio when nominal GDP has been shrinking. If positive nominal growth is achieved, a deficit is feasible while maintaining the debt ratio at sustainable levels.
Scrutinizing the Impact of Reforms; Did They Make Things Worse?
Source: Eurostat
Special thanks to Surekha Nagabhushan, economist at Aranca, for her valuable contribution in this article.
This article was co-written by Surekha Nagabhushan, economist at Aranca.
This article is commentary by an independent contributor. At the time of publication, the author held no positions in the stocks mentioned.