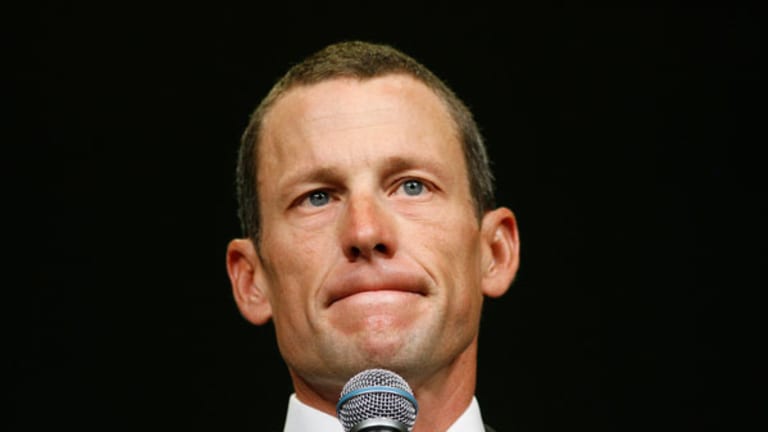 Everything Lance Armstrong Has Done Means Nothing Now
Corporate America has no conscience handling cyclist's apparent guilt.
NEW YORK (TheStreet) -- When doctors diagnosed my mother-in-law with advanced lung cancer, one of the first things I did was send her Lance Armstrong's book, It's Not About the Bike: My Journey Back to Life.
When she died in February, I was convinced that inspiration she culled from Armstrong helped her live past the upper-end of the two-to-24 months window her oncologist gave her at the outset. And, save the disgusting and pathetic end, she lived relatively well for just over two years, despite the treatments, various setbacks and the fate she never talked about, but knew she would ultimately face.
At daybreak Wednesday, I woke up to what appeared to be more orchestration from the Lance Armstrong camp. Every time I see Lance in the news, I think about my mother-in-law.
It came down all too perfect on
Twitter
.
One Tweet alerts the masses to news that Lance Armstrong stepped down from his chairman position on
Livestrong's
board. At almost the same time,
Nike (NKE) - Get NIKE, Inc. (NKE) Report
announced its decision to sever ties with Armstrong. Shortly thereafter,
Radio Shack
(RSH)
made it clear that it has no active agreements with Lance.
Of course, this is conjecture, but there's little question in my mind that Lance, Livestrong, Nike and Radio Shack worked together on the timing of all of this. Something about that just bugs the hell out of me.
For more than a decade, Lance's life appears to have been little more than smoke and mirrors. He makes corporate America and Wall Street look like clean, straightforward and transparent operations.
That said, I never had much problem with the doping. Anybody who follows cycling knew the score.
The government went on a witch hunt, handing out immunity like the Fed prints dollar bills. None of the regulatory, cycling or anti-doping organizations involved care one way or the other about cleaning up the sport or prosecuting the guilty; everybody just wanted to get their man. And they did.
Through it all, Armstrong never made a move that wasn't calculated. Little appears to be real about the guy from my admittedly uninformed perch. But, based on appearance and virtually every second-hand account, I think it's safe to assume that Lance Armstrong tends to be warm and friendly in front of the camera, when he's relaying the script that is his life; otherwise he's little more than a cardboard cutout.
When it became obvious that the USADA nailed him to the wall, Armstrong never owned up. All we received were prepared statements and lame Tweets. Contrast that with this must-watch interview, via the
CBC
, with Canadian cyclist Michael Barry.
You've got to give a "dirty" guy credit for finally coming clean. That was sincere; something we rarely get from Armstrong. Right till the end.
And that's part of what bothers me.
The jig is up, man. We all know the deal. Stop making sure that everybody is on the same page. Stop the fine art of manipulation and control. Shut down the PR and marketing departments. For once, be real, and you might have a shot at salvaging the remnants of love and admiration millions like me have for you.
I give every month to Livestrong. At the checkout stand at the grocery store, I feel guilty (for want of a better word) if I do not hit the button to donate a dollar or three to the breast cancer fundraising drive.
I do it in spite of Lance Armstrong. I do it for my mother-in-law. I do it because it makes me want to scream and cry every time I hear that another person -- a celebrity, a friend, a family member, somebody I have never met -- was diagnosed.
If Nike or Radio Shack really gave a damn about doping, lying and misleading, they would have dropped Armstrong a long time ago. They were fine rolling with something like plausible deniability. These two corporations -- one running on all cylinders, the other on the verge of extinction -- only acted out of fear that their respective images would suffer.
That makes the threesome of Nike, Radio Shack and Lance Armstrong a match made in heaven.
If either of these organizations have a social conscience or moral compass, they'll contribute a million bucks to Livestrong in spite of its founder. Radio Shack can issue it in the form of an I.O.U. We understand.
But they won't. Because, at least in this instance, they don't care.
Drilling the matter down to Lance the person. We get the standard line from his supporters --
This does not erase his victory over cancer and all of the great work he has done in the aftermath
.
Bull.
If my mother-in-law were still here I'm certain she would back me up on that. She had more guts than Lance Armstrong could ever dream of having. Unfortunately, you probably know somebody just like her.
At the time of publication the author held no positions in any of the stocks mentioned.
This article is commentary by an independent contributor, separate from TheStreet's regular news coverage.
Rocco Pendola is a private investor with nearly 20 years experience in various forms of media, ranging from radio to print. His work has appeared in academic journals as well as dozens of online and offline publications. He uses his broad experience to help inform his coverage of the stock market, primarily in the technology, Internet and new media spaces. He has taken a long-term approach to investing, focusing on dividend-paying stocks, since he opened his first account as a teenager. Pendola, 37, is based in Santa Monica, Calif., where he lives with his wife and child.