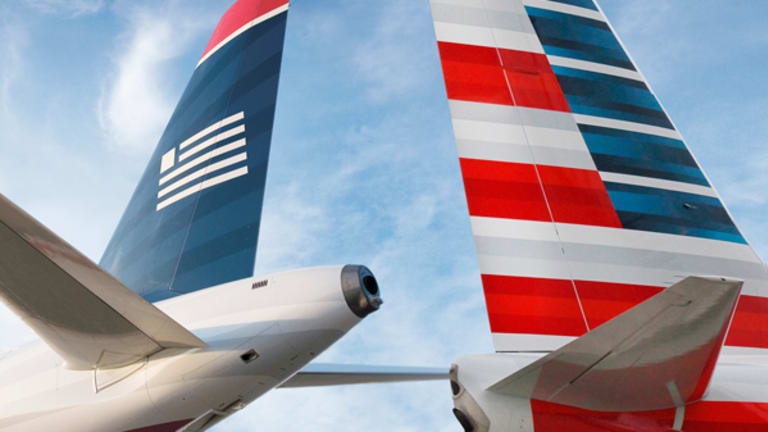 Everyone Declares Victory After US Airways/AMR Merger Approval
American and US Airways gave up National Airport slots they would have liked to keep, but now their merger is done before Thanksgiving.
CHARLOTTE, N.C. (
) -- Now, as expected, nearly everybody can declare victory following the settlement for the merger of
US Airways
(LCC)
and
American
( AAMRQ).
Arguably, it's legitimate. The Justice Department got more than it started with, the airlines got the merger they needed, the labor unions were rewarded for their lobbying and even some consumer advocates said they weren't displeased.
On a media conference call, a reporter suggested to Assistant Attorney General Bill Baer of the Department of Justice's Antitrust Division that he didn't get much more than the airlines had originally offered. "You're dead wrong," Baer responded. "There was nothing close to this that was ever on the table until recently. There just was not."
On a subsequent conference call, American CEO Tom Horton was asked whether the carriers recently made substantial movement in negotiations. "I don't think the settlement is terribly different from what I would have anticipated early on," Horton responded. "I think it's a reasonable settlement. It allows us to go build the world's best global network."
Asked about the toughest concession in the settlement package, US Airways CEO Doug Parker said "the most painful is the slots at Reagan." Horton agreed, but said the Reagan divestiture "represents about 15% of the combined slots between American and US Airways, so even after divestiture, the new American will have more slots at Reagan than US Airways did prior to the merger."
Baer, meanwhile, noted that the divestiture package in total, which also included 19 slots at New York LaGuardia and gates at five other airports, was "the largest ever in an airline merger."
American's three principal labor unions applauded the merger, as did the US Airways flight attendants union. Gary Hummel, president of the US Airways pilot union, wrote in a letter to pilots that "the overall synergies of the combined airline will be good for the employees and flying public."
As for consumer groups, Business Travel Coalition Chairman Kevin Mitchell said "the remedies that were agreed upon were extensive.
"What's more, in its settlement, Justice recognized the reduced influence of
Southwest Airlines
(LUV) - Get Southwest Airlines Co. Report
in keeping fares affordable, and opened up airports and facilities to encourage low-cost airline entry," Mitchell said.
Regarding labor, Baer said all the lobbying had no impact, although he noted that he and his deputy "had a terrific meeting" with labor leaders. "We pay attention to the fact that people have concerns (and) we understand them (but) our decisions have to be made based on competition and what's good for consumers," he said. However, on the following conference call, Parker applauded the labor support and said it was the "most noteworthy" component of "the overall outpouring of support," which he called "phenomenal" and a major factor in assuring a settlement.
It seems reasonable to assume that the Justice Department paid little attention to all the letters from congressmen, chambers of commerce and mayors, because anyone can round those up in support of a cause. But strong labor support for a corporate initiative is somewhat unique. Given that an assistant attorney general could not possibly say publicly that his position was influenced by lobbying, Parker's analysis seems more compelling.
One sour note to mention. The International Association of Machinists, the largest union at US Airways, said Tuesday it is premature for US Airways to celebrate the merger, given two-year delays in negotiating new contracts for mechanics and fleet service workers. Until the IAM and Transport Workers Union jointly ask the National Mediation Board to recognize new American as a single carrier, work such as maintaining airplanes and loading airplanes must be done for separate airlines by separate unions, the IAM said.
But for now, merger integration problems are in the future. The airline industry today is healthier than it was yesterday, and the United States is better off because its airline industry has finally evolved, 34 years after deregulation, into one that appears to be sustainable for a long time.
-- Written by Ted Reed in Charlotte, N.C.
>To contact the writer of this article, click here: