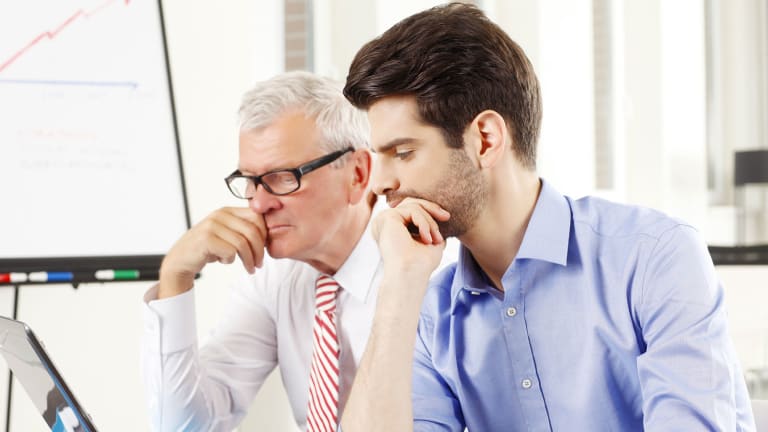 Even When Timing the Market Correctly, You Can Underperform
If you miss certain days when the market is flourishing, you may even show a loss in your portfolio.
You've finally done it; you've correctly timed the market. Let all those who doubted you wait in line as you autograph hypothetical portfolios and Morningstar reports.
For the average investor, correctly timing the market may be the Holy Grail. However, you may still be wondering why your portfolio returns are far from exceptional.
According to the Dalbar's 2015 Annual Quantitative Analysis of Investor Behavior (QAIB) the average equity fund investor correctly timed the market in eight out of 12 months in 2014. This 67% success rate may give an investor, or advisor for that matter, a false sense of victory.
Eight wins in 12 games is a record the hapless Miami Dolphins would be proud of, but for the average investor in 2014, this ratio would underperform the S&P 500 by more than eight percentage points (5.50% vs. 13.69%).
If I'm getting it right, why am I underperforming?
According to Dalbar's QAIB, the average equity fund investor timed the market correctly 67% of the time but underperformed overall based on the volume of buying and selling at the right times. In short, when you get it wrong, you get it very wrong.
A Prudential article on market timing has a great example on how getting it wrong, even some of the time, can drastically alter your portfolios overall return. According to Prudential, an investor who was fully invested in the S&P 500 from January 1995 to December 2015 would have had an annualized return of 8.19%.
By trying to time the market, an investor may miss some of the stock market's biggest gains. In fact, Prudential states that an investor who missed on only 10 of the best trading days between January 1995 and December 2015, experienced an annualized return of 4.49%. This annualized return falls to 2.05% when missing on the 20 best trading days and -0.04% when missing on the 30 best trading days.
Yes, you've read correctly. Potentially missing on only 30 trading days in a 20-year time frame could be the difference between an annualized return of 8.19% and -0.04%. To put this in dollars, staying fully vested in the S&P 500 from January 1995 to December 2015 would have allowed $10,000 to grow to $48,250. Conversely, missing only those 30 very important trading days over the same 20-year period, would have allowed $10,000 to be worth $9,912.
Market Timing in 2016
The conversation for 2016 has largely been to exploit the volatility and take advantage of the dips. You have to be able to ask yourself, "How many times (Or months) am I going to get it right this year?" "If I'm wrong, how wrong am I going to be?"
Certainly, if you were wrong in the first two months of 2016 you could have potentially sold in January and been on the sidelines for the run-up in February and March. Prudential showed us that being wrong only a small number of times, can have a big impact on long-term returns. Furthermore, a winning record of timing the market may not necessarily mean outperformance.
According to Dalbar's QAIB the average equity fund investor underperformed not only in 2014, but over a five-,10-,20- and 30-year time horizon by trying to time the market. The age old saying of, "It's not timing the market but time-in the market" holds true time and time again. It would even be reasonable to say that when timing the market, "Even when you're right, you're wrong."
Raymond James Financial Services, Inc. Member FINRA/SIPC.The S&P 500 is an unmanaged index of 500 widely held stocks that is generally considered representative of theU.S. stock market. It is a market-weighted index calculated on a total return basis with dividend reinvested. TheS&P 500 represents approximately 75% of the investable US equity market. Keep in mind that individualscannot invest directly in any index, and index performance does not include transaction costs or other fees, whichwill affect actual investment performance. Individual investor's results will vary. Past performance does notguarantee future results. There is no assurance that past trends will continue into the future. The effects of anyupdates released after the period shown above are not reflected in this data. Indices are unmanaged and cannotaccommodate direct investments. An individual who purchases an investment product which attempts to mimicthe performance of an index will incur expenses such as management fees and transaction costs which reducereturns. Source: Quantitative Analysis of Investor Behavior Report", 2014 Update, Dalbar, Inc. The AverageEquity Investor is calculated using results supplied by the Investment Company Institute. Investor returns arerepresented by the change in total mutual fund assets after excluding sales, redemptions, and exchanges. Resultscapture realized and unrealized capital gains dividends, interest, trading costs, sales charges, fees, expenses, andother costs. The information has been obtained from sources considered to be reliable, but we do not guaranteethat the foregoing material is accurate or complete. Investing involves risk and you may incur a profit or lossregardless of strategy selected.Links are being provided for information purposes only. Raymond James is not affiliated with and does not endorse, authorize or sponsor any of the listed websites or their respective sponsors. Raymond James is not responsible for the content of any website or the collection or use of information regarding any website's users and/or members. Any opinions are those of Joseph Carpenito and not necessarily those ofRaymond James. Examples discussed are hypothetical in nature and are not intended to reflect the actualperformance of any particular security. Raymond James is not affiliated with and does not endorse the opinionsor services of TheStreet.com. 301 Yamato Rd. Ste. 3160 Boca Raton, FL 33431. 561.241.6616.