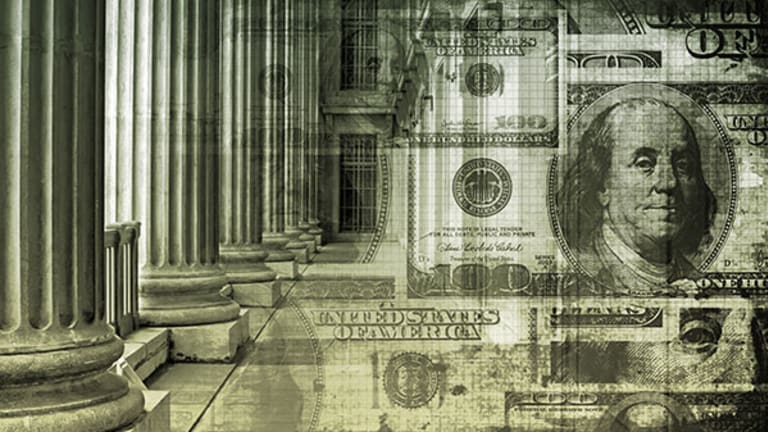 Even Snowden Would Have His Hands Full Cracking Wall Street's Arbitration Secrets
Brokerage firms don't allow their customers to go to court when they have a grievance. But when investor advocates try to probe Wall Street's private arbitration, they get shut down.
Brokerage firms don't allow their customers to go to court when they have a grievance. But when investor advocates try to probe Wall Street's private arbitration, they get shut down.
NEW YORK (TheStreet) -- It's no secret that aggrieved investors can wind up with a raw deal when they face off against stockbrokers in industry-run arbitration.
The hearings are held behind closed doors, the rules are written by an operation that's financed by Wall Street and the decisions of the arbitrators typically are issued with no explanation. Little surprise that many ugly details about the process stay private, too.
Now, a collection of consumer-friendly groups is pushing to get more of arbitration's secrets out in the open. The groups' demands matter, because every individual investor in America with a brokerage account is forced to forego court and agree instead to use a closed-door council endorsed by Wall Street.
In a letter to a task force of the Financial Industry Regulatory Authority, or Finra, the National Association of Consumer Advocates and eight other groups recently pressed for more disclosure of investigations, reports and other data by Finra or the Securities and Exchange Commission that might shed light on the secrets of industry-run arbitration.
When Do Investors Win?
The coalition is interested in things like how often investors are counted as arbitration "winners" even when they're awarded less than 100% of their losses. And which arbitrators are inclined to favor the securities industry -- or its customers -- when it's time to rule on a case.
Finra, which is financed by Wall Street but supervised by the SEC, runs the private sessions where investors' grievances are heard. In July, it announced the formation of a 13-member task force to consider ways to improve "the transparency, impartiality and efficiency" of arbitration.
Finra's Dispute Resolution Task Force, as it is called, was put together in the wake of bad publicity about Finra's arbitration business, from reports of an indicted arbitrator to revelations that brokers were using the arbitration forum to take black marks off their public records. Under fire, Finra has corrected some of its gaffes.
Mandatory arbitration has come under attack for years, including by politicians who have tried to outlaw it. But repeated legislative efforts have failed. That's despite the fact that arbitration's critics aren't typically endorsing the idea of shutting Finra's system down. They mostly are appalled that investors who might prefer to utilize their civil right to a trial by jury, can't.
Why Investors Can't Sue Brokers
It's bad enough that investors are stuck with a forum that may be tilted toward brokers. But there's a public policy issue here, too: for almost three decades, brokers have been able to dodge the public accountability that would be a matter of course in the courts.
Investors lost their right to sue a broker in court 28 years ago, when Shearson/American Express (AXP) - Get Report went to battle against Eugene and Julia McMahon, a Yonkers, N.Y., couple who said they'd lost $350,000 after their broker churned their account. The McMahons wanted to go to court. But Shearson said they couldn't, because they'd signed an agreement saying they would forego court in the event of a dispute.
Shearson took the McMahon case to the Supreme Court and won. Since then, every firm that does business with the public has inserted a mandatory arbitration agreement into their account-opening documents.
Given the arbitration horror stories that have come to light since then, it's great that Finra has put together a task force that will work on ways to make arbitration more transparent.
But the task force reports to a Finra advisory committee. And who knows what will happen to constructive suggestions from there?
Richard P. Ryder, editor of the Securities Arbitration Commentator, said in a telephone interview that he expects to see changes as a result of the task force recommendations. "The industry has an interest in keeping arbitration," he said. "So they're going to have to make concessions."
Finra spokeswomen Nancy Condon said, "It is premature to speculate on recommendations that do not yet exist," but that Finra is open to any recommendations that enhance its investor protection mission.
Despite the task force's charge to look for ways to make arbitration more transparent, some information appears to be off-limits.
Getting to the Truth About Arbitration
Among those nine consumer-friendly operations that penned the letter to the Finra task force is the Public Investors Arbitration Bar Association, or Piaba, a group of lawyers who represent investors before Finra hearing panels. On Dec. 22, 2011, Piaba sued the SEC. As Finra's overseer, the SEC had refused to cough up records related to its audits, inspections and reviews of Finra arbitration in response to a Piaba request under the Freedom of Information Act.
The SEC had found 65 boxes of documents that might have related to Piaba's request. In a motion for summary judgment on May 11, 2012, the agency said the documents included inspections of Finra's overall process for dealing with complaints about arbitrators and separate inspections in Chicago, Kansas City, and Boca Raton, Fla.
But it refused to share those documents, citing an exemption under the Freedom of Information Act that allowed it to decline requests for reports about financial institutions. Piaba appealed to the U.S. Court of Appeals for the District of Columbia and lost its appeal in November.
It might strike you as a little weird that the SEC -- "the Investor's Advocate," according to the agency's Web site -- is working to avoid helping investors get a grip on where the big problems are with industry-run arbitration. But the agency said in that motion for summary judgment that releasing documents that relate to its examination of Finra's operations "could put a chill" on its relationship with Finra, whose cooperation the SEC needs.
If the inequities of mandatory arbitration "put a chill" on you, well, that's too bad. This is your government at work, folks.