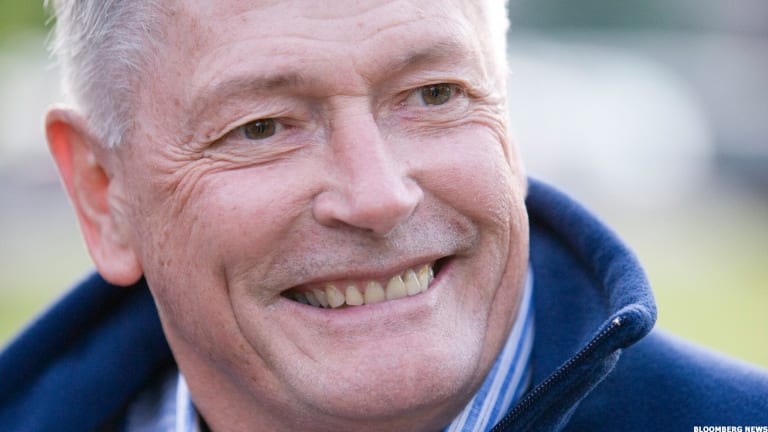 Even in This Crazy Market, the King of Cable Still Has Midas Touch
The legendary multi-billionaire John C. Malone is paving the way for his cable company Liberty Global to rise above this year's market turmoil.
Television news has devolved into a twenty-four seven "fear factory." Chaos in China, vicious political strife in America, heavily indebted banks overseas, a wave of bankruptcies in the energy patch, predictions of a looming bear market, dizzying intra-day swings in the global equity markets...it's enough to send investors into a fetal position.
Amid all of this uncertainty, where can investors get reliable, dispassionate guidance?
Turn to the money masters. This week, as Wall Street gets ready for the latest earnings report from cable giant Liberty Global (LBTYA) - Get Liberty Global Plc Class A Report , consider the timeless methods of Liberty's legendary CEO, John C. Malone, known as "The King of Cable." This company is among a group of tech-intensive stocks poised to "beat the bear" in 2016.
Liberty Global is an international cable company with operations in 14 countries. The company provides television, broadband Internet and telephony services to 25 million customers. The company is scheduled to announce fourth-quarter fiscal 2015 earnings on Tuesday.
Analysts are expecting weak results, but if you read between the lines and consider Malone's history of far-sighted moves, it's clear that the company is an attractive long-term opportunity. John Malone is one of the few individuals who can actually claim to be a mentor to super investor Warren Buffett. With an estimated net worth of $9 billion, Malone is an icon of the cable industry. Over the course of his forty-year career, he pioneered many business and investment practices that seemed outrageous at the time but which are common practice today.
Malone served as chief executive officer of cable and telecommunications giant Tele-Communications Inc. (TCI), from 1973 to 1996. AT&T (T) - Get AT&T Inc. Report purchased TCI in 1998 for $54 billion. Through a series of deals, AT&T's cable television assets eventually ended up in the hands of Comcast  (CMCSA) - Get Comcast Corporation Class A Report . Malone is now chairman of Liberty Global, among other companies.
To succeed as an investor, you must anticipate how the market will perform before it's obvious to all. Malone has an uncanny ability to spot trends long before the rest of the herd.

As an engineer with a Spock-like ability at analysis, Malone grasped earlier than any other cable executive that the crux to creating value in the fast-growing cable television business was to grow big through acquisitions. By expanding in size, a cable company can maximize both financial leverage and leverage with suppliers, particularly programmers. In a cable television system, the largest total operating expense is fees paid to programmers (HBO, Showtime, MTV, ESPN, etc.)
The bigger a cable company, the better it can negotiate lower programming costs per subscriber. In turn, the more subscribers a cable company has, the lower its programming cost, and the higher its cash flow per subscriber.
How successful is Malone's track record? From the time he joined TCI in 1973 until 1998 when the company was sold to AT&T, the compound return to TCI's shareholders was a whopping 30.3%, compared with 20.4% for all other publicly traded cable companies and 14.3% for the S&P 500 over the same period.
Malone is now pursuing the same strategy with Liberty Global, which makes it one of the best "game changing" investments this year. With a market cap of $26.62 billion, Liberty Global boasts 12-month trailing (TTM) operating cash flow of of $5.7 billion, a huge financial war chest that gives it the wherewithal to expand and upgrade its systems.
Liberty Global last issued its quarterly earnings in November, when it reported 12 cents in earnings per share, beating analysts' consensus estimates of five cents a share. Revenue in the quarter came in at $4.6 billion, for a 2.2% year-over-year increase. Subscriber additions rose quarter-over-quarter to 320,000.
However, on average analysts expect Liberty Global to post fourth-quarter EPS of 3 cents, which will probably weigh on the stock. But if you put this ostensibly disappointing performance into context, you'll see that the company represents a rare bargain in a risky broader market.

In November 2015, Liberty Global adopted advanced wireless gateway technology from data communications firm ARRIS International (ARRS) - Get ARRIS International Plc Report . These new capabilities significantly enhance Liberty's high-speed broadband Internet and streaming services, which gives Liberty a more competitive platform to provide innovative media offerings in the future.
At the same time, Liberty Global is rapidly expanding its global footprint, especially in under-served developing markets. Notably, the company recently reached an agreement to acquire for $5.3 billion the London-based cable operator Cable & Wireless Communications  (CWIXF) , which provides services throughout the Caribbean.
Liberty's TTM price-to-sales (P/S) ratio stands at 1.43, compared with 1.84 for direct competitor Comcast and 2.21 for the cable industry as a whole. Year to date, Liberty's stock is down 22.61%, which presents an enticing value play.
A low valuation, combined with advanced technology, international diversification, and John Malone's financial savvy, will make Liberty a winning stock in 2016.
Best biotechnology stock under $10:
We've found a small-cap biotech "rocket stock" that's about to take off. UCLA researchers are stunned by a Nobel Prize-winning cancer breakthrough that's proven in clinical trials to eliminate lethal forms of cancer with a single dose. One small company owns the patent to this life-saving treatment. Now trading at about $5 a share, the stock of this innovative company is projected to surge 2,700% on an imminent FDA announcement. To download the full report, click here.
John Persinos is editorial manager and investment analyst at Investing Daily. At the time of publication, the author held no positions in the stocks mentioned.