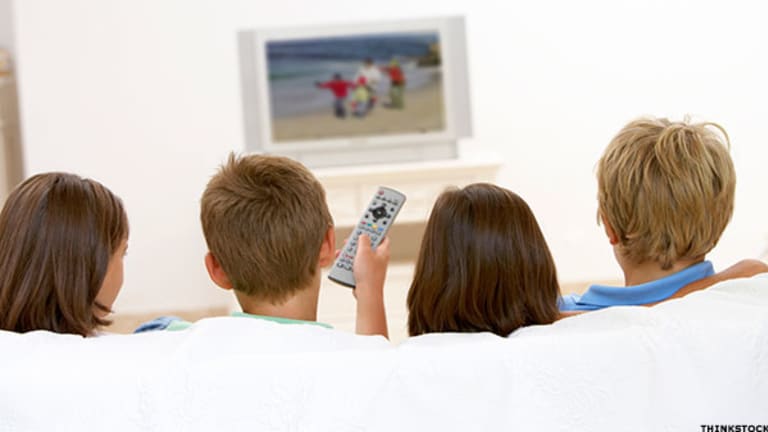 Even Children Are Watching Less TV as Total Viewing Keeps Falling
Viewership across cable, broadcast and kids' TV continues to slide.
New York (TheStreet) -- Children are watching less television, and not even the cold winter weather or the tedium of family gatherings appears capable of altering that trend.
New data from Bernstein Research shows TV audiences have continued to decline. Aggregate television audiences remained down in the week of Nov. 17 through 23, with an 8% drop in cable audiences and 9% drop in broadcast, according to Bernstein's report.
The week's poor performance wasn't isolated bad news. Aggregate audiences are also down quarter-to-date, with a 9% decline in both cable and broadcast audiences.
Children's programming has fared even worse, with audiences falling 12% in the past week, and an even steeper 15% drop in quarter-to-date audiences, according to Bernstein. The slipping viewership among young audiences may be because children's programming is particularly vulnerable to competition from streaming services like Netflix and Hulu.
"A 5-year-old is probably less concerned with seeing the latest Spongebob Squarepants, compared to just reruns of that show," said Brett Harriss, a media analyst at Gabelli & Company. Nickelodeon and Disney Channel viewership fell 25% and 24% respectively, according to the Bernstein report.
"For kids' programming it's a unique audience. They're not loyal to any network or channel. It's platform-agnostic," said Amy Yong, an analyst at Macquarie Capital USA Inc.
Fox cable stood out from the otherwise thinner TV audiences, with an 11% increase in its audiences in the week ending Nove. 23. The strong showing was driven, in part, by Fox News Channel.Fox News had the most-watched cable coverage of the conflict in Ferguson, Mo., leading up to the grand jury ruling against the indictment of Officer Darren Wilson, the police officer who shot and killed unarmed teenager Michael Brown.
The media industry is now awaiting results of a new Nielsen rating system, which will measure online TV, video and other digital content in order to truly understand why viewers are moving away from cable and broadcast TV, Yong said. "It's unclear whether or not it's a slide or a measurement issue," she said.
This article is commentary by an independent contributor, separate from TheStreet's regular news coverage.