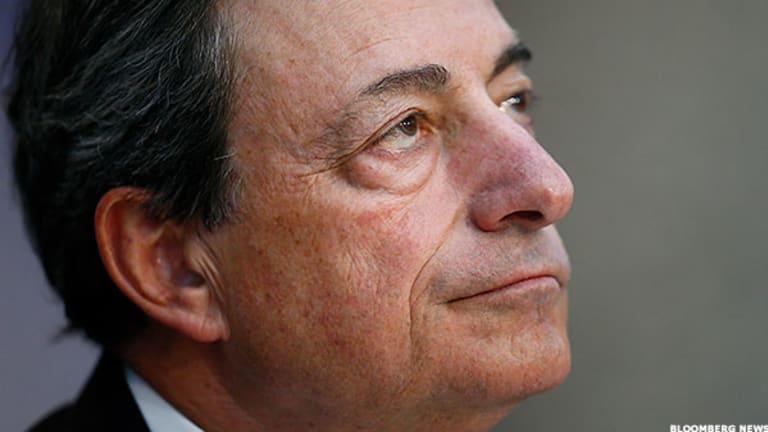 NEW YORK (TheStreet) -- Should investors be stressing over the European bank stress tests? Leaks out Friday ahead of Sunday's big reveal suggest that 25 out of the 130 banks that took the test may have failed. This has some investors worried that this could lead to some sort of financial armageddon on the scales of 2008.
But nothing can be further from the truth, at least not in the short term. The leaked results aren't nearly as bad as they sound and are actually largely in line with market expectations. Indeed, there is unlikely to be any major impact on the broader markets, with only those stocks and bonds directly connected with the tests --  i.e., European banks -- expected to move on the news when the markets open on Monday.
The stress test is an effort spearheaded by the European Central Bank to boost confidence in the economy by basically snuffing out the continent's insolvent, so-called "zombie," banks. These banks have a lot of unrealized losses on their balance sheets that have prevented them from lending to consumers and businesses. Because these banks aren't able to issue the credit needed to grease the wheels of the economy, many believe they are responsible for holding Europe back from fully recovering from the financial crisis of 2008.
Unlike in the United States, where the government injected billions of dollars into the banking system right at the onset of the crisis, Europe struggled to get its act together. The byzantine structure of the European Union was simply not equipped to handle such a crisis. The eurozone's European Central Bank was unable to intervene in the economy in the same decisive way the Federal Reserve did in the United States.
By the time Europe's leaders decided they needed to work together, it was too late -- investor confidence had simply collapsed. This led to the sovereign debt crisis, which almost caused the euro and the European Union to collapse.
The latest stress tests, which have lasted for nearly a year, are supposed to rectify this crisis of confidence that has plagued Europe for years now. Indeed, the results are largely seen as irrelevant. The market knows that many European banks are insolvent, they just want Europe to admit the problem and do something about it.
Indeed, traders in Europe have largely dismissed the results, with many saying they won't be eagerly refreshing the ECB's Web site come 12:30 p.m. CET on Sunday, when the results are set to officially be revealed.
But if the results are in line with the leaks that came out this morning, which showed around a fifth of the banks failing the test, how can that build confidence and Europe's struggling economy?
First of all, it really isn't as as bad as it looks. The stress tests are based off of the balance sheets the banks submitted to the ECB when they first began investigating the banks back in December of last year. As such, whatever is revealed on Sunday will be based on the financial health of the banks 10 months ago, not today.
A lot can change in 10 months. Those banks that knew they were borderline or deep in the hole when they submitted their balance sheets to the ECB were essentially put on notice and given nearly a year to raise enough capital (or sell off enough assets) to plug the holes in their balance sheet before game time this coming Sunday.
European banks have raised around 48 billion euros ($61 billion), in capital this year, issuing debt securities faster than you could say, "Too Big To Fail."
So while we may see a lot of red on the ECB report card on Sunday, chances are, most of the banks showing some sort of capital shortfalls will have already raised enough cash over the year to plug all their holes.
Indeed, of the 25 headline failures, 15 have supposedly raised enough capital to satisfy the ECB's stress test, meaning that only 10 out of the 130 banks truly failed. Many of the banks that failed are reportedly protesting the results, which could push the failure rate down even further by Sunday.
Nevertheless, there are still bound to be a few banks that will fail for real on Sunday. But there is no need to panic -- they will likely have up to nine months (or even indefinitely) to raise the necessary cash to make things right with regulators.
So come Monday morning, it is highly unlikely that we will see any major moves in the broader markets as a result of all this eurobabble, especially on Wall Street. After all, it's earnings season here, so traders will be more concerned with whether Twitter (TWTR) - Get Twitter, Inc. Report, Merck (MRK) - Get Merck & Co., Inc. (MRK) Report, T-Mobile (TMUS) - Get T-Mobile US, Inc. Report, Amgen (AMGN) - Get Amgen Inc. Report or Wynn Resorts (WYNN) - Get Wynn Resorts, Limited (WYNN) Report hit their numbers when they report on Monday. They will probably be far less interested in whether Oldenburgische Landesbank or Caisse Regionale de Credit Agricole Mutuel Alpes Provence properly valued the subprime asset-backed security they bought in 2007 from a U.S. investment bank who told them it was a risk-free investment because the guys they paid to rate the security said so.
That being said, a few bank investors may want to pay attention, if they are determined to play this trade. Analysts have pointed to a few banks, which despite having nearly a year to raise the necessary cash to pass the stress test, may still come up short on Sunday. Many of them are in Italy, according to analysts at Mediobanca. They include Banca Monte dei Paschi di Siena, Unione di Banche Italiane and Banco Popolare. I guess Mediobanca isn't in need of any capital, eh? Anyway, the analyst say the banks will miss the ECB's magic number, which is based on the ratio of a bank's capital to its risk-weighted assets, by as much as 3%.
Now, before you go out and short Italian banks, note that this information has been out in public for quite a while. If any of them do fail, chances are, their stocks won't go anywhere, as the news is already priced in. But what if Mediobanca got its numbers wrong and its fellow Italian banks actually all passed? Then chances are those stocks will skyrocket.
Take what happened to Bank of America's (BAC) - Get Bank of America Corp Report stock in 2009 when it challenged the results of a stress test conducted by the Fed. Its stock jumped 19% in one day after it surprised investors by denying reports that it needed to raise $10 billion in equity to pass the Fed's test. Something similar could happen to all those marked Italian banks on Monday.
But what about the long-term impact of the stress tests? Could it hurt the U.S. markets, or possibly wreak havoc on your portfolio?
Well, the most important thing about these stress tests is that they are a preamble to a far more important event, which is the transfer of European banking regulation from the country-level to the ECB in Frankfort, which is happening next month. This is supposed to give the ECB the power to more quickly to intervene in a crisis before it gets out of hand, as it did in 2008, with the financial crisis, and the subsequent sovereign debt crisis in 2010.
With all European banking regulation finally centralized, investors, especially large institutional investors, will probably feel more confident in placing bets on European securities. They may feel, rightly or wrongly, that they can now trust European regulators when they say that their banks are safe as opposed to officials employed by the Greek, Spanish, Portuguese or Irish governments.
The key here is that if investor confidence in Europe grows, portfolio managers may choose to shift their money out of their U.S. investments and in to some new European opportunities.
All in all, a stronger European economy could cause some sluggishness in U.S. securities but it would probably be a slow burn, taking weeks or months to take effect, so no need to stress out this weekend. Just relax and enjoy the World Series.
This article represents the opinion of a contributor and not necessarily that of TheStreet or its editorial staff.