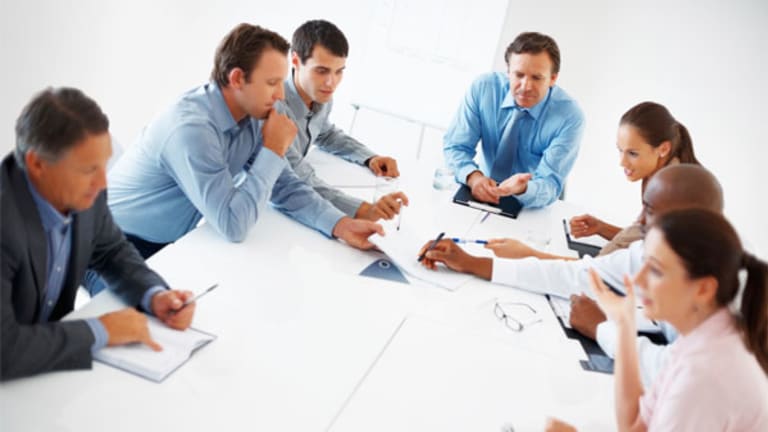 Euro Crisis: Expect More Drama
Slovakia is just the start. In the coming days, we will see more drama from bigger economies with self-interests that must be served before a plan for the crisis can take shape.
Slovakia is just the start. In the coming days, we will see more drama from bigger economies with self-interests that must be served before a plan for the crisis can take shape.
The following commentary comes from an independent investor or market observer as part of TheStreet's guest contributor program, which is separate from the company's news coverage.
NEW YORK (
) -- Closure on the euro crisis may at long last be close at hand. There is nothing like a bank failure to resuscitate the dark memories of Lehman's collapse to jolt European leaders into realizing that it's time to stop denying the enormity of the problem. The timing is good too. The decision makers of the world's largest economies will be meeting on Nov. 3 and the agenda in the making looks to be calling for a collective response not just for the eurozone crisis but also to prevent a global recession relapse.
By the time these leaders arrive in Cannes for the G20 meeting, they will be fully informed of issues and alternatives because preceding it will be a G20 finance meeting and a meeting of the EU Council. In the meantime, there should be a lot of information passing that will indicate progress and it is bound to be filled with drama, like the last-minute
Slovakia monkey wrench.
Slovakia owes its rapid ascent to becoming a developed country to the EU, but this hasn't stopped it from taking advantage of the vote to expand the powers and purse of the European Financial Stability Facility (EFSF) for self-interested political purposes. The antics of this little country, whose GDP is about 0.5% of the EU's highlights why it can take so long to get this crisis solved.
Moving to Friday of this week and beyond, we are sure to find more and regular drama from bigger economies with self-interests that must be served or heard before a plan for the crisis can take shape.
On Oct. 14 and 15, the G20 finance ministers and central bank governors will meet to discuss possible options. Also on the agenda will be examining undervalued exchange rates in countries with large surpluses. China and the yuan will figure in prominently here.
Yuan appreciation has been a hot topic here at home, too. Undoubtedly it will be better to seek a resolution at the G20 rather than by the U.S. instigating a trade war with China. The Chinese though are not going to roll over even if they know it's the right thing to do.
Another expected topic is a global financial transaction tax. The EU now recognizes that such a tax without global participation will simply lead to investors moving their business to more favorable venues. Europe would dearly love the revenue this tax would generate to help pay for the crisis, but getting dozens of sovereign nations to agree to a global tax is very unlikely.
On Oct. 17 and 18, the EU heads of government will meet. This agenda is sure to include a possible Greek debt restructuring. Instead of the "we will never let Greek default," the conversation has switched to relying on the advice of international auditors. If they advise on restructuring, the next topic will be how to make it orderly to minimize collateral damage. At this meeting, the topic of bigger haircuts for the Greek bondholders is expected, as is recapitalizing European banks because these are Greece's largest bondholders.
This agenda is sure to discuss tighter EU integration that could allow for a Eurobond, but this requires a unanimous treaty change. The purpose at this meeting would be to get a ball rolling to make this a longer-term possibility.
On Nov. 3 and 4, the G20 heads of government will meet. Collective decisions among sovereign nations are always unpredictable affairs. However, because, like 2008 there is plenty of pain to go around, participants are motivated.
Any response from the G20's 10 emerging nations though is likely to involve caveats. In the 2008 to 2009 response, these nations believed that their assistance in the financial crisis would give them greater stature at the G20 table. It didn't quite work out as planned. They may be more demanding this time around.
Some of the items that the 10 developing world members care about, like poverty reductions and more open markets for their goods. may get more attention than they have in the past. In the last G20 meeting in Seoul the U.S. suffered a significant backlash from initiating QE2 which wreaked havoc on many emerging-market currencies. They are sure to weigh in on QE3, too.
Many uncertain issues, such as all of the above, should gain clarity in the coming weeks, and it is possible that the euro crisis will finally have a containment solution that the markets can believe in. In the meantime expect lots of drama.