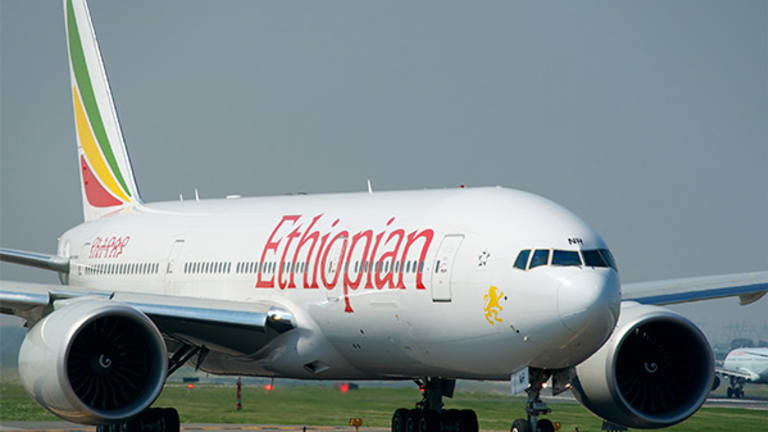 Ethiopian Airlines Looks to Order Boeing 777s and to Fly to New York
Ethiopian Airlines wants to order up to 20 additional Boeing 777s and possibly to fly to the New York area. It will decide by the end of the year.
NEW YORK (TheStreet) -- Expanding Ethiopian Airlines is considering a New York flight and also plans an order for up to 20 Boeing (BA) 777 aircraft, a return to the fold as a long-time Boeing customer despite an order for a dozen Airbus A350s six years ago.
Africa's largest airline plans continued growth, particularly in North America, where a flight between its Addis Ababa hub and the New York area is under active consideration, said Nigusu Worku Wordofa, the carrier's regional director of the Americas. He expects a decision by the end of the year.
"New York is one of the stations under study," Wordofa said in an interview. "There are other cities as well -- we will add a few more stations." If the carrier does select New York, it would then decide whether to fly to John F. Kennedy International Airport or Newark Liberty International Airport, a hub for partner United (UAL) , he said. Like United, Ethiopian is a Star Alliance member.
In general, Ethiopian would favor U.S. destinations that are United hubs, Wordofa said. It currently flies daily to Washington Dulles International Airport, three times weekly to Los Angeles International Airport and three times weekly to Toronto, where hub carrier Air Canada is also a Star member. About half of Dulles passengers connect with United flights, he said.
Meanwhile, The Wall Street Journal reported Wednesday that Ethiopian plans to order 15 to 20 Boeing 777X aircraft before the end of the year. Ethiopian also considered Airbus A350-1000s, Ethiopian CEO Tewolde Gebremariam told the newspaper. The intent is to boost the size of the fleet to about 150 aircraft by 2025, he said.
Ethiopian will take delivery of its first A350 in 2016. It currently flies 76 aircraft, including 59 Boeing aircraft, 10 of which are designated as cargo aircraft. A fleet of 17 Bombardier Q400s provide domestic and regional service.
In 2014, Gebremariam told The Reporter newspaper in Addis Ababa that the A350 fleet "will play an important role in our fast, profitable and sustainable growth strategy. The airplane's seat capacity will be slightly bigger than our B-777-200LR fleet but it will have a shorter range."
Ethiopian talked with Airbus regarding the latest order, but the 777 "was deemed more suited to operations from the airline's high-altitude hub in Addis Ababa," the Journal said.
According to Wordofa, "It's good to have different types of aircraft. It gives us flexibility. (But) Boeing and Ethiopian have been in business for seven decades, we have a very bright future and will continue buying Boeing airplanes."

With a long history in Africa and a hub in Addis Ababa, Ethiopian believes it is best positioned to carry passengers to Africa.
At times it competes for passengers with the Gulf carriers, but Wordofa declined to discuss the effort by U.S. carriers including United to limit their U.S. expansion because their subsidies violate Open Skies agreements.
"We don't like to say anything about the Mideast carrier subsidy issue," Wordofa said. "We focus on liberalization of African skies for African carriers" and on implementing the 1999 Yamoussoukro Decision, signed by 44 countries, which agreed to liberalize intra-African air service. "It is not yet completed," he said.
Ethiopian is not only the largest carrier in Africa, but also it is allied with two other major carriers, Egyptair and South African Airways, both Star Alliance members. It is not overly concerned about competition in Africa with the Gulf carriers, Wordofa said, noting, "We know Africa better than any carrier."
This article is commentary by an independent contributor. At the time of publication, the author held no positions in the stocks mentioned.