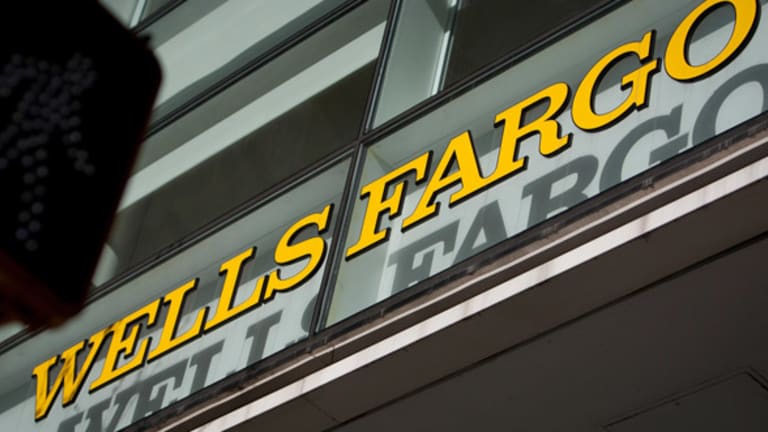 Ethics, Not Just Profits, Are Influencing Banks' Share Prices
The Wells Fargo (WFC) scandal has intensified scrutiny on how big banks conduct their business.
A number of the world's largest banks have suffered through major scandals over the past decade. 
They have paid huge fines and faced other penalties. A number of bankers have even gone to prison. The most recent revelation involving a major bank, the creation of some two million bogus accounts by Wells Fargo (WFC) - Get Wells Fargo & Company Report employees, has intensified the scrutiny over banking. Yesterday, the bank announced that its CEO John Stumpf would be taking early retirement. Stumpf had insisted that he did not order or sanction employees to create the accounts, but observers of corporate leadership and others have been quick to point out that an organization's most senior leaders are responsible for the tenor of an organization.
Wells Fargo is a holding in Jim Cramer's Action Alerts PLUS Charitable Trust Portfolio. Want to be alerted before Cramer buys or sells WFC? Learn more now.
The debacle has intensified debate about the ability of huge financial services organizations to maintain their ethical bearings. This is particularly difficult for these companies and service industries as they balance the pressure of meeting quarterly earnings expectations. Missing sales targets can hurt a company's stock price. 
But increasingly, investors are weighing a company's deportment as they evaluate a potential buy. Ethical lapses suggest an absence in judgment or at least a failure to read the zeitgeist of a public that prefers dealing with organizations that are good citizens. 
That can have a major affect on stock price. Wells Fargo shares have sunk about 10% since news of its scandal broke. That is small compared to declines that financial services have faced for their misdeeds in recent years, including Bank of America, Citigroup and other ensnared in the 2008 financial meltdown. 
Citigroup is a holding in Jim Cramer's Action Alerts PLUS Charitable Trust Portfolio. Want to be alerted before Cramer buys or sells C? Learn more now.
Industry critics say that banks would be more likely to avoid these types of situations if they were smaller. The most ardent of them have called for markedly increased restrictions on banks' abilities to participate in investment activities, including a new version of the Glass Steagall Act of 1933, which separated traditional commercial banking activities from speculative ones. They have urged that regulators break up big banks.
Supporters of the industry believe that current limitations are sufficient or even too stringent. They include the Republican presidential nominee Donald Trump, who has called for repealing the Dodd Frank Act of 2010, which came into existence to prevent another Great Recession-sized crisis. 
Unlike many banks, Wells Fargo escaped with its reputation largely intact. Last month, it acknowledged that employees throughout the organization created credit card and debit accounts for customers without their knowledge. Subsequent stories indicated that workers who tried to alert managers to the problem while it was ongoing lost their jobs or faced other consequences. The company has paid a $185 million fine to regulators. Stumpf's departure, albeit a month after the initial news broke, is the latest evidence of damage control. 
Wells Fargo has hardly been alone in fueling outrage over the past two years. Last year, PMorgan Chase reached a settlement with the Department of Justice's United States Trustee Program (USTP) and was required to pay more than $50 million to over 25,000 homeowners who are or were in bankruptcy.
The Wall Street Journal has also reported in detail that the bank may have hired sons and daughters of powerful people in Asia and is "expected to pay around $200 million to settle federal investigations."
And Deutsche Bank is in the midst of settling a case with the U.S. Department of Justice related to past practices with mortgage-backed securities. 
These banks' problems have hurt their reputations. They may also underscore a prescription for what's ailing the industry. That will not require the threat of legislative initiatives to force them to act more responsibly; rather, it will mean a willingness to focus harder on not only reaching their financial goals but on how they go about it. 
In an International Monetary Fund press conference, Peter Dattels, Deputy Director of Monetary and Capital Markets Department. said that investors' focus has gradually shifted from "the level of capital to the business models that banks need to maintain that capital through profits."
To be sure, there is a good argument that the size of a bank does not make it more or less likely to misbehave. A report released to Congress this spring by the Troubled Assets Relief Program (SIGTARP) pointed out that a number of the 35 bankers who went to prison for actions related to the 2008 financial crisis were executives at small institutions. The report also said that many of the crimes they committed involved small amounts. 
SIGTARP is a federal law enforcement agency created to monitor and investigate the use of TARP funds. SIGTARP's inspector general, who is appointed by the president, reports to Congress each quarter. 
But "too big to fail" banks' size also makes it difficult for them to change course or to lessen the pressure of investors' expectations. Equity prices continue to depend on "banks' earnings expectations and future profitability and concerns about that underlying profitability", according to Matthew Jones, the Chief of the Global Markets Analysis Division, Monetary and Capital Markets Department at the Global Financial Stability Report Press Conference.
The banking industry's latest earnings seasons begins next week.
This article is commentary by an independent contributor. At the time of publication, the author held no positions in the stocks mentioned.