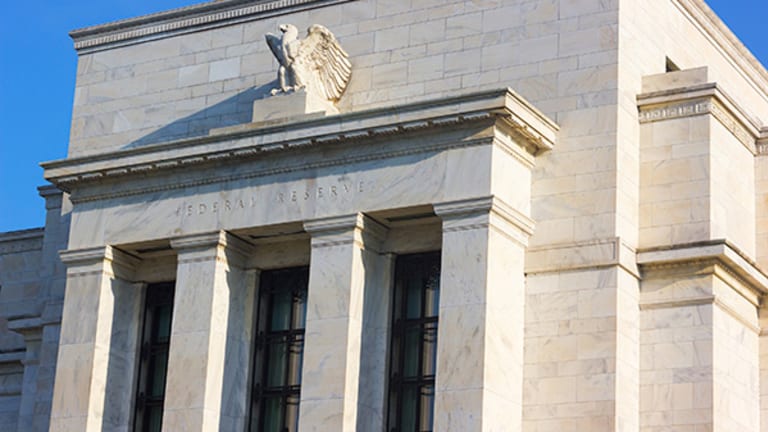 Era of Central Banks Propping up Stock Market Has Come to an End
A rate hike is finally anticipated, but in the meantime, it might be smart to hold 7-to-10 year Treasury bonds.
A rate hike is finally anticipated, but in the meantime, it might be smart to hold 7-to-10 year Treasury bonds.
"There will be a day of reckoning," billionaire investor Carl Icahn told CNBC Thursday, adding that he is "extremely cautious" on the U.S. stock market.
When the Federal Reserve decided to leave rates unchanged Wednesday, the S&P 500 didn't respond. The market index has been in some sort of eerie holding pattern for the past week, with a high of just under 2,100 and a low of 2,077.
Now, the S&P 500 has gone lower than 2,077. Failure to break out of the 2,100 psychological level and then breaking down through 2,077 is an indicator that the market is ready for some short-term weakness.
In an interview Wednesday, Janus Capital's Bill Gross said that for almost the second quarter in a row, economic growth is close to flat, and he also said that there will probably be one more rate hike over the next 12 months, probably in June.
Clearly, the Fed wants to normalize interest rates and target about a 2% federal funds rate.
In addition, the Bank of Japan surprised markets Thursday by leaving rates unchanged.
Rates are negative in Japan, the world's third-largest economy, and have been all year. Negative interest rates should be an impossibility.
Why would people pay someone else to keep their money when they could just leave their money under their mattresses? That is an extreme example, of course, yet this situation demonstrates how central banks are manipulating global markets.
In another interview Thursday, Mohamed El-Erian, the chief economic adviser at Allianz, warned that the Bank of Japan is right on the line that separates policy effectiveness from ineffectiveness.
Next to cross that line would be the European Central Bank, then the People's Bank of China and finally the Fed, he said.
It should be a wake-up call that central banks are becoming less effective in delivering financial outcomes.
Finally, the VIX volatility index closed Wednesday at 13.77, dipping to a low of 13.30 on Thursday before closing at 15.22, further indicating that this ridiculous lack of fear in the market can go on forever.
It seems that everyone wants to bury their heads in the sand. But sometimes it takes three of the brightest market observers -- Icahn, Gross and El-Erian -- to come in and tell it like it is.
It seems that the market is finally anticipating this rate hike, as it should be.
Fortunately, U.S. Treasuries are the strongest in the world, and as per my mattress example, people aren't exactly investing in Japanese Treasuries. People are buying U.S. Treasuries because they are the best game in town.
Therefore, it is smart to hold on to the iShares Barclays 7-10 Year Treasury Bond Fund (IEF) - Get Report until there is some sort of pullback in this market because volatility will likely increase.
Why be cautious? Because the smartest people are cautious, and when smart people talk, other smart people should listen.
This article is commentary by an independent contributor. At the time of publication, the author held a position in IEF.