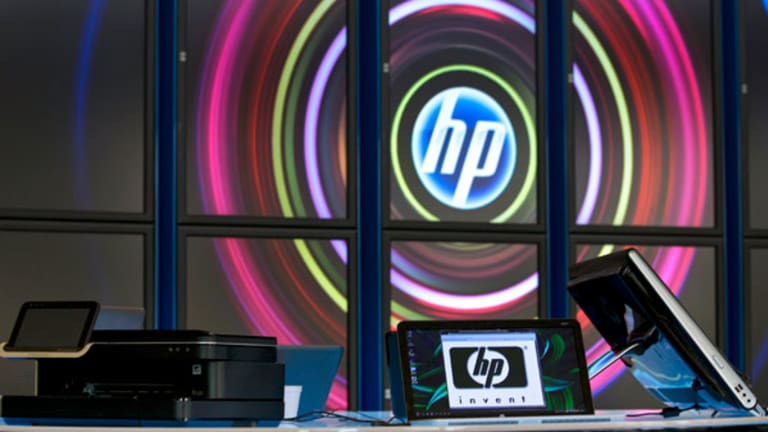 Enterprise Stocks: A Year in Review
With only moderate improvements in global IT spending, I believe enterprise stocks performed as well as expected.
NEW YORK (TheStreet) -- Of all of the industries I've summarized over the past couple of weeks, the enterprise sector, which consists of software, hardware, cloud and "big data" companies, unquestionably ranks up there as the most puzzling.
On the one hand, despite constant bearishness about lacking profitability, you have had the head-scratching dominant performances of Salesforce.com (CRM) - Get salesforce.com, inc. Report and Workday (WDAY) - Get Workday, Inc. Class A Report, which have built themselves into solid Software-as-a-Service (SaaS) giants. On the flip side, their rise in popularity contributed to the relative disappointments that hit bellwethers Oracle (ORCL) - Get Oracle Corporation Report and IBM (IBM) - Get International Business Machines Corporation Report despite their consistently strong profitability.
[Read: Tesla and the New Frontier in Electric Car Competition]
After its shares lost 4% of their value last year, technology giant IBM entered 2013 ranked in my top 10 of projected outperformers for year. As it stands, for the year to date the stock is down another 3.4%. IBM shares closed at $185 Friday. I'm not willing to enter 2014 with similar expectations. As much as I like "Big Blue's" ability to produce "green," I don't see any evidence the company's management can effectively fight off enterprise/cloud threats from either Workday or Salesforce.com.
And I haven't even mentioned the embarrassment IBM has suffered at the hands of Amazon (AMZN) - Get Amazon.com, Inc. Report when the Central Intelligence Agency chose Amazon's Web Services over IBM's cloud platform. Plus, when you consider the degree to which rivals such as Accenture (ACN) - Get Accenture Plc Class A Report and Tibco Software (TIBX) continue to steal/outbid IBM in large deals, I just don't see where this company can mount any type of comeback in 2014.
That said, Hewlett-Packard (HPQ) - Get HP Inc. Report, whose stock is up 98% for the year to date after closing Friday at around $28, demonstrated a comeback is always somewhere around the corner. But it's all relative. Unlike IBM, HP at one point lost 53% in 2012. Essentially, while no one predicted HP would have strong performance, expectations were already so low that "less bad" earnings announcements were counted as wins.

Although I'm willing to credit CEO Meg Whitman for her "real world" style of leadership -- meaning she never pretends HP is better than it is -- she recently told analysts to not expect growth in 2014. It's true the company is working its way back and is in a so-called five-year turnaround plan. But she said this less than a year after she had promised investors that HP would return to growth in year three of her turnaround plan. Well, 2014 is year three.
That the stock didn't get hammered despite the broken promise suggests the Street always assumed Whitman was shooting for the stars. Even so, I would be careful buying this stock after such strong gains. While HP continues to be a nice sentimental story, all of the "easy money" has already been made. With demand for personal computers expected to reach record lows in 2014, HP will be judged more on its revenue stream and less on its cost-cutting ability.
[Read: Five Common Items You'll Pay More for in 2014]
In many respects, this is why Dell left the spotlight and opted to go private after shareholders approved Michael Dell's $25 billion bid. Finally out of Wall Street's scrutiny, Dell says it plans to re-emerge as a legitimate tech power. But I'm not holding my breath believing Dell has learned anything over the past five years given Michael Dell's proclamation that the company has no interest in the mobile phone business.
Instead, the company is keeping its promise of pursuing growth in the enterprise. To that end, I just don't see how this company can be taken seriously as a worthwhile turnaround candidate. With no organic growth to speak of, Dell needs to think differently. This is something Oracle now understands, given the company's new partnerships with some of its most hated rivals, including Microsoft (MSFT) - Get Microsoft Corporation Report and Salesforce.com.
Despite the punishment Oracle has taken in 2013, management understands the company's total addressable market, which also includes software, hardware and services, has begun to take drastic changes. As with Cisco (CSCO) - Get Cisco Systems, Inc. Report, Oracle has been working to diversify its business. This is why Oracle's $2.1 billion acquisition for Acme Packet and then network vendor Tekelec deserve more time. And I believe Oracle will be well positioned in 2014 to outperform.
With only moderate improvements in global IT spending, I believe enterprise stocks performed as well as expected. Let's not forget several of these giants, including Cisco and IBM, rely on the U.S. government for a significant portion of their revenue. Despite the government shutdown and the sequestration that occurred early in the year, management was able to overcome the impact.
That said, expectations will be higher in 2014. Any "pass" that was granted this year to the likes of HP will  certainly be met with greater criticism next year.
At the time of publication, the author held no position in any of the stocks mentioned.
Follow @saintssense
This article was written by an independent contributor, separate from TheStreet's regular news coverage.