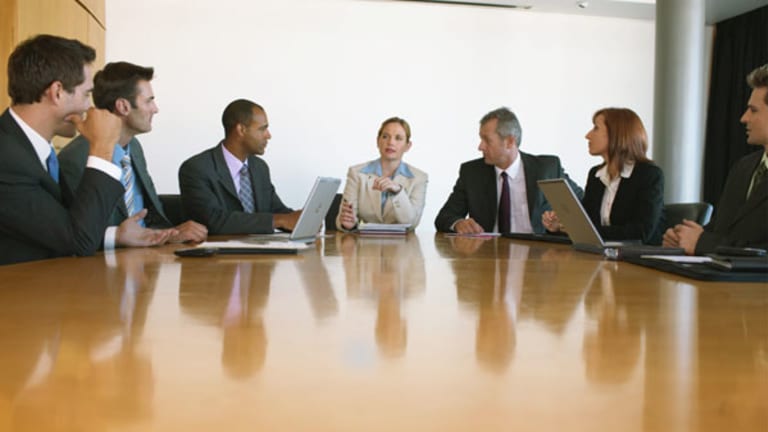 Enron 10 Years After -- From Bad to Worse
The energy trader's anniversary reminds us that America isn't serious about fighting corporate fraud.
NEW YORK (TheStreet) -- Now that Jeff Skilling has settled into his jail cell, with the former Enron CEO's appeal of his fraud conviction and 24-year sentence rejected by the Supreme Court, this is a good time for a retrospective on the biggest corporate scandal in recent history.
After all, we're "celebrating" the 10th anniversary of Enron, WorldCom and the other early 2000 scandals. On the surface, I have to admit, it doesn't look good. The financial crisis of 2008 didn't exactly promote confidence in corporate America. But I'm going to try to be as upbeat as possible:
4 Stocks That Are Real Sleepers in 2012 >>
*
Sarbanes-Oxley.
In hindsight, the primary legislative reaction to Enron was a remarkable piece of legislation. In one sweeping legislative initiative, Congress addressed a number of long-festering issues related to corporate accounting and set up a Public Company Accounting Oversight Board to supervise auditors of publicly traded companies. In retrospect, it's remarkable that SOX was passed at all -- a fete that would be pretty much impossible today. Its provisions on auditor independence were decades overdue. Section 404, requiring management to assess and personally certify internal controls, took aim at one of the primary issues that arose in the Enron scandal.
That's the bright side. The downside is that SOX has been pretty much a paper tiger -- and it was even before the JOBS Act eliminated Section 404 provisions for startups that need top-notch internal controls the most. As one
CPA Journal assessment of Section 404
pointed out in 2006, "internal control was not conceptually designed to be a panacea for corporate ills." And if a company complies with Section 404 and confesses that it has poor internal controls, what of it?
American International Group was reporting deficient internal controls
. So when the massive insurer made the
same disclosure in February 2008
for its derivative operations, all those SOX-mandated disclosures didn't do a thing to prevent AIG from careening toward disaster.
At least Section 404 and the auditor independence provisions are enforced. But ever hear of Section 406? That's equally important, but it has never been enforced. It governs corporate ethics, and has been completely ignored. An
promulgated under Section 406 says that companies must disclose "amendments to, and waivers from, their ethics codes on or after the date on which they file their first annual report in which the code of ethics disclosure is required."
10 Stocks That Could Rise in Market Decline >>
Sure, companies can behave as unethically as they wish without violating SOX. But they have to disclose that their codes of ethics have been waived. If unethical companies don't make that disclosure, they can be prosecuted under Section 406. That's never happened, and we're not exactly in the midst of a golden age of corporate ethics. So whenever you hear about top executives being complicit in unethical behavior, think of this never-enforced SOX provision.
*
Securities and Exchange Commission.
Again, let's look at the bright side first: Regulation-hating corporate attorney Harvey Pitt isn't running the place. That's about it for the bright side. Failing to enforce Section 406 is just one aspect of the SEC's lackadaisical attitude toward corporate malfeasance. Policing public companies is so low on the SEC's list of priorities that corporate fraud
when the Division of Enforcement was reorganized in early 2010.
Like Pitt, his Bush administration successors and the current chairperson, Mary Schapiro, all have deemphasized corporate wrongdoing while pursuing headline-grabbing cases. A
by New York University researchers, released last month, found that the SEC pursued marginal (but highly publicized) options backdating issues while neglecting more egregious accounting issues.
"We cannot know which accounting and other investigations were not pursued because the SEC was occupied with backdating," the researchers concluded, "but our analysis suggests that a real opportunity cost accompanied the SEC's zeal for backdating investigations."
The same can be said for the SEC's pursuit of Mark Cuban, while it has yet to bring an enforcement action against the perpetrators of Lehman Brothers'
.
*
Congress.
Sorry, nothing even remotely upbeat to report here. The phony "JOBS" Act is just one example of how Congress actually facilitates corporate fraud. It also carries out that function indirectly, by undercutting the SEC at every opportunity.
Obama Leadership Fails in Phony JOBS Act: Opinion >>
The SEC is, supposedly, an independent regulatory agency. But its budget is determined by Congress, and the agency remains subject to political pressure. For a good example of that, we can just look at a hearing that was held in the House of Representatives on Tuesday. The House Oversight subcommittee wasn't concerned about the SEC's failure to prosecute corporate wrongdoing or Wall Street bigwigs. The title says it all: "The SEC's Aversion to Cost-Benefit Analysis."
That's right. The Republican-controlled House believes that the most pressing issue at the SEC today is not bureaucratic lassitude but failing to show proper deference to the corporations it regulates. Reuters
that Mary Schapiro's SEC, in response, "has internally circulated a memo guiding staff to rely more heavily on agency economists and to provide stronger economic justifications as they craft rules."
"Economists should be involved at the earliest stages of the rulemaking process ... and throughout the course of writing proposed and final rules," the memo says, according to Reuters. "Economists should be fully integrated members of the rulewriting team." In other words, the SEC is going to become even more cautious, even more risk-averse, and you can thank Congress for that.
*
The media.
No examination of Enron and its aftermath is complete without including the role of the media as exposers -- and enablers -- of corporate wrongdoing. Most Enron-followers know about Bethany McLean's
, "Is Enron Overvalued?", which was one of the first pieces to sound the alarm about that company.
Less well known is the Fortune piece, published a month earlier, which named Enron as "the Most Innovative Company in America" for the sixth year in a row, or the BusinessWeek piece, which also ran in early 2001, which praised the "derring-do" of the aforementioned Jeff Skilling.
In a
, Skilling expressed regret that he didn't "go on a PR offensive" before he was put on trial for fraud, but actually his PR was pretty good before the scandal broke. In fact, as I pointed out in my 2006 book
Wall Street Versus America
, Enron's rep was so terrific that tough stories on the company were a hard sell. I pointed out that a BusinessWeek reporter wasn't allowed to take a hard look at the company's trading operations early in 2001.
Has the media learned from its pre-Enron errors? I doubt it. Like regulators, the media tends to be reactive rather than proactive in dealing with companies, and that's not getting any better given the news media's financial travails. The financial press was rightly faulted for failing to adequately cover the run-up to the financial crisis, and I doubt very much that we're going to do any better next time. In smaller markets --
-- corporate coverage is essentially dictated by corporate PR departments.
Far too much coverage of Wall Street throws softballs at top executives,
notwithstanding. "Corporate porn" remains a temptation.
So that's the scorecard: I'd give all involved a "D." Better luck next scandal, I guess.
Gary Weiss' most recent book, AYN RAND NATION: The Hidden Struggle for America's Soul, was published by St. Martin's Press in February.
This contributor reads:
Columbia Journalism Review�s �The Audit�
On Twitter, this contributor follows: