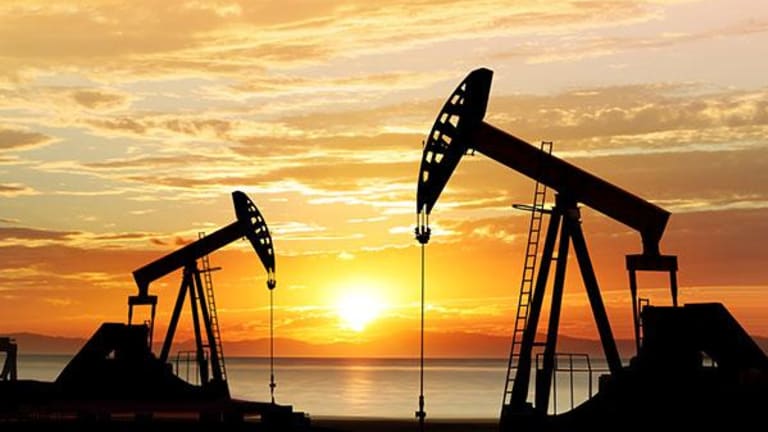 Energy Stocks Such as This Are Dangerous, So Ignore the Optimism
The volatile energy sector continues to taunt investors seeking a turnaround. As prices dip again, Diamond Offshore is riskier than analysts suggest.
The oil and gas sector's turnaround has been fickle, tantalizing investors one week and dashing their hopes the next.
Traders seize on any piece of good news in the energy patch, losing sight of the big picture and making investment bets against their better judgment.
One stock, Diamond Offshore Drilling (DO) - Get Report  is the recipient of an excessive analyst optimism, so proceed with caution.
After a four-week rise that brought record highs, U.S. equity markets pulled back on Monday. That was to be expected, after a winning streak that pushed the average price-earnings ratio of the S&P 500 to nearly 20, above the historical average of 14 to 16, despite a generally weak outlook for corporate earnings this quarter.
But the main culprit was another plunge in energy prices, which continued their month-long decline Monday and fell 2%. West Texas Intermediate crude stands at about $43 a barrel and is continuing its descent.
The two biggest decliners Monday in the Dow Jones Industrial average were Chevron (down 2.4%) and Exxon Mobil (down 1.9%). This month, oil prices have fallen nearly 12%.
The energy sector declined across the board Monday. Stocks taking major hits included Anadarko Petroleum (down 1.41%), BP (down 2.70%), ConocoPhillips (down 1.28%) and Marathon Petroleum (down 2.43%).
Oilfield services company Diamond Offshore Drilling is scheduled to report second-quarter earnings on Monday.
As with most of its peers, the company's operating results are expected to be ugly. Nonetheless, the recent recovery in oil prices this year, after hitting lows in the range of $20 a barrel in February, has fueled unwarranted optimism about the energy sector that is likely to disappoint investors.
Despite recent analyst enthusiasm about Diamond Offshore Drilling, this month's retreat in oil prices serves as a warning that investors should avoid such stocks for now. 
Analysts expect Diamond Offshore Drilling to report second-quarter earnings of 5 cents, compared with 66 cents a year earlier. Third-quarter earnings are projected at 2 cents a share, versus $1.01 a year earlier.
For the full year, earnings are expected at $1.16 a share, compared with $3.11 in 2015.
Diamond Offshore Drilling's stock is up more than 9% year to date. Its trailing 12-month price-earnings ratio stands at a relatively high 46.06, compared with 39.3 for the industry.
High hopes for Diamond Offshore Drilling and other oilfield services firms are building, largely thanks to the closely watched weekly rig counts from oilfield services firm Baker Hughes, which have shown consistent consecutive rises.
The company reported that the number of rigs drilling for oil in the U.S. for the week ended Friday totaled 371, up 14 from the prior week, though still down from 659 a year earlier.
With a market capitalization of $3.11 billion, Houston-based Diamond Offshore Drilling is a major provider of ultra-deepwater, deepwater and mid-water drilling services for an international roster of clients. The problem is, the collapse in oilfield services has been particularly harsh for offshore rigs farthest out to shore, which is Diamond Offshore Drilling's core business.
Expensive deepwater activity in challenging conditions is the first to get cut when energy prices are low and the last to get re-started when they rise.
Meanwhile, oil prices for the past several weeks have stubbornly remained below the $50 a barrel threshold that is considered the break-even point for energy companies. The upshot is that sluggish economic growth isn't generating sufficient energy demand to mop up the huge oil glut still sloshing around the world.
Diamond Offshore Drilling's debt burden is a red flag that should scare investors away. The company's total debt-equity ratio stands at 47.20, lower than the 63.20 for the industry but still higher than many of its peers and a significant drag on its balance sheet.
The company's return on equity is 1.64%, compared with an average of 5.4% for the industry.
Diamond Offshore Drilling's quarterly year-over-year revenue growth stands at -26%, which makes it difficult for the company to service its total debt of $1.98 billion.
There are better and safer growth opportunities.
---
What a crazy year. Oil prices continue to seesaw, as terrorism and unexpected bursts of violence set investors on edge. For those who would rather avoid stocks, bonds and funds altogether during this period of extraordinary volatility, here is a way to make a guaranteed $67,548 over the next 12 months. In fact, this moneymaking technique is so successful and simple, those who try it might want to give up conventional investing. Click here to learn more.
John Persinos is an editorial manager and investment analyst at Investing Daily. He is also a regular commentator on the financial TV show "Small Cap Nation." Follow him on Twitter.
At the time of publication, the author held no positions in the stocks mentioned.